I would have appointed six judges frozen out by Uhuru, Ruto says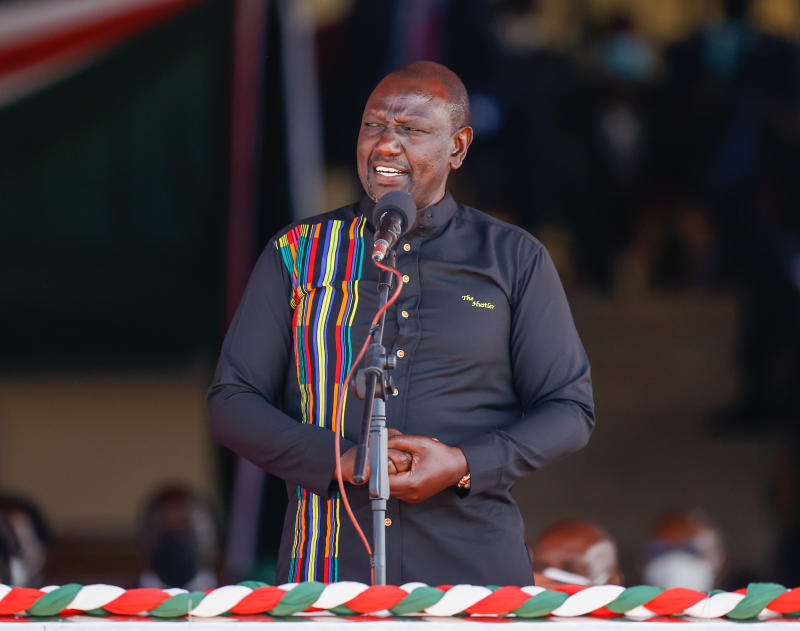 Deputy President William Ruto has contradicted his boss, President Uhuru Kenyatta, over the failure to appoint six judges recommended by the Judicial Service Commission (JSC).
The Second in Command has now called for the swearing-in of the six judges left out by the President and that they be given a platform to defend themselves. Speaking during an interview on Radio Jambo, Ruto said there was still a chance the judges could be sworn in noting that they should not be condemned unheard.
"The judges can be sworn in and the allegations against them taken before the Judicial Service Commission for consideration and if they are found guilty, a tribunal be formed to look into the same. Those found guilty will be done away with while those vindicated will continue with duty," he said.
"What is not good is that they are being condemned unheard and before the eyes of the public they are deemed to be corrupt or with questionable character yet they have not been given an opportunity to defend themselves," he added.
Ruto, however, defended the President saying he had his reasons for rejecting the judges. The president had previously said the National Intelligence Service conducted a background search on certain judges who had been listed for promotion, and that integrity concerns were raised.
"In my opinion however, if there are any issues on corruption, integrity touching on these judges, there are laws that dictate that the evidence against them should have been presented before the JSC prior to the interviews and maybe they should not have been recommended for appointment," asserted the DP.
And to forestall further widening of the rift between the Judiciary and the Executive, the DP urged those close to the president to advise him appropriately.
"There should be professional advice to the President on the matter so that he can know what steps to take forward to prevent the Judiciary from feeling as if it is being condemned. Things should not be left in a state of not knowing what next," said Ruto.
Last month, President Kenyatta appointed seven out of 11 judges nominated to the Court of Appeal, but left out Justices Aggrey Muchelule, Joel Ngugi, George Odunga and Weldon Korir. He also did not appoint the Registrar of the High Court Judith Omange and Chief Magistrate Evans Makori, who had been recommended to the Environment and Lands Court.
His decision, however attracted the ire of the Judiciary and other political actors such as ODM party leader Raila Odinga. Chief Justice Martha Koome said the president has no way out, but to appoint the six remaining judges who were left out, adding that the Judiciary is in dire need of more judges due to case backlog.
Former CJ David Maraga accused the president of casting aspersions on the integrity of six JSC nominees without backing his claims with evidence. His sentiments were lauded by ex-CJ Willy Mutunga