Raila tells the Maasai to be wary of leaders who are not genuine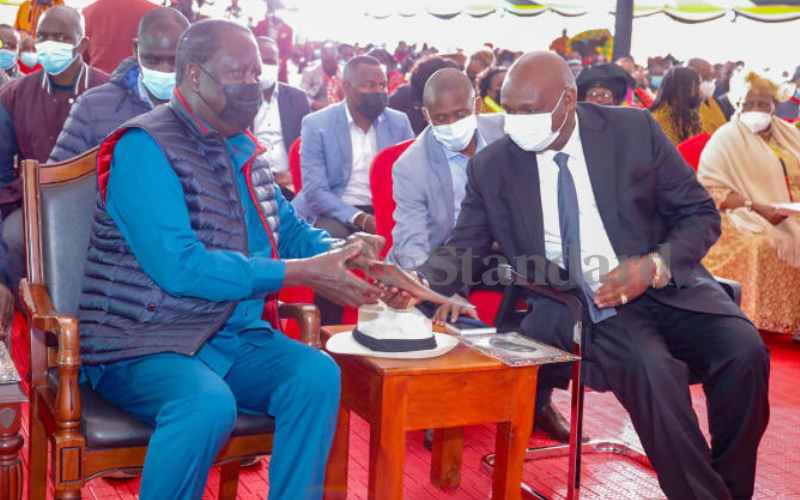 ODM leader Raila Odinga has sustained his attacks against Deputy President William Ruto, warning Kenyans to trust him (Ruto) at their own peril.
Speaking yesterday in Narok County during the funeral of Mama Dorcas Ntimama, the former premier declared that Ruto cannot be trusted with the country's resources.
"I hear that some people are promising their people that they will return if he (Ruto) will be elected president next year. My plea to local leaders is that do not fall for the tricks of a hyena," he said.
Raila, who joined local leaders at the funeral of former Heritage Minister William ole Ntimama's widow, said the leaders should not be used to return over 35,000 families who were evicted from the forest in November 2019.
Without mentioning Ruto by name, Raila referred to the DP as "a wolf in a sheep's skin" and told leaders from the Maasai community to be wary of him, saying his recent political move to endear himself to them was not genuine.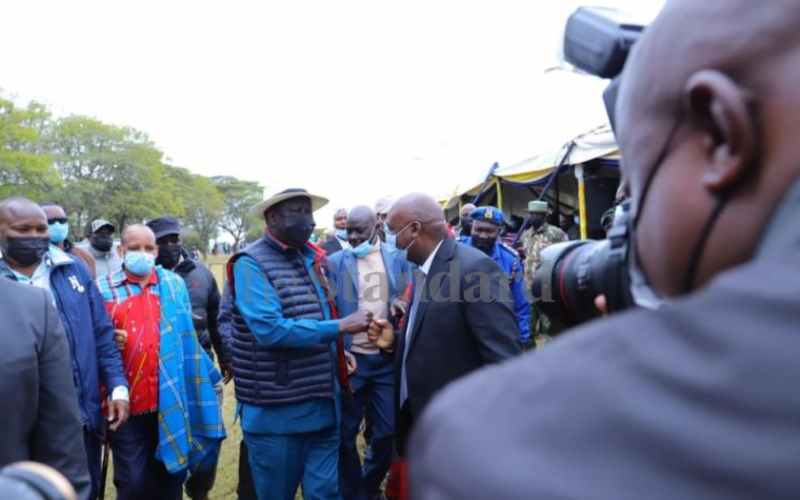 He singled out Narok Senator Ledama ole Kina who has been seen as keen to join the DP's camp, telling him to be wary of Ruto.
"I want to warn my 'son' Ledama to be wary not to fall into the trap of the wolves disguised as sheep. As leaders, kindly protect your flock," said the ODM chief.
Raila said if the leaders from the region continued to associate with Ruto and his movement, they risk jeopardising the gains made by the government in rehabilitating the Mau Forest Complex.
He said he has never regretted his action of calling for the eviction of illegal settlers from the forest despite losing support from the Rift Valley in the 2013 elections.
"When I ordered the eviction of the illegal settlers in 2013, many fought me. I, however, swore never to relent and told them that I was ready to go sell mandazi in Kibera should they fail to elect me for that action," Raila told the mourners.
The ODM leader, who is currently enjoying a cordial relationship with President Uhuru Kenyatta following the March 9, 2018 Handshake, hailed Environment Cabinet Secretary Keriako Tobiko for implementing the task force to protect the forest.
Raila and Ruto have been trading barbs as the country gears up for next year's General Election.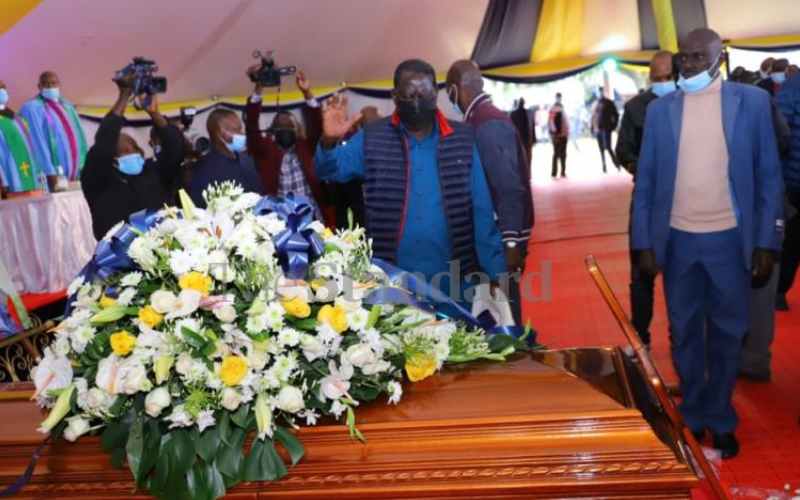 The ODM leader has come out boldly to portray Ruto as unfit to be the next president.
Ruto also says Raila has nothing new to offer Kenyans, alleging that "some individuals stole from young people while they were in government" and, therefore, had no moral authority to lecture the country on corruption.
Mrs Ntimama died a fortnight ago after a short illness. The late Ntimama's surviving children Amos, Timothy and Lydiah described their mother as humble, loving, welcoming and a great cook.
Amos hailed their mother as a resilient pillar of the family.
"She was an amazing mother and being the firstborn, I felt her love first-hand. She was a true lover of my dad for 60 years and when he died she never fully came to terms with it," said Amos.