I'm 'married' to my cats, says man who feeds the tabbies chapati and beef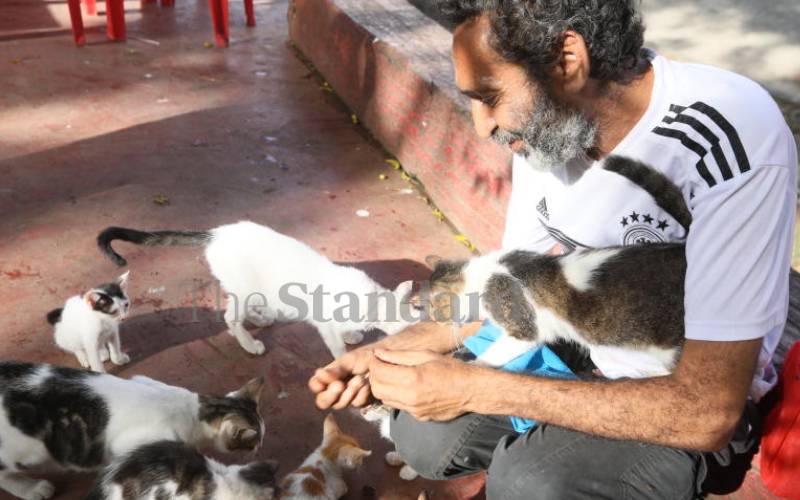 Hussein Ahmed started keeping cats in 1978 when his father brought him two kittens.
He currently has more than 150 under his care and together with his siblings, they have about 300 cats.
In Mombasa, most tales about demons are linked to cats. That is why many people shudder when they encounter Hussein Ahmed, a self-proclaimed kitty whisperer in Mombasa.
Ahmed, alias Baba Paka, says he has been taking care of cats from the time his father, Ahmed Mohamed Ahmed, brought him two kittens from Nairobi.
"I was 12 years old when my father brought the cats. Since that time, I've dedicated my life to taking care of the animals," says the ailurophile who has defied long-held superstitions to rescue homeless cats from the streets of Mombasa.
Ahmed has set up a cattery outside Fort Jesus where he keeps cats he rescues from the streets. He also has a rescue centre for cats in Kisauni village.
Ahmed loves cats so much that he has dismissed the possibility of getting married as "I do not want my devotion to them (cats) to be divided. Even in my next life, I'll be 'married' to cats not to women.''
And when it comes to the cats, Ahmed's devotion knows no bounds; the 64-year-old says he feeds them on a special diet just as he would a wife.
"I feed them ugali with fried omena. I also give them milk and occasionally chapati with beef," says Ahmed.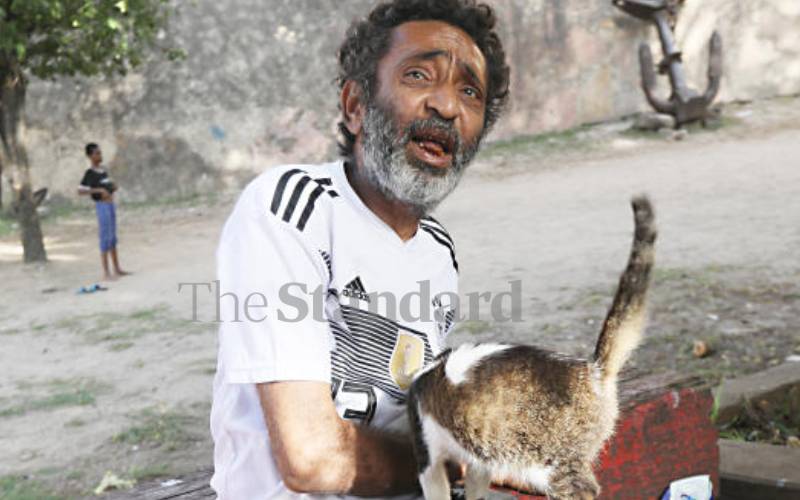 He has 18 cats at the cattery outside Fort Jesus after nine died recently. "I could not afford Sh27,800 the vets wanted for treatment, it was the saddest week," he says pointing at nine graves, each with a cat's name on it. In total, Ahmed says he has 150 cats in places such as Barsheba, Stage Ya Paka and Mlaleo along Old Malindi Road.
"When my cats hear my voice or sniff my scent, they run after me. Once I've alighted from a matatu, the cats flock around me," he says, dismissing myths that cats are jinn.
Black stray cats are described as paka mwanga (spirits in cats) that locals blame for the high number of accidents on major roads.
"Many drivers who have been involved in accidents claim they saw a cat that changed into a woman once it was in the middle of the road, forcing them to swerve," said Ali Salim Batesi, the chairman of Matatu Owners Association.
But Ahmed dismisses these claims as 'stupidity', saying that cats, like cows loitering in Mombasa, are victims of fictitious tales.
The love for cats runs in the blood of all seven siblings. Hassan's young brother, Abdulrahim Ahmed, has also devoted his life to cats.
"I'm the one who introduced him to keeping cats after he divorced. He takes care of the cats in his house at Kuze area in Old Town," said Ahmed.
He estimates that the family, including their sister who lives in Moshi, Tanzania, have a total of 300 cats which they keep in different parts of Mombasa and in Moshi.