How trip to Middle East ended up in a house in Thika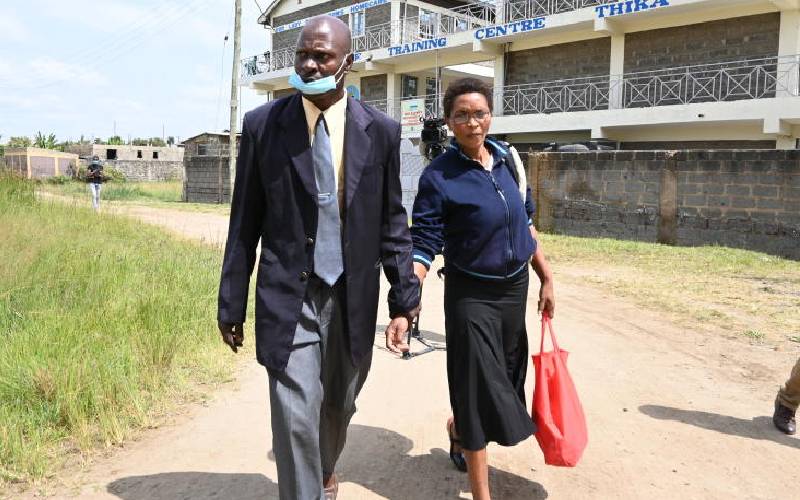 The last time Enock Lihanda, 45, visited Nairobi was three years ago for a job-related errand. But in an unexpected twist, he was forced to travel more than 300 kilometres to Nairobi on June 13 to stop his wife from leaving the country for greener pastures in a foreign land.
Lihanda is a contractor based in Kitale town while his wife Elizabeth Njeri, 43, whom they have lived with for more than 20 years stays at their home with their children in Bungoma.
However, on June 7, Lihanda received information that Njeri had left their home and had told the children that it would be long before they met again.
"We talked on the phone the previous night and everything seemed fine, I even talked to the children. The following day, one of my sons told me their mother had left home for Dubai. I was shocked because she had never shared with me any plans of leaving the country, and she has always been a good mother to my children," he explained.
Njeri's phone was unreachable until two days later (June 10). When her husband probed where she was, she revealed that she had traveled to Nairobi and was planning to leave the country to go work as a house help in the Middle East.
"She told me that she was locked up at a house in Thika where she was undergoing training but she had changed her mind and wanted to come back home after some of her friends escaped from the house," he explained.
Lihanda says he settled down with Njeri in 1999 after parting ways with his first wife. The couple was blessed with three children.
"Njeri has been unwell for a while and that is why I have been providing for her while her work is to take care of the children. I am quite shocked that she planned to leave without telling me," added Lihanda.
It is through some friends and relatives that Lihanda located Njeri to a house in Thika where women are trained by various agencies before leaving the country for domestic jobs in the Middle East.
Located about three kilometres from Thika town, Our Lady of sorrows Home Care Training Centre is where Njeri had been staying since June 8.
The centre is surrounded by a perimeter wall. When we approached the house yesterday morning, we could see several women basking on the balcony on the second floor. They disappeared as soon as they realised we were headed there.
We went through a large iron gate and found three people who told us that Njeri had been moved to another of their branches two kilometres away so as to comply with Covid-19 rules.
"We offer training services for women we get from various agents and Njeri is one of them but she was transferred to another branch, at the moment, we have around 300 women undergoing training before leaving the country, we have been here since 2019," an admin told The Standard.
On a wide corridor on the ground floor, we found several women cleaning while new 'recruits' checked in the centre carrying large backpacks.
Twenty minutes later, Njeri arrived on a motorbike in the company of a staff member who cleared her as Lihanda patiently waited to take his wife back home.
Njeri said she had been introduced to an agency in Nairobi that promised to get her a well-paying job in Dubai.
"The agent sent my friend Sh10,000 for transport and when we arrived in the city, we underwent medical tests, we were then taught how to handle different kitchen appliances and were told to wait for our travel documents to be processed," she revealed.
Njeri said she changed her mind after learning that the job was not in Dubai as she had earlier been promised but in Qatar.
"I have never quarreled with my husband, I only wanted to leave the country and make some money as promised by the agent," she added.
Nesmat Akeem Agency, which was dealing with Njeri's case denied having duped Njeri adding that information was clear from the word go that she was headed for Saudi Arabia and not Dubai.
"They were all aware that they are heading to Saudi Arabia even when they were undergoing tests and signing the documents that clearly indicated the country where the jobs were," said an official from the agency.