Planting grass, trees will provide water, restore livelihoods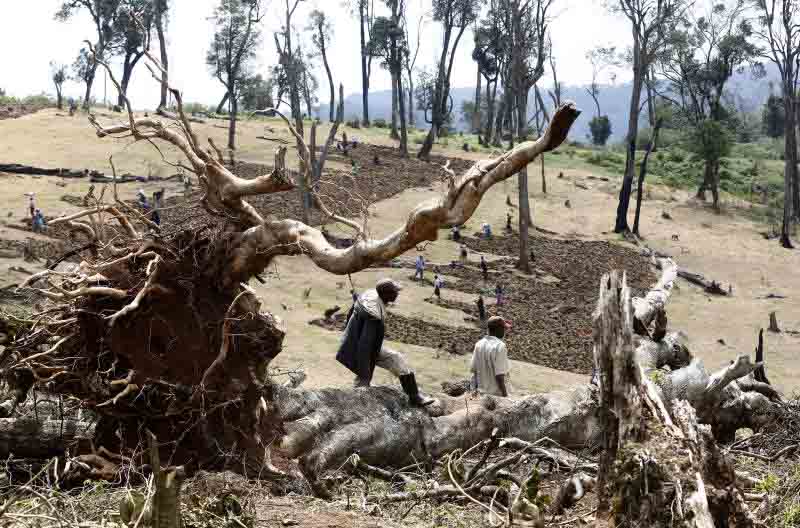 Hilole Soman inspects the grass seedlings in his vast farm in Bularahma village within the Tana Delta.
The sprouting seedlings are part of an ambitious project aimed at restoring degraded grazing fields.
"Restoring degraded areas is not all about planting trees, it is about greening spaces and that is why we are embracing this project in the Delta to restore the grazing fields," says Soman, whose village is among 20 where productive fields are being reclaimed. Dumi, Hewani, Wema and Handaraku are also among the villages earmarked for reclamation.
Already, 765 kilogrammes of the targeted 1.3 tonnes of grass seedlings of different species have been distributed in 18 villages, nine groups and one ranch within the Tana Delta to restore overgrazed fields.
Rudolf Makhanu, Nature Kenya Project Coordinator in charge of The Restoration Initiative in Tana Delta explains that "ecosystems are degraded and the once-productive areas are becoming unproductive and affecting livelihoods, a reason restoration initiatives are key in the Tana Delta."
The initiative now has seed-banks for distributing grass seedlings, including Boma Rhodes, Maasai love grass, African foxtail and bush rye grass.
Once the grass grows, it will be distributed to other degraded grazing fields across Tana Delta to boost livelihoods, through sale of grass, and bring back the lustre of grazing.
Besides the Tana Delta, efforts to restore over 6,200 hectares of degraded parts of Mt Kenya are ongoing, especially parts, which were ravaged by the invasive Lantana Camara- which 'colonises' other plants by releasing chemicals that prevent other species from growing.
The restoration in Mt Kenya includes local communities, conservation organisations and corporate, which have started restoration initiatives in Kinangop in Nyandarua County through replanting of tussock grass to conserve spaces for Sharpe's Longclaw bird.
Replanting trees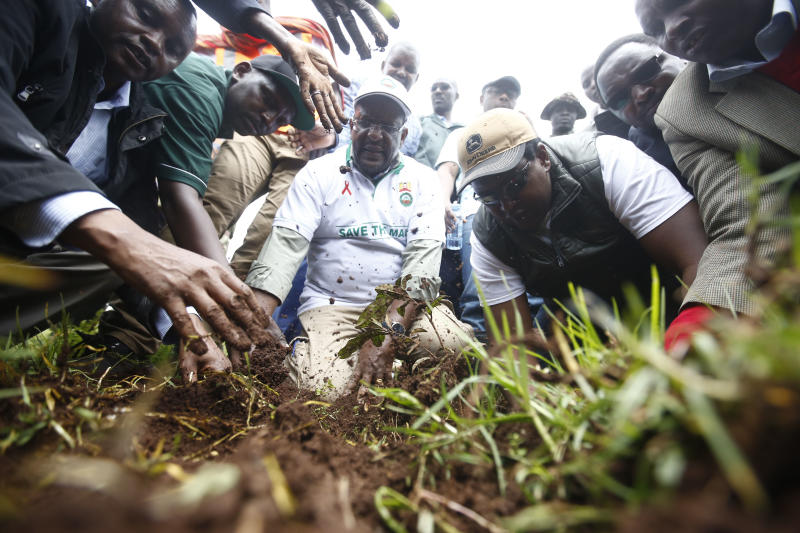 In ecosystems like Mau forest, reclamation of encroached areas includes replanting trees.
"Restoring forests and landscapes is not all about planting trees. It is about greening the spaces we need to have forests remain forests, shrub lands remain shrubs and grasslands remain to have grass. In Tana Delta, communities have collected over five tonnes of different seed species growing in those areas whereas in Mt Kenya, the local communities are already collecting and propagating seeds to be planted in degraded areas within the forest," offers Nature Kenya Director Paul Matiku, adding that critical ecosystems including Mt Kenya, Aberdare, Kakamega forest, Mau forest, Taita hills and riverine forests have been degraded.
Dr Matiku says degradation of dry lands is such that they're replaced with bare soil which is easily washed off to rivers whenever it rains, resulting in siltation in rivers.
Wetlands have also experienced degradation from reclamation, a situation that has seen areas including Yala Swamp in need of restoration.
He argues that "ecosystems are life support systems and the current degradation informs that all is not well and a lot has to be done. Whereas there are policies and regulations targeting to safeguard the ecosystems are in place, lack of implementation is the greatest challenge."
The National Environmental Complaints Committee noted that population pressure has led to degradation of major ecosystems resulting in deforestation, reclamation of wetlands, sand harvesting and mining activities within critical areas.
Dr John Chumo, NECC secretary singles out Kitui, Kwale, West Pokot, Nandi escarpments and coastal areas as among areas experiencing the challenges of degradation.
"Temperatures are constantly rising, lake levels rising and displacing people whereas in some region drought is adverse. Invasive weeds like the hyacinth are choking lakes as a result," says Dr Chumo, adding that counties and agencies should improve compliance and enforcement of environmental laws to safeguard the fragile ecosystem.
According to the United Nations Environment Programme (Unep), degradation has resulted in deforestation in most countries as well as lakes and coastlines becoming polluted because of poor waste management.