Parallel economy: Illegal vendors make millions as residents dance with death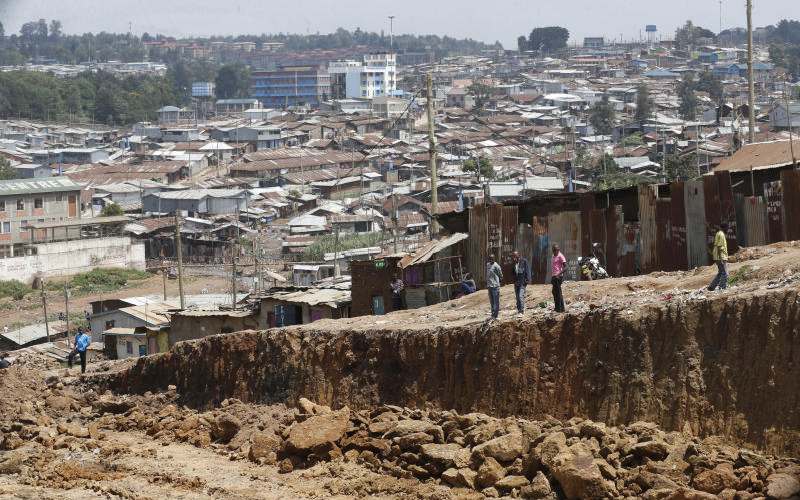 In Nairobi's informal settlements, rogue civil servants in cahoots with unscrupulous traders hold ultimate power.
Residents here are at the mercy of the traders, who are buoyed by the government's neglect.
These are stories about the invasion of water and electricity services by cartels in the poor neighbourhoods to enrich a few.
It is a narrative of slum residents living under hanging danger from illegal power connections, mothers spending their meager income on medical bills as their children suffer from diarrhea, and how State agencies are losing billions of shillings.
This is Nairobi's parallel economy.
Tragically, it even eats its own, like in Bosco's case.
Just like soldiers wear their scars of war proudly, Bosco knows electrocution was part of the job he signed up for. He had been bedridden for three weeks.
"He found someone had redirected his power line," says Martin Seyi, a neighbour. "He was so mad that he disconnected the live wires and was electrocuted."
On Saturday January 25 at about 6pm, Bosco went to inspect his business; illegal connection of electricity to houses deep inside Mukuru kwa Njenga slum.
The so-called sambaza are tapped from the Kenya Power and Lighting Company (KPLC) transformers to hundreds of households in informal settlements. The connections hang precariously from low roofs and run along the ground.
Diverted lines
The lines are not recognised in the KPLC billing system so there are no monthly charges paid to the company. Instead, the users pay the connecting agent an agreed amount each month.
Bosco, just like other sambaza agents, frequently inspects his connections lest someone cleverer diverted 'his' lines without his knowledge.
"You must always tour your sambaza lines if you want to secure your source of income," says Seyi.
Bosco's fate is what awaits agents and customers. They risk electrocution and fires.
But for the illegal power vendors, it's a risk they are willing to take.
Each house pays Sh400 to the agent in Mukuru. The amount varies in different slums.
Some agents earn in excess of Sh600,000 a month, which is shared with corrupt officers.
"We have small agents across Mukuru and each agent knows each other's territory," says Jey, an agent. "KPLC and the police occasionally do raids to disconnect sambaza and the agents have reduced significantly."
KPLC has been fighting illegal connections for years. So bad is the situation that the company in 2019 formed a special response team, Field Enforcement Unit (FEU), to tackle the crime.
By mid last year, 630 people had been arrested across the country and prosecuted for various crimes relating to theft of electricity and fraud. Out of these, 115 were convicted.
The firm has also fired more than 100 employees for being involved in the backdoor power supply since the formation of FEU.
In August last year, KPLC Managing Director Bernard Ngugi said that company was losing Sh18 billion annually through the illegal connections.
Ironically, it is the legitimate power consumers who pay for these losses. Last year, the Energy and Petroleum Regulatory Authority increased the margin of system losses it allows KPLC to recover from consumers.
This is the difference between what Kenya Power buys from electricity producers and what it sells to consumers. The power distributor recovers 19.9 per cent of the losses from consumers, up from 14.9 per cent.
The losses stood at 23 per cent last year, which means the company paid the balance.
KPLC has in the past estimated that about 11 per cent of the system losses are commercial, which involves theft by employees and customers. The rest is technical owing to the state of the infrastructure.
System losses have been increasing, climbing from 16 per cent in 2010, according to the latest available data.
Notably, Uganda has brought down system losses to 16.4 per cent as at December last year, from a high of 24.3 per cent in 2013.
In 2016, the World Bank's Global Partnership Output-Based Aid partnered with KPLC to roll out a slum electrification programme aimed at subsidising the cost of power and end illegal connections.
The World Bank paid Sh19,350 for every connection, while KPLC paid Sh11,970 to make up the standard contribution of Sh32,480. Slum residents paid Sh1,116.
However, the Sh300 million project was taken over by rogue businessmen who made it impossible for the company to track customers.
Crafty power dealers
"In Mukuru (kwa Njenga), contractors started well but they then colluded with corrupt officials," says Martin, an agent. "So you will find meter A is in the upper location then followed by K, which confused the system and made it hard for KPLC to trace the tokens registered."
The company raided the slum in January last year, where 16 transformers and assorted cables were recovered. But, ironically, this was a boon for the crafty power dealers.
"When KPLC switched us off completely, we had a ready market," says Martin. "We expanded our base to customers who were legally connected to KPLC but were switched off in the blanket condemnation."
Similar project in Kibera was also botched. KPLC saw it wise to include the local community. It recruited young men to help erect electricity poles and to disconnect the illegal connections.
The process was smooth in some villages, but in others the legal connections had no electricity.
With fresh KPLC infrastructure, the rogue agents had a field day. They installed their power lines, charging Sh400 per month.
Those using sambaza electricity contend with dim power that cannot support anything else except lighting bulbs during peak hours.
"Residents know that peak hours for sambaza is between 6pm and 10pm when everyone is using electricity," says Jey. "They can't risk to overload the system unless they want a total black out."
Unfortunately, the illegal connections are not earthed and when lights go off, which is frequent, residents risk being electrocuted or fire.
At the hospital, Bosco's life ebbs away. The power that he had aggressively sold, and jealously guarded, killed him.
A father of one, Bosco was buried in Mitabooni village, Machakos, on February 27.