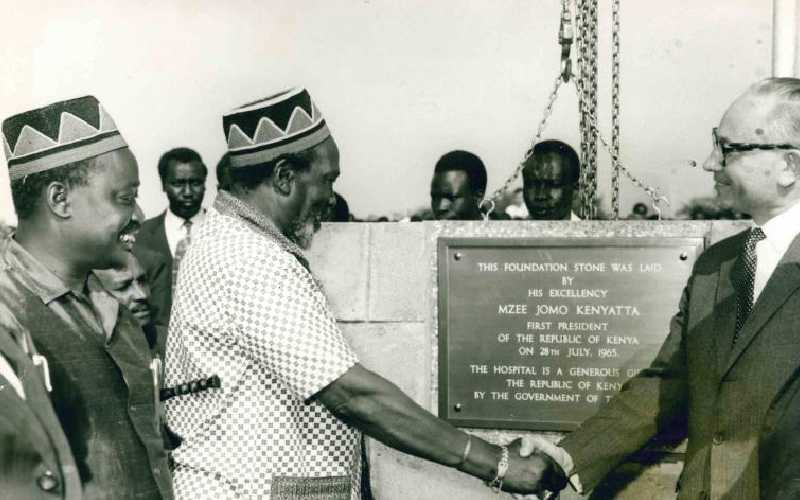 Together as one. These words from iconic South Africa musician, Lucky Dube evoke memories that ring so true with Kenya's political landscape.
As the dreadlocked musician croons, "the cats and the dogs have forgiven each other" this brings to mind the cat-fights two of Kenya's leading political families have been engaged in. That the founding fathers, Jomo Kenyatta and Jaramogi Oginga Odinga continue to shape the destiny of this country is evident even today, more than half a century after independence.
The relationship between the Kenyatta's and the Odinga's has been such that at times they are the best of friends, referring to each other as brother and each appears ready to sacrifice anything for the sake of the other.
This picture, taken in 1965, July, signifies such times. Here the two men, wearing identical beaded caps cut the image of the best of friends, as they witness the laying of the foundation stone for Kisumu Hospital. Together as one they smiled as they received the hospital a gift from Russia... The plaque told it all, saying the hospital was a generous gift to the people of Kenya by Russia.
Two years later the political friendship was over. The hospital meant to cure ailments and ease human suffering became a theatre of intense fighting as the president was stoned and his guards opened fire, killing and maiming many people. The confrontation between Kenyatta and Jaramogi took place on October 25, 1969, when the Kenyatta turned up to preside over the opening of the hospital without the approval of his friend turned foe.
A lot of cat and mouse games had ensued between the erstwhile friends souring their relationship to the point of treating each other as real enemies.
This script has been replayed by their sons, Uhuru Kenyatta and Raila Odinga for some time now. Four years ago, Kenya was on the brink of anarchy after a hotly contested presidential election that had pitted Uhuru against Raila.
The following year in March 2018, they made up, culminating in the famous handshake and the birth of the Building Bridges Initiative. And on Tuesday, when Kenya will be celebrating the day the country got its self-rule the two men who have politically fought in two presidential elections will be together in Kisumu.
For the first time ever, Madaraka Day will be celebrated in Kisumu, Raila's stronghold, to the subdued rhythm of reggae, which has been BBI's signature tune. The beaded caps may and the grey beards of their fathers may be gone but Uhuru and Raila still rock and their supporters roll. [Amos Kareithi]