MPs read mischief in Bill seeking to extend terms of Road Authority bosses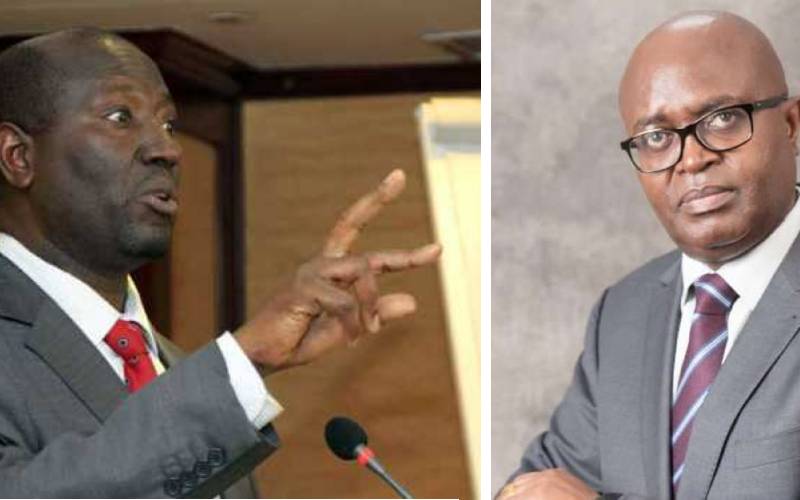 The bosses of three roads authorities could land an automatic extension of their terms in office if proposed legislation in Parliament sails through.
The controversial Kenya Roads (Amendment) Bill, 2021 that seeks to extend terms of Directors General (DGs) of the authorities from current three to five years, has kicked off a storm among lawmakers reading mischief.
The Bill sponsored by the National Assembly Transport committee chairman David Pkosing (Pokot South) wants to amend Sections 13 and 14 of the Kenya Roads Act of 2007, on term of office of the DG and qualifications.
"The Director-General shall hold office for a term of three years and shall be eligible for appointment for one more term," reads the current Act in part.
Those to benefit from the proposed law are Kenya National Highway Authority (Kenha) DG Peter Mundinia and the Kenya Urban Roads Authority's (Kura) Cyrus Kinoti.
Of the two, KeNHA boss is perhaps the biggest beneficiary since his term expires this year. The proposed law could push his tenure to 2023.
"The timing of this Bill is suspect. What is the urgency in sponsoring a Bill to extended terms of the institution's bosses when there are other pressing matters," said a lawmaker who faulted the Bill.
He argued, "Unless, it specified that those currently in office and not eligible then your gaze is as good as mine. There are so many issues affecting the roads sector, it will be more beneficial to Kenyans if we spent this time to improve it, than target individuals."
Mundinia was appointed in August 2015, after serving in the same position at Kenya Urban Roads Authority (KURA) in an acting capacity since 2014.
He is serving his second term in office, given that the first term was to end in 2018.
The current law allows that a Director-General shall serve for a maximum of two three-year terms. Kinoti, who was appointed last year, will serve as KURA boss until 2025 if the new Bill becomes law.
The proposal also seeks to add other qualifications to be met by a person nominated as DG. Among the new qualifications is a bachelor's degree in civil engineering and a master's degree.
The DG is in charge of day to day running of the said authorities, charged with managing funds and staff.
"The Director-General shall be responsible for… the implementation of the policies and programmes of the Authority and reporting thereon to the Board," the Act reads.
In the past, there have been concerns over the fact that previous DGs of KeNHA, KURA and Kenya Rural Roads Authority (KeRRA) have been holding office in an acting capacity. KeRRA acting DG is Engineer Philomen Kandie.
Mr Pkosing did not give a comment.