New Uhuru-Suluhu deal on border barriers bears fruit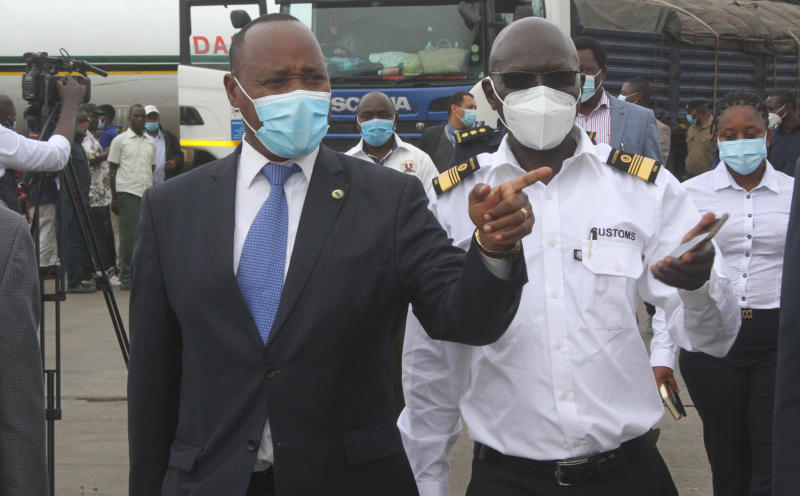 The East African Commission Secretariat will establish a hotline as a cross-border platform for traders to register their challenges and get prompt feedback across all EAC border posts.
This follows an agreement between Tanzania's President Samia Suluhu Hassan and Kenya's Uhuru Kenyatta to improve relations between the two countries, a move that has started bearing fruits.
The platform is set to resolve persistent Non-Tariff Barriers (NTBs) and reduce the time spent in the movement of goods and persons, hence increasing EAC trade, which currently stands at 15 per cent.
The two presidents agreed on removal of NTBS at the border points, which have in the past soured the relations between the two countries.
Newly appointed East African Community Secretary General, Peter Mathuki, says the move will help reduce complaints at the borders where truck drivers spend up to even a week awaiting clearance by authorities.
Judiciary officials
Mathuki, who met cross-border traders, trade facilitation agencies, EABC and the EAC Secretariat discussed sustainable solutions to boost bilateral and regional trade.
"We have received many complaints from drivers who spend a long time waiting to be cleared at our border points, and that is why we have agreed to establish this platform and a hotline one can call and get help," he said during a tour at the Namanga border point.
According to the East African Business Council facilitating the Public Private Dialogue (PPD), the movement of goods and persons at the Namanga One Stop Border Post and truck traffic gridlock has now eased.
A spot check by The Standard shows a stalemate on maize importation where thousands of bags of maize were being confiscated at the Namanga and Busia border points, has now been cleared.
The Agriculture and Food Authority on March 5 banned importation of maize, arguing that the maize had high levels of aflatoxins.
The lorries have already been released following the directive by the two presidents.
On March 26 this year, Kajiado Governor Joseph ole Lenku rescued 26 women from the county from serving a one-year jail term in Tanzania.
The traders had crossed over to a Tanzanian market to sell their wares, where they were arrested, arraigned and convicted of being in the country illegally.
Governor Lenku flew to Tanzania and engaged in high-level negotiations with Tanzanian security and judiciary officials to secure the release of the women, most of whom are said to have left young children at home.
During yesterday's meeting attended by Tanzania High Commissioner to Kenya, Dr John Stephen Simbachawene, the traders called for the harmonisation of taxes and charges across the region, reduction of weigh bridge costs and punitive fines imposed across all borders.
Simbachawene reiterated the commitment of the Tanzania Government in deepening relations to resolve trade barriers disrupting trade.
"My message is to affirm that my country is fully committed in this relationship; all the trade barriers disrupting our traders should be resolved," said Simbachawene
Joseph Moywaywa, the Kenya Revenue Authority (KRA) Namanga Station Manager, said that Kenya's top exports to Tanzania include detergent, tiles, auto-motives and solar panels, whilst Tanzania's top exports to Kenya including fresh vegetables, alcoholic drinks and fertiliser.