Body found near that of Obuong not our kin's, says Jack Ochieng family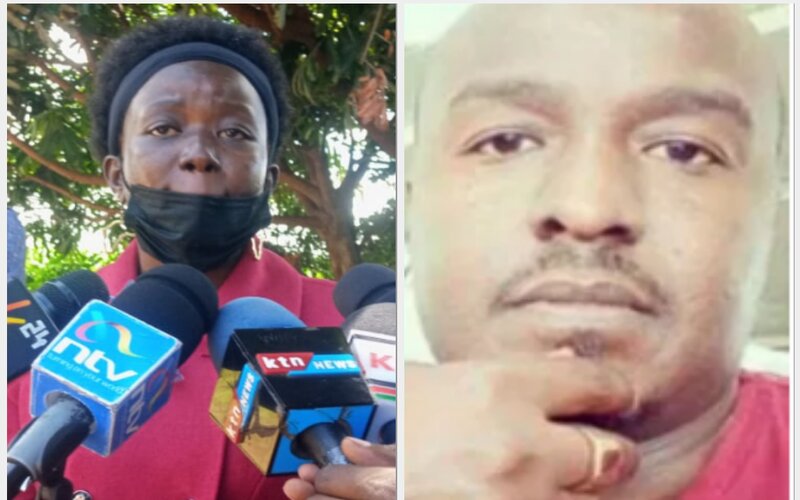 The family of Jack Anyango Ochieng, who went missing alongside three others in Kitengela two weeks ago, says a body found near that of Elijah Obuong in Mathioya River isn't that of their loved one.
The unidentified body was found a few meters from that of 35-year-old Obuong, who was positively identified by family on Thursday, April 29.
Ndona Ochieng, Jack's sister, told The Standard the physical features of the body they viewed at the Murang'a Level 5 Hospital morgue bore no similarity with that of her brother.
"The body we just viewed this morning (Friday, April 30) was fresh, indicating it was brought here recently. If true that our brother was killed on April 20 like his two other friends, then his body can't be that fresh," said Ndona
"Furthermore, my brother had a birthmark on his chest. The body we viewed, does not have one. Lastly, my brother was tall; the body of the person we viewed is short," added Ndona.
The distressed sister said she and her family members have looked for their loved one's body in different hospitals, but have not found his remains yet.
"We just want to find him, dead or alive," she said.
Ndona said she and her other brother, Cliff Ochieng, travelled to Murang'a on Thursday, April 29, after reading reports about the retrieved bodies of the Kitengela friends positively identified by their respective families.
Fearing for parents
Cliff Ochieng, Jack's brother, said he fears for his parents, should Jack's whereabouts remain unknown for longer.
"My mother underwent a heart surgery recently. My father is yet to recover from a stroke he suffered 21 years ago. Should we fail to find closure on Jack's whereabouts, we fear we might hold several burials in quick succession," said Cliff.
The family has dismissed reports linking their loved one, 37, to criminal activities.
"Jack was in the car hire business as an agent. He was not a criminal. Police records do not indicate he had a criminal history," said Cliff.
The missing person's wife, Monica Wanjiru, told The Standard she has been undergoing unexplained pain and anxiety since the day her spouse went missing on April 19.
Jack's family said of the four men who vanished in Kitengela, they only knew Elijah Obuong as Jack's friend.
Obuong's body was found stashed in a sack and dumped in Mathioya River on Thursday. His relatives, led by Michael Amolo, positively identified him using his beard and tattoo marks.
The body had no visible injuries, except a small spot on the forehead. Records show he was booked at the Murang'a morgue on April 20.
Obuong's mother, Caroline Obuong, wondered why her son, if it true he was a criminal as alleged, wasn't subjected to the court system.
"From the marks on his body, he died a painful death. He was naked, and had been wrapped and stashed in a sack," Caroline told The Standard.
The remains of another 'Kitengela Four' man, Benjamin Imbai, 30, was recovered from Gakoe Forest in Gatundu North on Thursday. His body was taken to General Kago Funeral Home a day after he and his friends had been reported missing.
Another of the missing Kitengela men, Brian Oduor, 36, is also yet to be traced.
On Friday, April 30, Inspector General of Police, Hillary Mutyambai, instructed the Directorate of Criminal Investigations (DCI) to form a special homicide investigations unit to probe the killing of the Obuong and Imbai.
Mutambai spoke during the induction of police recruits at the Kenya Police Training College in Kiganjo, Nyeri County.
This comes on the back of pressure by Haki Africa to have the mysterious murders averted by law enforcement authorities.
"If people are reported missing in Kenya, they end up being found dead. The Government knows something that we don't know," said the lobby group's representative, Salima Macharia.