Don't use boda boda for cheap politics, Uhuru tells Ruto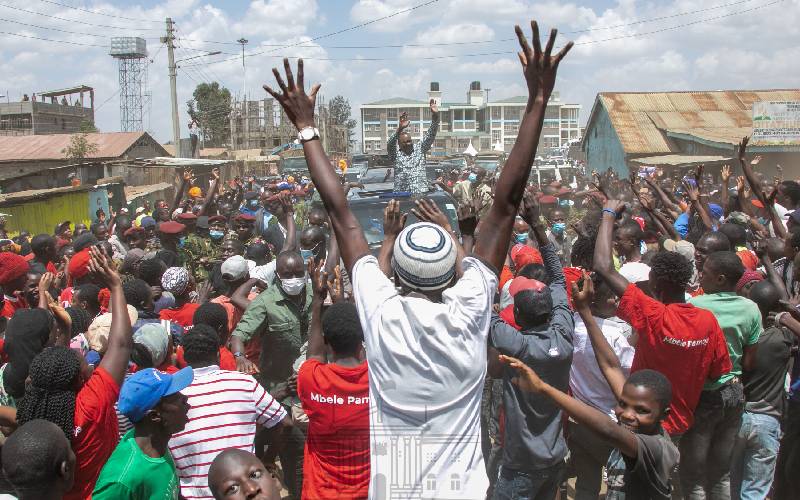 President Uhuru Kenyatta has defended his government against claims raised by Deputy President William Ruto that it was unfairly targeting businesses among the boda boda operators.
Uhuru, speaking in Kariobangi today said rather than work with the government to improve the welfare of boda boda operators, Ruto was using them to play cheap politics.
"You have been deceived that the Government does not want boda boda. That is not true, we have no problem with legitimate businesses," said Uhuru.
Uhuru said he would call a meeting with boda boda operators to develop a strategy to streamline the sector to operate within the law, and with respect to women especially.
"But there must be order. There is no country that does not have order," he said.
Uhuru hit out at DP Ruto who, during his United Democratic Alliance (UDA) meeting earlier in the week, said boda boda operators were being mistreated by the State because it did not support small businesses. The DP later encouraged operators who had their motorcycles impounded during a crackdown, should demand their motorcycles from the police.
"Those who want to use this issue for cheap politics, please work together with us so that we can help these youths run lasting businesses," Uhuru said.
President Kenyatta was in Korogocho, Mathare North Constituency to launch construction of a 350-bed capacity Level 6 Mama Margaret Kenyatta Children Hospital. Uhuru said threats and insults would not deter him from working to improve the lives of Kenyans.
"I will continue to stand firm in my resolution that national unity is the most important thing for development and progress. I believe that justice will prevail not threats and insults," he said.
Uhuru asked residents to support Azimio la Umoja presidential nominee Raila Odinga, which seeks to unite the country and is committed to peace. He said the best way to tackle poverty was to first make sure the country was peaceful and stable.
"Do you want us to work together or would you prefer petty politics and insults? There is no other way to end poverty apart from having a stable and peaceful country that will attract investors and our youth will get jobs," he said.