Uhuru Gardens to have state-of-art museum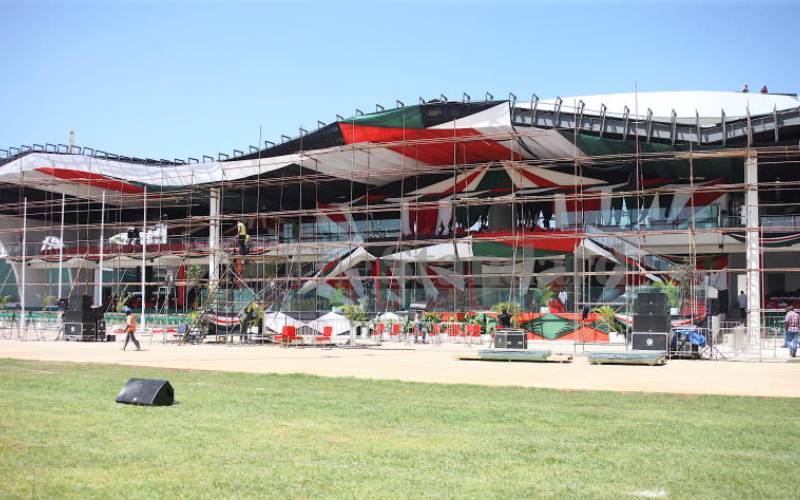 There is a fresh shine smeared all over Uhuru Gardens in Nairobi. Looking nothing like its former self which was a den for drunkards and at times harboured social misfits who engaged in pervasive acts, Uhuru Gardens is taking new turn to pull its image- only seen when the Union Jack was lowered on December 12, 1964.
The historic grounds have a state-of-art museum under construction, a manicured field and modern architecture.
Speaking during Jamhuri Day celebrations, yesterday, President Uhuru Kenyatta promised a new look for a museum that will house a huge chunk of Kenya's history that will be open for public viewing by April 2022.
Inside the new museum will be the 'tunnel of martyrs', 'the tomb of unknown warrior', 'the heroes boulevard' and the 'rope gallery' which will have all the names of the 1,090 person hanged by the British colonialists.
There will also be a moments of darkness gallery that will showcase the lowest moments Kenyans have witnessed in history.
The museum will showcase all the Kenyans who sacrificed their lives or died during all watershed eras from the first- and second-world war to the 2007 post-election violence.
"This place will be an arena where the past, the present and future will converge," said President Uhuru.
However, not only the darkness of the country's history will be showcased but also the positive and innovative strides Kenyans have taken to build a better future for the coming generations,
"This place will be a book of history, an illumination of the future weaved in hope, written in pictures, sculptures and historical artifacts," stated Uhuru.
Uhuru Gardens will be the next safe for Kenya's history of pain, progress and unity. Uhuru Gardens promises a public project that will be in the same league as the Kenya National Museum and Uhuru Park.
Uhuru Gardens, Kenya's largest memorial park is a place of rich history. Before Kenya got its Independence from the British, the soil that is now Uhuru Gardens was a concentration camp that inhumanly housed African freedom fighters and dissidents of the colonial government.
"During the liberation war, this concentration camp was the most notorious clearing house for our liberation fighters. In fact, it is estimated that up to 10,000 of our gallant and most feared liberators were confined in this camp and most of them did not survive," said the President.
As a symbolic way of remembering the independence heroes the country lost in the hands of British colonialists, the founding fathers chose the grounds as the place where the country got complete self rule. To commemorate the change of guard, the late President Jomo Kenyatta planted a Mugumo tree where the flag was hoisted. The tree still stands to this day.