Confiscated bodas bodas in Nairobi CBD and the new millionaires in town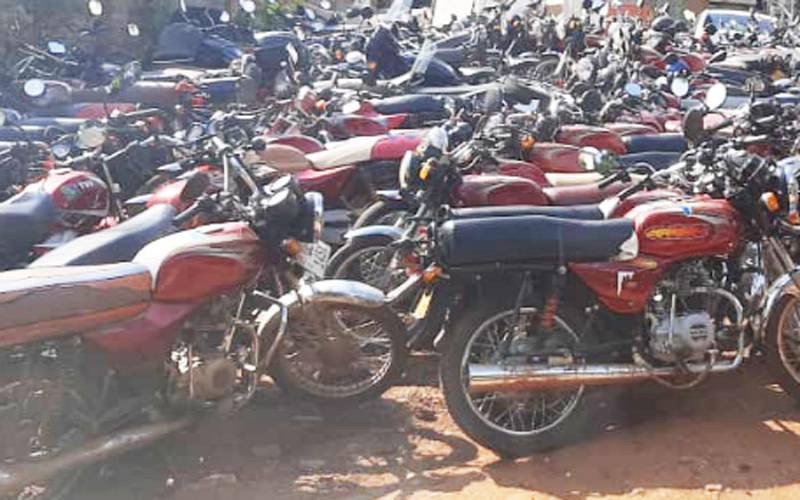 A 2018 rule banning boda boda riders from operating in the heart of the capital city has birthed a new crop of millionaires receiving bribes to allow the operators to go about their work in the CBD uninterrupted.
Felix Odhiambo, a rider in Nairobi, said he and his colleagues pay county askaris a bribe of Sh500 weekly to be allowed to illegally operate in the central business district.
Those who fail to part with the bribe, however, have to dig deeper into their pockets to secure release of their motorbikes after they are impounded by the county askaris.
When a motorbike has been impounded for law violation, it's usually towed to a confiscation centre near St. Peter Claver's Primary School in Starehe, where its release is secured after the owner pays a fine, which runs to almost Sh5,000.
Some of the streets that the boda boda riders illegally operate from are Kenyatta Avenue, Tom Mboya Street, Luthuli Avenue and Moi Avenue.
Some of the boda boda riders, however, pay bribes, instead of the higher rate of Sh5,000, to secure the release of their motorbikes.
These illegal broker deals have birthed millionaires in the city.
There is a select group of people who mill around the confiscation yard to help boda boda riders secure repossession of their motorbikes without following the due process.
When a confiscated motorbike is stored at the facility overnight, it attracts a fine of Sh1,500 daily.
"They (brokers) usually pray that we fail to raise the fine so that the release costs can be so high, forcing us to turn to them for assistance," said one of the operators.
Douglas Momanyi, 35, a boda boda rider said city askaris and the brokers "make a lot of cash from bribes".
Director of Enforcement Services, Nairobi County, Mark Leruk denied allegations of widespread corruption in the county traffic department.
"It is the Kenya Revenue Authority (KRA) officers that collect fines at the confiscation yard, and not the brokers or city askaris," he said.