Devolution end to exclusion, says CS Eugene Wamalwa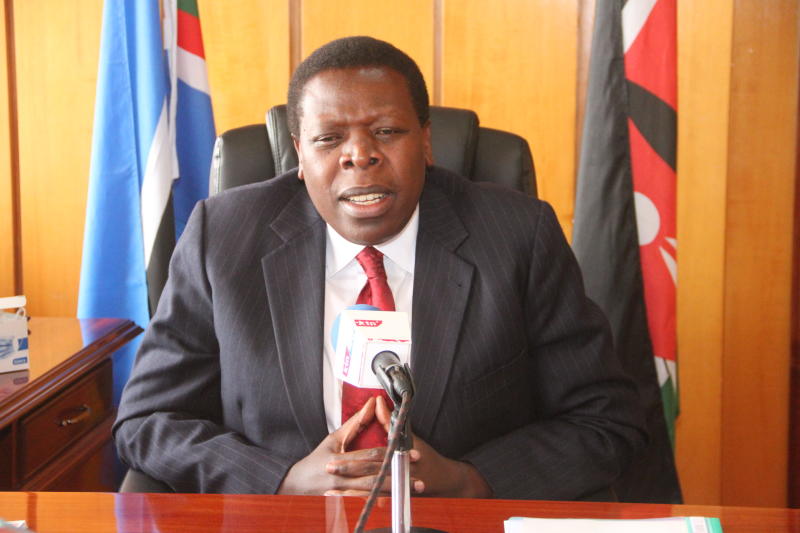 Devolution has ended exclusion and marginalisation that were prevalent before the Constitution, CS Eugene Wamalwa has said.
Speaking at the National Treasury building office in Nairobi, yesterday, when he handed over the Devolution docket to CS Charles Keter, who took over from Energy, Mr Wamalwa said the Constitution that gave birth to the Devolution ministry was a blessing to Kenyans.
Mr Wamalwa was recently transferred to the Ministry of Defence. "The devolution revolution under President Uhuru Kenyatta's leadership has seen ushered in a new era of equalisation and inclusivity," said Wamalwa, who has been the CS for Devolution for four years.
He added: "Indeed devolution holds the key to a more just, equal and inclusive, and more equitable Kenya, and I am not only welcoming my brother Charles as I hand over this docket to him but also happy to hand over this key to him."
On drought, which was being handled under his ministry's State Department of Development of Arid and Semi-Arid Lands (ASAL), and which now moves to Public Service, Gender, Senior Citizens Affairs and Special Programmes, he said since the President declared drought a national disaster, the Treasury had approved Sh2 billion for procurement of relief food.
He said out of the Sh2 billion, at least Sh450 million went to Ministry of Defence and Sh350 million to Ministry of Water, Irrigation and Sanitation. "The Ministry of Devolution immediately commenced the process of procurement of relief food and nonfood commodity items,'' he said, adding that relief food had been delivered to Kilifi, Wajir, Marsabit, Turkana and Baringo, and nonfood items dispatched to Laikipia.
Wamalwa said the ministry had rolled out a nationwide relief food distribution work plan in 23 ASAL counties covering 129 sub-counties.
''I wish to thank counties also for stepping up support for affected communities in food distributions and water trucking. I thank our sister Ministry of Water, Irrigation and Sanitation that has commenced distribution of clean water to all the communities in the affected ASAL counties to compliment what the counties and National Disaster Management Authority are doing," said Wamalwa.
The CS said Kenya Defence Forces had started livestock off-taking at the Kenya Meat Commission facility as well as supporting water trucking efforts by national and county governments.
Keter, the now Devolution CS, promised to continue to maintain the good relationship that the outgoing CS had with governors.
Public Service, Gender, Senior Citizens Affairs and Special Programmes CS Margaret Kobia said she would build on the gains Wamalwa had made to ensure all intended government efforts towards drought mitigation get down to the most vulnerable Kenyans.