Nairobi 'boda boda' chaos leaves rider killed, officer injured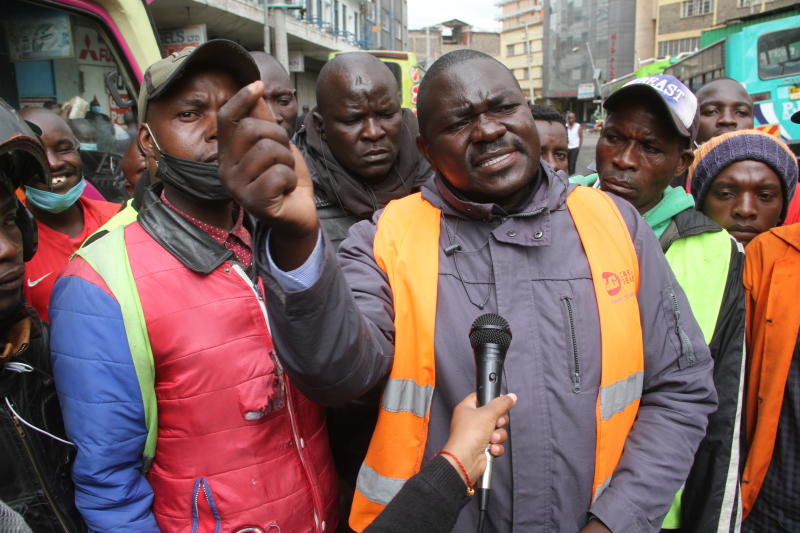 Kirinyaga Road and a section of downtown Nairobi were yesterday turned into a battle zone which left a boda boda rider dead and a police officer fighting for his life at a Nairobi hospital ICU.
Although the exact cause of the chaos is unknown, according to boda boda riders who spoke to The Standard, it began when 30-year-old Rabin Patel Ogeto was flagged down by a police officer on patrol for riding on the wrong side of Kirinyaga road.
"The police officer stopped Ogeto and demanded a bribe. Ogeto said he did not have any money and an altercation started. The officer shot him dead," claimed Dennis Achieng, Chairman of United Boda Boda Association, Nairobi.
After the shooting, enraged boda boda riders gathered near the scene and started demonstrating over the shooting of their colleague, whose body lay lifeless in the middle of the road.
However, Central Police Deputy OCPD Dorris Kemey denied the version of events, saying the melee began when one of their colleagues was attacked by a group of riders.
"The officers were walking when they suddenly they heard a gunshot and realised they had left their colleague, Elijah Mutunga, behind. He had been attacked by a mob of boda boda riders. When our men were trying to rescue Mutunga, they saw him lying on the ground and shot in the air to disperse the mob," Kemey said.
According to the police, one of the protestors attempted to snatch Mutunga's gun and in the ensuing struggle, the rider was shot. Kemey said it was not clear who fired the fatal shot, the circumstances that led to the altercation and why the boda boda riders were assaulting Mutunga.
"The police officer is right now admitted at Nairobi West hospital in critical condition at the ICU. We are going to do thorough investigations. The Inspector-General of Police has already called in all the agencies involved, that is the IPOA and Internal Affairs Unit because these are independent bodies," Kemey said.