How donkeys have made war against terror more complex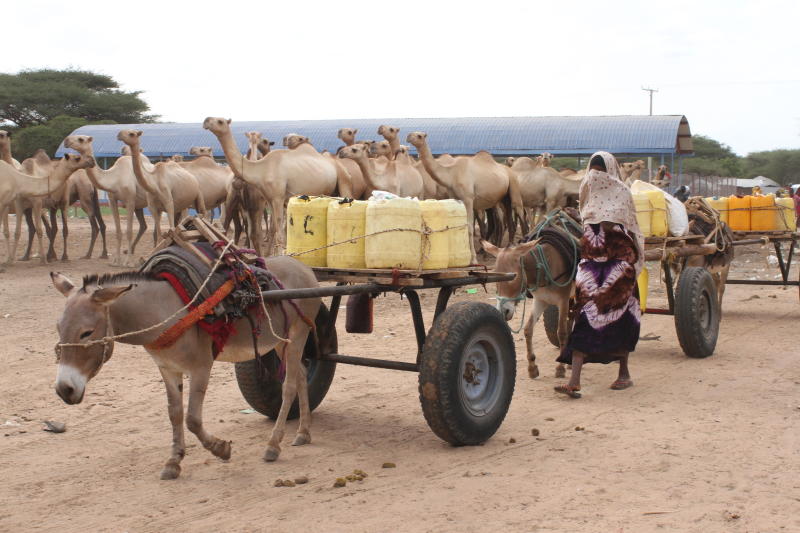 A donkey is a domesticated animal that has been used by man as a helper for donkey years. However, the latest creative (mis)use of the beasts of burden as tools of terrorism is becoming a major source of concern among the country's top security organs.
Only late last month, a suspected member of the Al Shabaab was killed as security officers intercepted a donkey carrying two AK 47 rifles and bomb-making materials at the main Kenya-Somalia border in Liboi, Garissa County.
According to the officers, who spearheaded the operation, the suspect who had the donkey was shot dead while the animal and the cart were carted away. Man and donkey are believed to have been heading for a terrorism mission in the area when they were intercepted.
Besides the rifles, components for assembling Improvised Explosive Devices (IEDs) and other logistical support supplies were also seized. Now sources in the police say the Al Shabaab terrorist group even has a complete donkey unit, which aids the gang's bloody operations.
This is only but the latest case of Al-Shabaab donkey assisted operation to be intercepted by security authorities. Security agents have over the years intercepted cart-pulling donkeys transporting illicit weapons from Somalia to Kenya.
In remote regions of northern Kenya, donkeys play a crucial role in everyday life. According to Abdirahaman Maalim, a social worker of a Garissa-based Community Based Organisation, "donkeys are everything" in the arid north region.
"With fewer roads, some in a very deplorable state, we rely on donkeys to transport supplies such as food, water, firewood and medicines. Donkeys are a vital asset to our livelihoods," says Maalim.
This reality presents a major challenge to the anti-terrorism efforts. According to Gerald Majany, a law and security consultant, administrative authorities cannot declare or decree none usage of donkeys as modes of transport.
"One cannot ordinarily ban the movement of donkeys to passer-by destinations, since such a move will be bitterly contested by animal rights' lobbyists and members of the local community," warns Dr Majany.
Mandera County Deradicalisation Chief Officer Mohamed Osman confirms involvement of young people in abetting terror-related crimes in northern Kenya. Some of the boys, he says, are recruited to purchase and ferry donkeys to Somalia or are hired to transport weaponry.
"Unfortunately we cannot follow these boys to their hideouts deep down in rural areas for fear of our very own security," says Osman, calling for security to be beefed up to enable his team to undertake its tasks efficiently.
Osman says the duty at hand requires them to interact closely with the locals, yet at the moment, officers at the Deradicalisation Department cannot even protect themselves from targeted or reprisal attacks.
Complex war
The use of donkeys to transport illicit weaponry, observes the CBO official, renders the anti-terror war even more complex.
Owing to the ingenuity of terrorist groups and dynamic nature of attacks, security experts call on relevant agencies to embrace sophisticated technological weaponry, including digital warfare methods, to ward off the threat posed by Al-Shabaab and other terrorist gangs.
Kenyan intelligence officials separately polled by this writer maintain they have tried to keep pace with the modern warfare advancements. Indeed, the officers have over the years successfully intercepted donkey handlers and suspected militants, potentially preventing more attacks and thereby proving that they are registering tangible progress.
From as early as 2011, the Kenyan military personnel have kept vigilance over donkey use in northern Kenya. In one of his tweets then, Military Spokesman Maj Emmanuel Chirchir, warned that any large concentration and movement of loaded donkeys would be treated as "Al Shabaab activity", following reports the militants were using the animals to transport weapons.
The officer specifically used Twitter to caution Kenyans against selling their donkeys to the terrorist group, warning that they would be targeted by the authorities. Selling of donkeys to Al Shabaab, he said, was undermining Kenya's security mission in Somalia.
Donkeys have been used the world over by guerrillas to outwit the high-tech military forces of nations, including powerful ones like the United States. In 2003, for instance, the use of donkeys rose to prominence during the US military operations in Iraq.
Attackers specifically used donkey carts to launch Katyusha rockets at the Oil Ministry and two fortified hotels in the Capital City of Baghdad. At one point two other donkey carts – one carrying more rockets, the other donkey wired up with explosives – were intercepted by the Americans.
Following an intensive crackdown on the beasts of burden, every donkey in Baghdad at the time suddenly came under suspicion as then US President George W Bush waged a global war on terrorism, targeting Iraqi strongman, Saddam Hussein.
Back home, Mandera Governor Ali Roba confirms existence of an anti-terror unit as well an action plan for each county, only that there is underfunding for these operations. There are also cross-cutting roles of various teams on the ground, yet the security mandate is constitutionally assigned to the national government.
The special forces addressing the terrorism question in the northern Kenya frontier are led by the Kenya Defence Forces (KDF), several police and border control units, the Rapid Deployment Unit (RDU), which ordinarily conducts direct action operations and coordinates all security rapid responses, the General Service Unit (GSU) and the National Police Service.
While no major operational hitch has so far been reported or a clash of interests amongst the various units witnessed, the Mandera governor says for effective and better results, the government ought to coordinate the security operations.
This view is shared by security analyst Jackson Wabende: "While the various police and patrol units are undertaking a commendable primary task, the issue of terrorism across national borders is one that is beyond our local police. Deployment of the relevant and better equipped forces like KDF is highly encouraged."
The deployment of KDF, explains Wabende, who runs a private security agency in Mombasa, "is geared towards boosting anti-terrorism activities". The crime buster advocates for a more coordinated inter-forces unit as the best approach to the terrorism menace.
Meanwhile, Dr Majany, who heads the criminology department at Presbyterian University of East Africa (PUEA), says actors in the security sector need to go back to the drawing board.
Innocent donkey handlers
"Individuals being arrested in the current swoops, for instance, might be mere innocent donkey handlers hired to transport packages whose contents they may not be aware of. To ably fight this crime, we must trace its source, destination and intention – that is whether the illicit weaponry is meant for ordinary theft, cattle rustling or terrorism," he says.
And noting that terrorists cannot come and plant or transport explosives without the knowledge of locals, North Eastern Regional Commissioner Nicodemus Ndalana believes collaboration is most crucial in fighting terrorism. Ndalama has repeatedly appealed for support from area residents towards this end. Al-Shabaab insurgents, in particular, have in the recent years staged vicious attacks on private institutions and business premises on the Kenyan side as well as government installations, leaving in their trail scores of civilians and security officers dead or wounded.
The Somalia-based gangs have claimed that their actions are retaliatory and aimed to force Kenyan soldiers out of their home country. Kenya's military contingent crossed over to Somalia in 2011 in pursuit of the terror gangs in an undertaking dubbed 'Operation Linda Nchi'.
According to Kenyan authorities, the move was meant to safeguard her citizens and secure the border with Somalia.
Since Kenya's first major terrorist attack in 1980 on the New Year's Eve at the Jewish-owned Norfolk Hotel in Nairobi, which left 20 people dead and another 87 wounded, and later on August 7, 1998 at the US Embassy, which claimed 213 lives, security agents have over the time registered a gradual improvement in disaster response.
When, for instance, four gunmen stormed Garissa University on April 3, 2015 and began firing indiscriminately, the response was relatively slower. By end of the siege at the campus, 148 people – mostly students – had been killed. The operation lasted two days before the attackers were eventually surrounded and killed.
The siege at Nairobi's Westgate Mall on September 21, 2013, which left 67 people dead, was equally challenging. The rescue operation lasted four days. The response to the attack at DusitD2 Hotel complex in Nairobi on January 15, 2019, was fairly swift. The assault, which claimed 21 lives, began at approximately 3 pm and by 11 pm local time, Kenyan security forces had contained the attackers to the top floors of the hotel and rescued scores of civilians.
Although the threat of terrorism remains, Majany is of the opinion that the Kenyan forces are getting better by the day in terms of coordinating and responding to attacks. Recent interceptions of donkeys transporting weaponry, he observes, is similarly proof of improved vigilance.
Describing it as intractable, the head of Criminology Department at PUEA argues that security is an issue that can never be resolved absolutely.
"The challenge keeps changing with time and the only way to keep it in check is through eternal vigilance, intelligence and information sharing, as well as a solid presence on the ground."