Whereabouts of slain Kitengela man Benjamin Imbai's Prado TX unclear, kin takes Lexus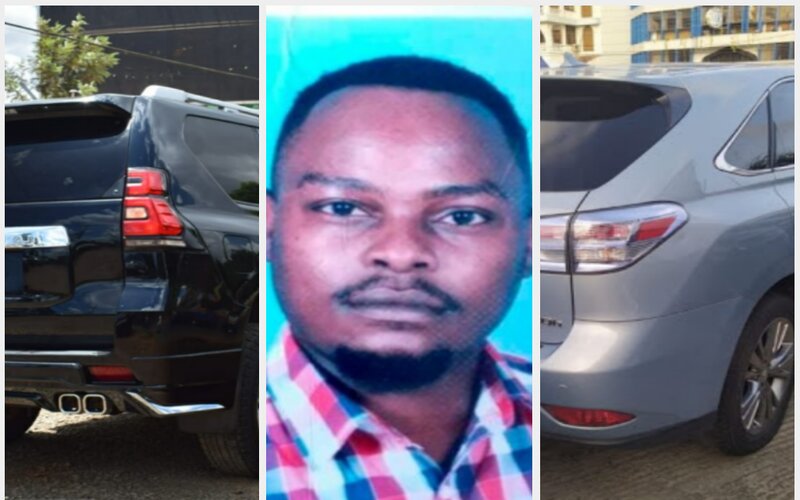 Benjamin Imbai, one of the murdered Kitengela men, owned at least two high-end vehicles – a Toyota Land Cruiser TX 120 series and a Toyota Lexus RX 270h. The whereabouts of the Lexus is known. The whereabouts of the TX is unclear.
Both vehicles, combined, cost an estimated Sh11 million; the TX, Sh6 million, and the RX270h, Sh5 million. The possessions clearly indicate Imbai, known in his circles as Ramsey, was a garish 30-year-old, who could not think twice on spending heavy on futuristic vehicles.
On May 7, the last of his possessions were removed from his rented three-bedroom house at Everest Park Estate Apartments in Athi River, Machakos County.
A new tenant had expressed interest in moving into the deceased's house. That also meant, Imbai's parking bay, which could accommodate a maximum of two vehicles, was to be surrendered to the new entrant.
The deceased's sky-blue RX270h had already been taken by his younger sibling. What remained at the parking bay, was Imbai's black Toyota Land Cruiser Prado TX 120 series, 2013 model. The longer the vehicle stayed there, the longer it would take the new entrant to move in, an impasse that would have a negative effect on the landlord's rent income. As a result, a spirited search for the TX key by Imbai's kinspersons was embarked on.
The search, however, yielded nothing. Imbai's relatives were, consequently, left with one option – to reprogram the ignition so that the vehicle could be driven out.
A mechanic, whose specialty is electrical engineering, on May 7 arrived at the Everest Park Estate Apartments, worked his magic, and the vehicle roared to life. It was, thereafter, driven out of the estate, for the last time. Imbai, who was a bachelor, had stayed at Everest for a period of just under one year.
What now remains unclear is who took ownership of his Prado TX, a sport utility vehicle.
It also remains unclear whether Imbai had a will, and whether the people who could be having his two cars now were listed as inheritors.
A person privy to the happenings, but spoke to The Standard on condition of anonymity, said he suspects one of the deceased's relatives is now driving the Toyota Land Cruiser TX.
Our attempts to seek a comment from Imbai's family were fruitless.
Details of the new ownership of the vehicles at the NTSA's motor vehicles register weren't immediately available.
This comes on the back of a revelation that the special DCI team formed to investigate the murders of Imbai and his friend, Elijah Obuong', has already made progress with the probe.
The team, through a member who spoke to The Standard in confidence, said they have so far managed to establish the nature of income-generating activities that Imbai, Obuong' and the other two – Jack Anyango Ochieng and Brian Oduor – were engaging in before they went missing on April 19 in Kitengela, Kajiado County.
"We, however, cannot make the revelations public because the probe is ongoing," he said.
Buried at night
The Standard has established that Benjamin Imbai, who was found killed and dumped in Kieni Forest in Gatundu North, Kiambu County on April 29, was buried last Saturday, May 8.
The tricenarian was laid to rest at his ancestral home in Kaimosi, Vihiga County.
One of the deceased's relatives, who spoke in confidence, told The Standard that Imbai was buried in the dead of night.
"We buried him at night because he died under unclear circumstances. According to our Maragoli traditions, someone whose cause of death is unknown, or is killed in unclear circumstances, is usually buried at night to avert bad omen," said our informant.
A post-mortem conducted on Imbai's body on May 5 indicated he was strangled and suffocated.
The autopsy further showed Imbai had several bruises on his body, suggesting he struggled to free himself from his abductors' grip. He was, however, unsuccessful.
There were marks on Imbai's neck and hands, the autopsy indicated. The examination further suggested Imbai was tied, pinned to the ground and, thereafter, suffocated to death.
The report also revealed Imbai's eyes were affected, as blood traces were found in both sight organs. The 30-year-old was booked at General Kago Funeral Home on April 20 at 10:37pm, exactly a day after he was reported missing
The body had been taken to the facility by police officers from Kiamwangi station in Gatundu North. A plumber, who was repairing pipes in Kieni Forest, is said to have stumbled upon the body and alerted police
Officers from Kiamwangi said they found Imbai's body with no shoes or shirt on
"He was only in his pair of trousers," said a junior cop.
Imbai vanished from Enkare Nightclub in Kitengela on April 19 alongside three of his friends.
Another member of the four, Elijah Obuong, was on April 20 also found dead and dumped in a river in Mathioya, Murang'a County.
A postmortem conducted on Obuong indicated he died of blunt force trauma.
The other two of the quartet, Brian Oduor and Jack Anyango Ochieng, are yet to be found.
Past reports suggest Imbai was linked to several criminal offences in Nairobi.
On January 14, 2020 DCI tweeted that Imbai had been arrested for breaking into a car on Ngong Road, and made away with Sh900,000. The matter was still in court.