Family appeals for help for American man held in hospital over bill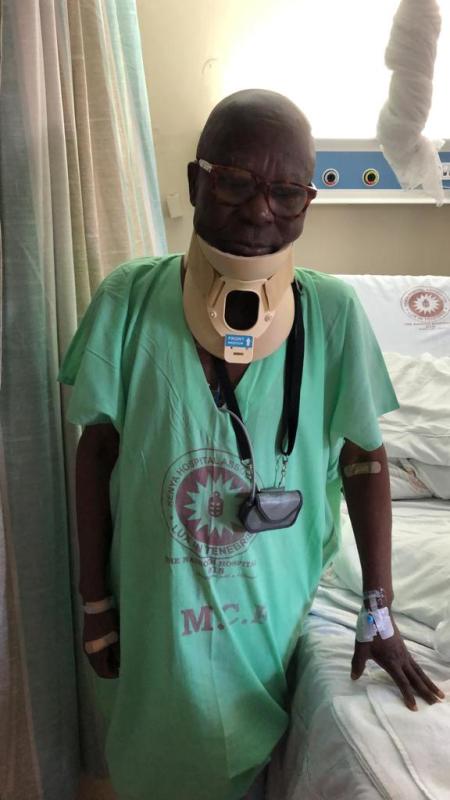 An American citizen has been detained by Nairobi Hospital for about three months over Sh2.5 million medical bill.
Jayson Addo, 82, came to Nairobi as a tourist. He fell in his hotel room on February 1 and was rushed to the hospital.
The family says they first got communication about Addo's illness from the hotel where he was staying.
"He gave them his health insurance card from the US but the insurance company said they could not pay out of country cover," says his daughter Vicky Addo.
She adds that they have been in constant email communication with the hospital but they have now reached a dead end.
"We have been asking that he be moved from the hospital so that we find a way of paying while he is out. We asked that they keep his passport but let him go as we look for money but the hospital insists on detaining him. The bill keeps rising," says Vicky.
Nairobi Hospital yesterday said it does not discuss issues of billing with media or anyone who is not next of kin of the patient.
"Anytime he calls us, he just says he wants to get out of hospital. We are trying our best to raise the money or even travel to be with him, but things are not easy because of coronavirus," says Vicky.
Take a quick survey and help us improve our website!
Take a survey
Documents shared with The Standard show that he was treated for many ailments, including Covid-19.
According to the family, the caretaker of the hotel where Addo was staying says the hospital has also been calling them asking that they organise how the bill will be paid.
"He was taken to hospital by a man called Paul Ngugi. He is the one that was listed as his next of kin on the admission documents, so the hospital has been calling him too," says Vicky.
"He was getting better but all of a sudden, things took a turn for the worse. I fear for him," reads one of the messages that Ngugi wrote to the family, highlighting the risks that travellers could face when out of home without comprehensive insurance.
The situation of Addo's family is complicated by the fact that when they made inquiries of how they could transport their father back to the America in case he is discharged, they were given more unfortunate news.
"He will need full attention, feeding and going to the bathroom, for the flight due to his condition. He will need a medical escort on the flight. Also, due to his medical condition, he can only fly business class because his condition affects his neck," read the brief that the family got after airlines reviewed the doctor's reports from Nairobi Hospital.
They say with every passing day, they get more anxious about the situation. Their father's condition, they say, seems to be deteriorating and all he is asking for now is for his family to find a way of getting him home. The family is of Ghanaian origin.
Vicky says when Covid-19 travel restrictions were lifted, their father planned his visit to Nairobi as he was in good form.
Addo reportedly first visited Kenya about three years ago and fell in love. Since then, he has been visiting on a tourist visa.