Man loses two cars worth Sh2.8m in fire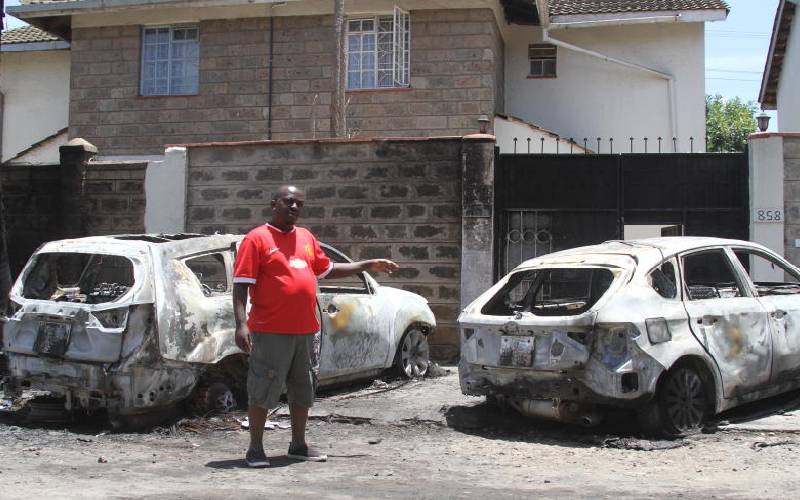 Cyrus Nduhiu and his young family were enjoying lunch at their home in Imara Daima, Nairobi on Saturday afternoon when their meal was disrupted by screams coming from outside their gate.
As they could not have imagined the worst, they were not alarmed at first. It was not until the 42-year-old decided to check what was happening outside and found a crowd trying to put out a fire outside his gate that it hit him that the danger was closer home than he had imagined.
The father of three told The Standard how he, in disbelief, watched as his two vehicles parked outside his home were consumed in the fire.
"We were having lunch when we heard very loud screams outside my home. By the time I came out of the house one of the cars was already completely burnt," he added.
The fire, he said, was so fierce, making it difficult to save any of the cars. "The heat was intense and my biggest worry was it spreading to the house. Luckily, because of the wind, the flame was going against the direction of my house," he said.
Nduhiu, a manager at Cooperative Bank, owned a Mitsubishi Outlander, which he said was valued at Sh1.8 million, and Subaru Impreza worth Sh1.05 million.
Yesterday he dismissed theories circulating on social media on the possible causes of the fire, saying the incident remained a mystery. Police are investigating the matter.
"I have seen all manner of suggestions on the causes of the fire. One of the rumours is that the fire was suicidal due to marital issues. There is nothing like that. The police are on the matter and once investigations are done, we will all know what caused the fire," he added.
Nduhiu however said he was rather impressed by the short time the firefighters took to arrive at the scene. He said the swift action prevented further damage that could have occurred if they had not arrived in good time. "They only took 15 minutes, and that helped a lot because the fire was fast spreading and it could have been disastrous," noted Nduhiu.
Kariuki Kimiti, a neighbour, said although the cause of the fire remained unknown, the dry branches of a palm tree right outside Nduhiu's home could have made the situation worse. "The dry leaves of the trees outside his home fanned the fire," he said.
Mr Kimiti further cautioned car owners, saying as much as some incidences were accidental, the way a car is parked could determine how bad a situation turns out.
"It all happened so fast. Both cars burnt down in 12 minutes," Nduhia said.
No casualty was reported in the incident.