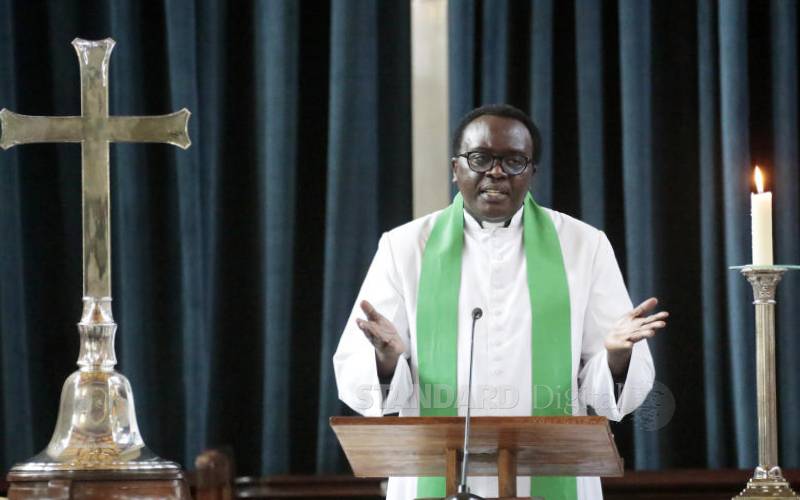 An old adage by Irish statesman Edmund Burke says the only thing necessary for the triumph of evil is for good men to do nothing.
This is what the All Saints Cathedral Provost, Rev Canon Sammy Wainaina has decided not to do - nothing.
His fiery sermon at the cathedral on Sunday where he blasted the government over unending corruption and divisive politics was viewed widely on social media.
Many are wondering whether the church has finally found her voice and if Wainaina heralds a return of the gallant clergymen who called out the government and their misdeeds.
For some time now, the church that was once seen as a place of correction and refuge for the people has failed to defend the people and call out wrongs. It appears church leaders have given politicians the leeway to attack each other on their podiums.
This was unlikely during the times of the likes of Timothy Njoya, Henry Okullu and Ndingi Mwana a'Nzeki, who are remembered for fearlessly taking on the State and powerful people. They were ready to lay down their lives for justice. Wainaina lately seems to be fitting into their shoes.
Wainaina was ordained in 1996 in Nakuru Diocese. He has been in service for 23 years, rising through the ranks as Vicar, Archdeacon, Assistant Provost and currently the Provost at All Saints Cathedral for the last five years.
Last March, Wainaina, who according to some is a close friend of the president, penned an open letter to him, warning that the bad blood between him and Deputy President William Ruto was causing anxiety in the country.
"It is with much reflection on the state of this country that I have found strength to write to you. Like children in a troubled marriage, Kenyans are worried and apprehensive about your government and your relationship with your deputy," the letter read in part.
Last Sunday, Wainaina, who has a Diploma in Divinity from St Paul's Theological College, Kapsabet, a Bachelors Degree in Divinity (St Paul's University, Limuru) and a Masters in Education and Training for Development (Reading University, United Kingdom), directly addressed pertinent issues affecting the nation.
"It is sad that most leaders are motivated by power, influence and money. It is even grievous when this happens in churches. The church then loses the moral authority to challenge corruption and sin," Wainaina said.
State machinery
Referring to President Kenyatta's confession that Sh2 billion is lost every day, Wainaina wondered who will save the country from persistent corruption. He noted that as the president, Uhuru has all the government machinery at his disposal to deal with such issues.
"Mr President is not just a simple guy. When a whole president confesses that Sh2 billion is lost, believe it, it is true," said Wainaina.
He added: "What are you telling Kenyans when you confess such? That you are defeated? Who then will save this country if the president cannot save us? Either the government knows who steals Kenyans' money, or the government is part of the stealing."
He reminded politicians that what Kenyans need are opportunities for employment, road networks, market for their produce, quality healthcare and education.
"If we are a Christian nation then our values should be led by the scriptures," Wainaina said.