Snail's pace for road users returning to city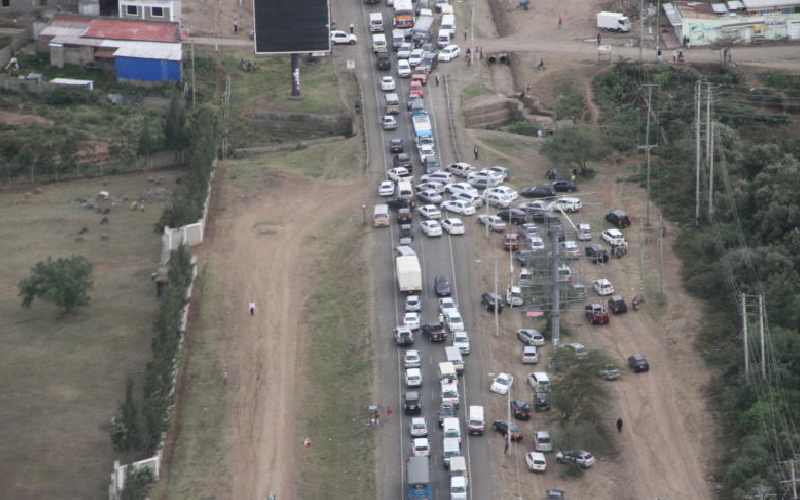 The Nairobi-Nakuru highway was yesterday a parking lot in a snarl-up of slow-moving traffic between Salgaa and Naivasha, as Kenyans rushed back to Nairobi after the festive season.
The lush green farms of the Rift Valley were harshly contrasted by the cold, grey tarmac road that stretches out in its midst, with trucks, public service vehicles and personal cars spilling over to the side of the road, as impatient drivers eager to exit the stressful stretch of road fought every way to inch forward.
Ahead of the congestion experienced yesterday, the Kenya National Highways Authority (KeNHA) warned of the more snarl-ups and called on motorists to use alternative routes.
The agency had on Saturday asked those using the road from Western Kenya to avoid it and those from Nakuru headed to Nairobi to use the Ndundori-Oljororok- Njabini-Flyover route.
Those from Nyanza and lower Kericho were urged by the highways authority to use the Sotik-Narok-Mai Mahiu Road.
Despite the agency's call on road users to avoid overlapping, the act was prevalent throughout, with frustrated drivers moving over to the rough roads on the sides to extricate themselves from the gridlock.
Traffic police were, however, present at Naivasha town, where they conducted usual checks amidst heavy traffic.
The snarl-up, which frustrated travellers rushing back to work, school and business endeavours in the capital city, is not new. It has assumed near ritual status.
In August 2019, hundreds of road users were left stranded on the road overnight, with the jam extending for at least 30 kilometres.
Later that year in December, a similar traffic jam was experienced, lasting almost 15 hours and which was blamed on overlapping by impatient motorists, causing the Nakuru weighbridge to earn its reputation of notorious snarl-ups.