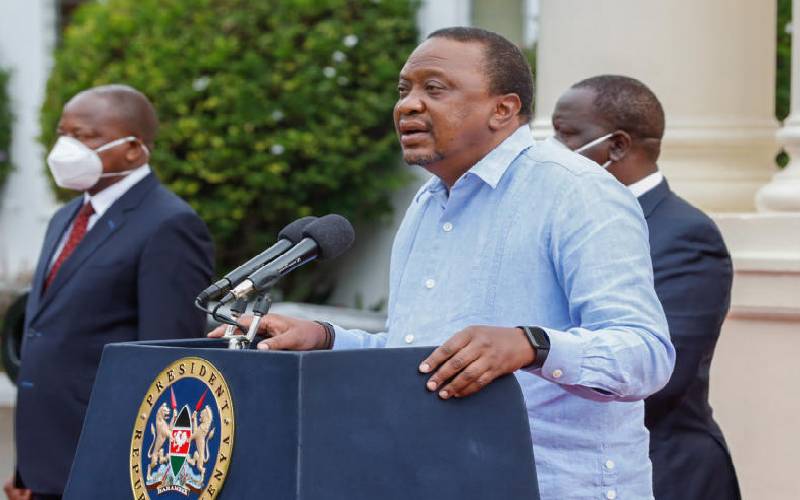 President Uhuru Kenyatta has urged Kenyans to change their mindset as they usher in the New Year 2021.
While delivering his New Year message to Kenyans on Thursday evening, President Uhuru said despite 2020 being a testing year due to the Covid-19 outbreak, Kenyans still made some achievements.
"We experienced many challenges individually as well as collectively, but we also experienced triumphs," he said.
President Uhuru empathised with children who were forced to adopt new restrictive ways of life to curb the spread of the virus.
Read More
He urged parents to help the children adapt to the new normal as they figure out how to deal with the new way of life.
"In the New Year we need to look deep into the heart of the family and invest time in helping our children to come out of this situation," he said.
He challenged Kenyans to come together and ensure the disease does not damage 'our souls' as the government tries to contain the disease from damaging our body.
"We will do everything to ensure the disease does not damage the body, but Kenyans must also make sure it doesn't damage our soul," he said.
President Uhuru urged young people to harness their talents and not throw away their youth by engaging in unnecessary activities.
"Gather the strength gift, talents and energy within yourselves and harness it. Do not throw away your potential to the harrowing wind," he said.
The Head of State challenged the youth to remain focused on their values if they were to rise again in the year 2021.
"If you remain true and focused on yourselves and values, you will indeed overcome and rise and be better."
He challenged the business community to think outside the box and come up with new business models to help cushion them against 2020 losses and help them rebuild.
"The year 2021 will be a year of rebuilding, therefore, I urge Kenyans to adjust their mindset and embrace the spirit of renewal, hope, possibility and growth," he said.
Uhuru called for unity ahead of the proposed referendum through the Building Bridges Initiative (BBI), saying the proposed changes will revolutionise Kenya for better.
He said the proposed referendum will eliminate the winner takes all and replacing it with we all win.
The Head of State thanked medics and members of the security forces for their exemplary work during the outbreak of Covid-19 and festive period.
Uhuru said the government will ensure all learners set to resume learning on January 4 are protected against Covid-19.