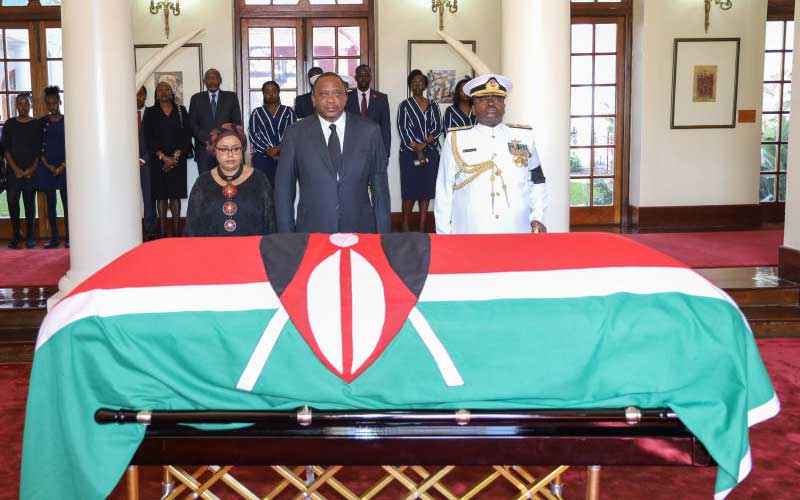 The difficulties occasioned by the coronavirus were made worse by the passing of many reputable individuals. From presidents to rock stars to humanitarians, 2020 was the year they exited the stage.
Kenya lost notable people among them the country's second president, Daniel Toroitich arap Moi, who died aged 96.
President Moi was a dominant figure during and after his life in politics. A presidency spanning 24 years and a career that stretched for more than half a century meant that he had unquestionable power and influence over the politics and, by extension, the development of the nation.
Kenya's longest-serving president was buried on February 13 at his Kabarak home in a ceremony that brought to an end eight days of national mourning. The curtains were drawn on an era dominated by a man whose shoes subsequent successors found almost impossible to fill.
Read More
The elaborate ceremony started with the president's body being moved from Lee Funeral Home to Wilson Airport in Nairobi, and then onwards by a military helicopter to Kabarak University in Nakuru County for a requiem Mass, and finally to his home where he was buried next to Lena, his wife.
His death, however, was more significant than just the passing of a former head of state. It meant many things to many people. The Church, for instance, lost a devout Christian.
Moi had dedicated his life as a champion of Christianity and throughout his presidency, the Church remained his key ally. In death, the Church lost a partner who was instrumental, from his early years in leadership, in building churches across the country.
Passion for education
He would also be missed for his pioneering spirit in education. All across the country, hundreds of school bear his name. As a former teacher, his passion for education was almost unparalleled. The former president never shied away from emphasising the importance of education wherever he went.
An astute politician, Moi had a knack for reading the political mood of the country throughout his presidency. From weathering an attempted coup to managing the advent of multi-party politics, Moi always appeared to be a step ahead of his political peers.
In 2002, the country was for the first time in a quarter century getting into a new political order. The domination that Moi's party, Kanu, had enjoyed was being challenged and no one was sure how the president would react to a loss.
"In October 2002, we were told to tell him that his party was not doing too well. I gave him two possible speeches on the election outcome. A victory and a loss," Dr Sally Kosgei, his longtime head of civil service, said at his funeral.
Two months later, while on official duty in the United States, the 2002 elections came up once again. US President George W Bush asked Moi what he thought the election outcome would be.
"May the best candidate win," he said.
At the end of that year, Kanu was out of power.
"He was ready," Kosgei said in her moving tribute to Moi. "I will always remain grateful for his generosity and respect."
On the global stage, the world lost someone who had been described by friends as being at ease in foreign surroundings.
International man
Kosgei remembered him as the proper 'international man'; as comfortable in Buckingham Palace, the streets of Jerusalem or in Washington DC as he was in his Kabarak home, gnawing away at a rib of boiled goat meat, a central fixture in his diet.
When he died, most of the villagers mourned the loss of a self-made philanthropist.
Before, during and after his presidency, Moi spent half his life receiving people. Those who spoke of him at his burial said he had a way of growing on you.
"He was many things to many people ... he taught us ambition, focus, humility and the love of Christ," said his grandson, Clint.
After years in power, Moi's death on February 4 signified the end of an era and the beginning of a new one, as one of Africa's most recognisable presidents took his final bow.