Appellate court upholds death sentence against OCS in murder case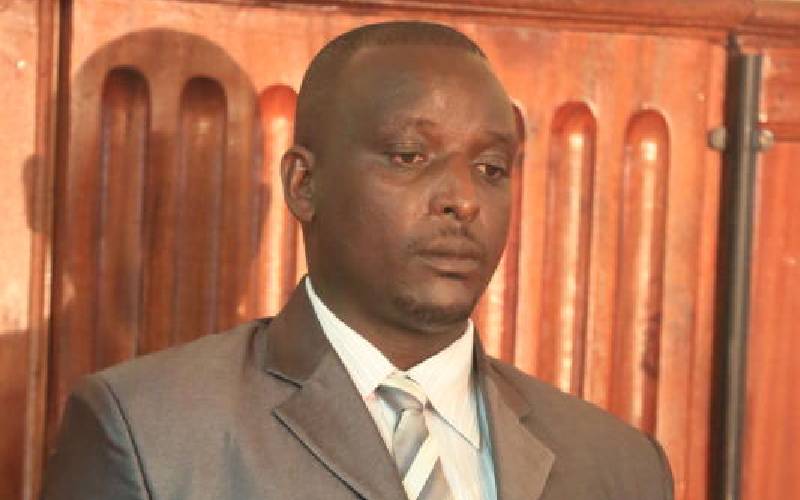 Court of Appeal has upheld the decision to sentence to death former Ruaraka OCS Nahashon Mutua for the murder of a suspect in a police cell.
Mutua is to have a date with the hangman's noose for the murder of Martin Koome after three appellate judges said the death sentence by the High Court is legal taking into account the circumstances and impunity with which the offence was committed.
Appellate judges Hannah Okwengu, Mohhamed Warsame and Agnes Murgor sealed Mutua's fate for clobbering Koome inside a police cell on October 19, 2003, an action they said led to his death while waiting to be treated at the Kenyatta National Hospital (KNH).
They said the injuries Koome sustained in the police cell were grievous.
Domestic brawl
It is a decision that brings to an end Mr Kevin Odhiambo's sleepless nights, a man the OCS had implicated to have murdered Koome in the cell they were sharing on the fateful day.
Odhiambo had been set free by the trial court when the Office Director of Public Prosecutions entered nolle prosequi in the criminal case that could have seen him pay for an offence he never committed.
The prosecution's case was that on the night of October 19, 2013, at Baba Dogo Estate in Nairobi, Koome had a domestic brawl with his wife after which he attempted to strangle their child. His neighbours were alarmed after he chased away the wife and alerted police officers from Ruaraka Police Station who arrested him.
While inside the cell, the OCS subjected him to what the judge described as a "cruel torture".
He assaulted him using a blunt object leaving him with severe injuries. The torture involved immersing his head repeatedly in a drum full of water.
Witnesses who had been arrested the same night told the court that the beatings took over 30 minutes.
His wife went to the police station the following day to inquire about his whereabouts, but was informed that he fell ill at night and was rushed to KNH.
On reaching KNH, she found her husband dumped on a bench unattended. He could not talk, hear nor move. His clothes were soaked in blood, his head was swollen, blood was oozing from the ears and he was groaning in pain. He died a few hours later.
A post-mortem examination showed Koome had a deep wound on the head, cuts on the lower lips, eight fractured ribs, brain haemorrhage and excessive bleeding from the neck that caused his death. To cover up his action, Mutua implicated Odhiambo and charged him with the murder.
Odhiambo sought the help of the Independent Policing Oversight Authority and confessed everything. Charges were later withdrawn and he became a witness against the officer.