Weak and struggling to breathe in the Intensive Care Unit of the Kenyatta University Teaching, Referral and Research Hospital, Dr Stephen Mogusu warned his colleagues to save themselves before it was too late.

He sent the WhatsApp message hours before he succumbed to the virus that has killed 1,531 Kenyans.

"My dear colleagues, let me take this opportunity to admonish you today to get your pay or get out while you can with your health or life intact," texted the late doctor.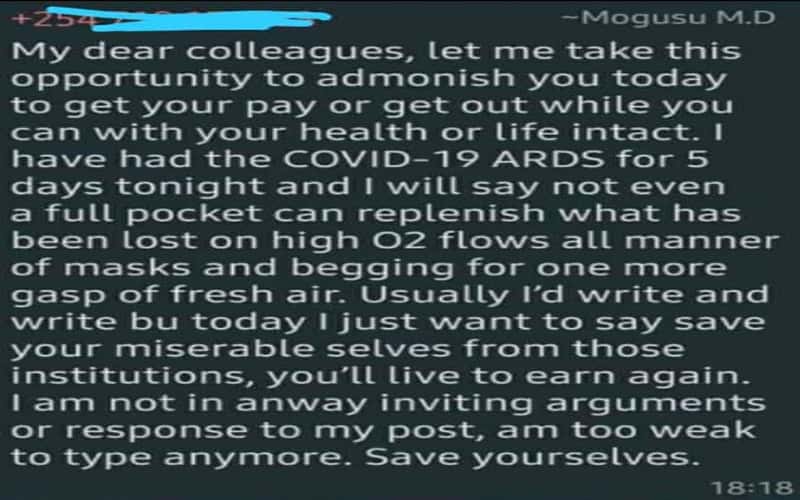 The 28-year-old stationed at Machakos County succumbed to Covid-19 on Monday at a time when his family, together with Kenya Medical Practitioners, Pharmacists and Dentists Union (KMPDU), tried to raise money for his care and hospital bill.

The news of his death was reported by KMPDU which has called out the government to safeguard health workers who work in a risky environment for months.
"Devastating to announce the demise of 28 yr old Dr Stephen Mogusu who has succumbed to COVID-19 complications," read the tweet by KMPDU.
At the time of his death, KMPDU tweeted that the doctor "had not received his salary for five months, had no insurance & his young family left with no compensation."
Explaining his pain through his five days at the Hospital, Dr Mogusu appealed to his colleagues to save themselves because you can always earn money at some other time.
Read More
The young doctor's plight and demise have triggered a nasty exchange [some of it too nasty to publish] between Machakos Governor Alfred Mutua and Dr Thuranira Kaugiria on Twitter. Dr Thuranira accuses the governor of shifting the blame to the Ministry of Health even though Mogusu allegedly contracted the virus in Machakos isolation centre.
The late Mogusu's message comes at a time the healthcare workers fraternity has continued bearing the brunt of covid-19 fatalities. On Monday, KMPDU suspended the doctor's strike giving the government an extra 14 days for dialogue and to address their issues.
Some of the issues articulated by KMPDU include a comprehensive medical cover for health workers, compensation in form of risk allowances and the establishment of a Health Service Commission.
However, a section of healthcare workers led by the Kenya National Union of Nurses (Knun) started their strike on Monday, saying that they will only go back to their duties once the government meets their demands.
The nurses boycotted work over the poor working conditions and demand the families of the 26 nurses who died of Covid-19.