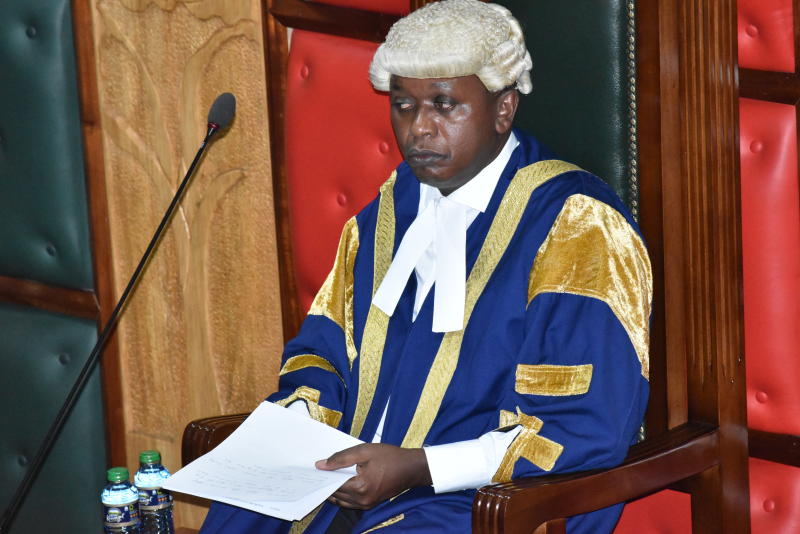 Nairobi County Assembly Speaker Benson Mutura has terminated the appointment of Pauline Akuku as acting clerk.
Ms Akuku took over the role earlier this year after the Employment and Labour Relations Court directed former clerk Jacob Ngwele to step aside pending the determination of a petition on who between him and Edward Gichana was the bona fide clerk.
The development comes days after ODM ward representatives urged the Speaker to pronounce himself on the matter.
Mr Mutura (above) said the decision was arrived at following a County Assembly Service Board meeting. He explained that Akuku had held the position for more than six months, which is contrary to the law.
"The termination of your acting appointment in the Office of the Clerk of the Assembly is effective November 18, 2020. Please resume your duties in the Office of the Deputy Clerk, Administration," read a letter from Mutura to Akuku.
Read More
It added: "The board thanks you for your service and commitment during the period appointment subsisted. Please accept the assurance of our highest consideration."
This decision is the Speaker's latest attempt to find a substantive replacement following Ngwele's exit last month. He said the board will decide how to fill the vacancy. "The board will deliberate on whether to advertise for the position or which is the best action to take in filling the position of the clerk."
The Office of the Clerk has for the past two years been at the centre of supremacy wrangles that entangled Mr Ngwele, Mr Gichana and former Speaker Beatrice Elachi, with their battles spilling over to the courts.
The falling out also roped in Akuku, who has been acting clerk for the better part of this year, and Deputy Clerk Adah Onyango who is in charge of legislative affairs. [Josphat Thiong'o]