Matiang'i: Kenyans to be informed via SMS when to pick Huduma cards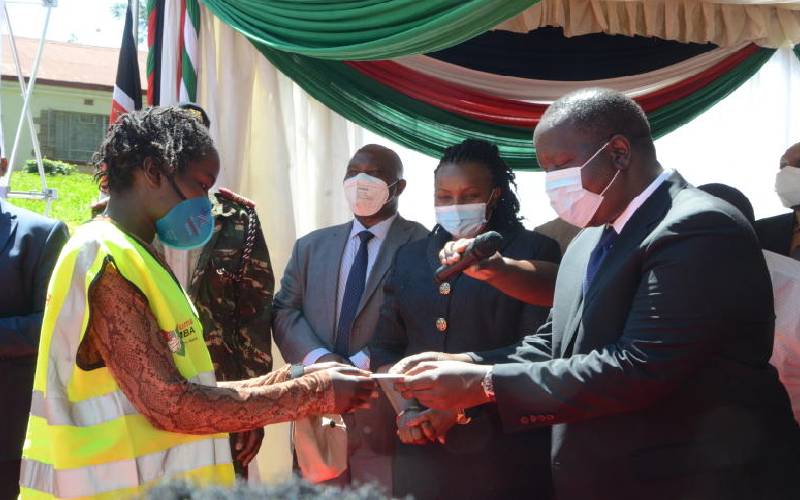 Interior CS Fred Matiang'i on Monday said Kenyans will be notified of when to pick their Huduma cards via text message.
While responding to questions on how the exercise would take place, Matiang'i noted that more than 90 per cent of Kenyans who registered provided their telephone numbers and the same numbers will be used to notify them of when they can collect their cards.
Due to the threat posed by Covid-19, the CS said the exercise will be systematic and health protocols will be strictly adhered to.
"We needed around two to three weeks to arrange the cards and move them to county headquarters so that when we send text messages calling people to collect them, they will be ready.
"We will send text messages…due to Covid-19 we want to avoid a stampede. We cannot say all the 37 million cards are available at once. We will have a stampede and Huduma will become a super spreader of Covid-19," he said.
The CS clarified that the 12-month transition period will allow Kenyans to collect their cards and by Jamhuri Day 2021 it will be mandatory, from a point of convenience, to have a Huduma card to access government services.
President Uhuru Kenyatta and First Lady Margaret Kenyatta were handed samples of the new cards on Mashujaa Day, October 20, at the Gusii Stadium in Kisii County.
At the time, the government had held it was ready to roll out the issuance of the cards but was awaiting the National Assembly to approve the appointment of a data commissioner.
Ms Immaculate Kassait has since assumed office with her immediate role being the management of the National Integrated Identity Management System – better known as Huduma Namba.
At least 37.7 million Kenyans have registered for the cards.
The card captures data on personal details on the National Health Insurance Fund, Kenya Revenue Authority, the National Social Security Fund, and the soon-to-be-phased-out national identification cards