We're not reopening PEV cases but probing fresh threats, says DCI Kinoti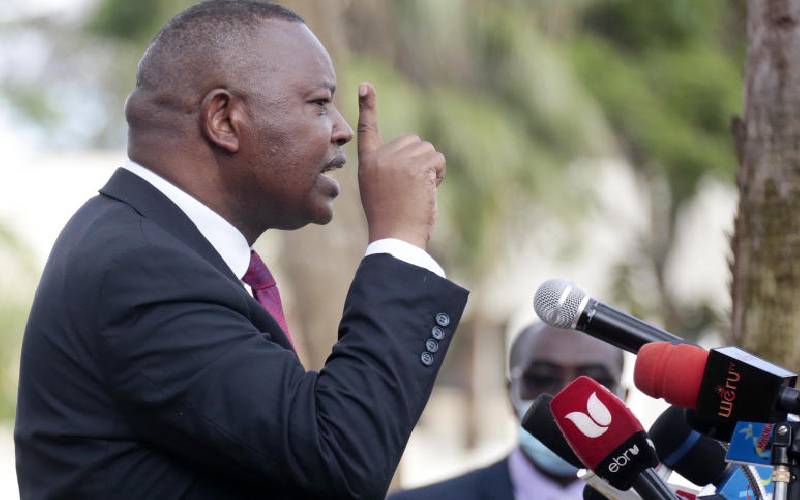 The Director of Criminal Investigations George Kinoti has clarified reports that he is reopening some closed 2007/2008 post-election violence cases.
On Monday, Kinoti addressed the media and vowed to take legal action against the perpetrators of the post-election violence shortly after receiving statements of the victims at the DCI Headquarters in Kiambu County.
But a day later and after a backlash, Kinoti denied he was reopening closed files.
Kinoti said in a statement seen by Standard Digital that the law contemplates that individuals once cleared by the court of law should not be subjected to further investigations unless a new twist arises.
"My address yesterday was in no way intended to mean that we are going to open completed cases which were investigated and closed. It was an acknowledgement of concerns raised by Kenyans, to assure the public of commitment by the DCI to investigate all the reported threats to security and to sensitise the public on the need for peaceful coexistence," he said.
He added, "If in the course of investigations, we find that a particular case was determined by the courts, we do not reopen such a case. This is because nobody can be subjected to double tragedy as defined in our Constitution.
Instead, we advise the complainant to use alternative justice mechanism, allowed by law, like civil remedy, to address their concerns."
Fresh threats and probe
Mr Kinoti delinked police activities from political interference saying the law enforcers are keenly fulfilling their duties; which spill over the confines of just enforcing arrests.
"Besides arresting perpetrators of crime, the major function of DCI is to inform educate and sensitise members of the public on observance of the law and peaceful coexistence since not every complainant has criminal elements warranting arrest and prosecution," Kinoti said.
He promised to dig and reveal the perpetrators of the PEV as he narrated blow by blow witness accounts mirroring disturbing murder scenes over a decade ago.
He remained economical with the details of the victims but expressed unwavering confidence of the country's system to deliver justice to the victims.
"These cases are not going to be taken to the international court. Our courts are very competent. The criminal justice system …will stand with the tears and cries of the victims," he said.
But just after his address came widespread criticism from political leaders allied to Deputy President William Ruto who accused him of stirring tension.
"The political circus and shenanigans Kinoti has been taken through by these political brokers and conmen, from Fight against Corruption to now an attempt to drive ethnic animosity in the Rift to rescue BBI is appalling," said Kikuyu MP Kimani Ichungwah.
Makueni Senator Mutula Kilonzo, he held, "The re-opening of these cases on account of threats to individuals must be interrogated. When it was convenient, the State set up a task force which found no evidence to prosecute anyone in the 2007-8 violence."