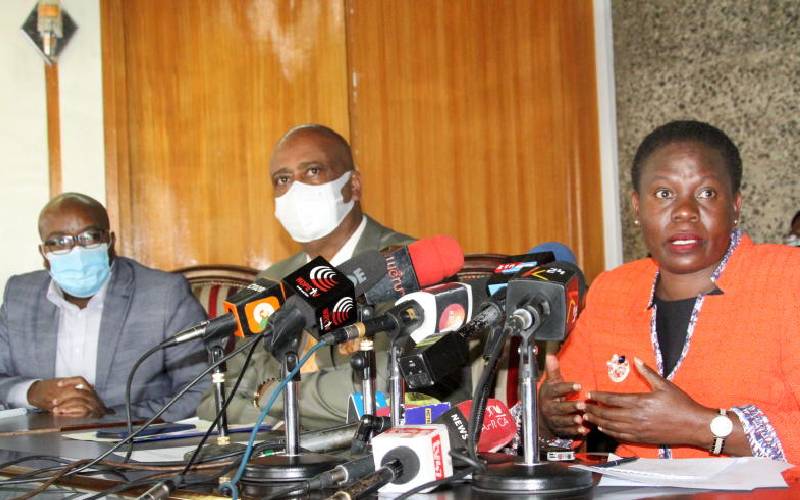 More than 2,200 city residents under the Eastlands Tenant Purchase Scheme will receive their title deeds after a 40-year wait.
This is after the Nairobi Metropolitan Services (NMS) yesterday commenced a month-long title deed issuance process to land owners in the capital.
The exercise is slated to run from November 9 to December 9, 2020. Concerned residents will be required to collect their deeds at the Deputy County Commissioner's office next to Mama Lucy Hospital in Embakasi West Sub-county.
Information relayed by the NMS led by Major General Mohammed Badi (pictured) revealed that the delay in issuance of the titles was due to challenges such as unavailability of beneficiaries data as well as family wrangles, most of which have now been addressed.
"Since the scheme was started over 40 years ago, some beneficiaries have not been available. In some cases family wrangles hampered processing," said NMS in a statement.
Read More
Residents going to collect their title deeds have been urged to carry their original Identification Cards.
The title issuance process was flagged off by President Uhuru Kenyatta on May 30, 2018, at Jacaranda grounds in Embakasi. Uhuru directed City Hall to work with the Lands ministry and issue 100,000 title deeds to residents of Embakasi, Utawala and Dandora, among other estates.
In 2019, the process was halted to allow for verification of the beneficiaries amid allegations of land grabbing. It was revived on August 2, this year, after President Kenyatta issued 2,100 title deeds to landowners from Kayole, Dandora, Mathare and Kariobangi estates.
On August 20, the president issued another 31,000 title deeds to residents of Embakasi Ranching Company, Tassia estate and the Korogocho and Mbagathi informal settlements in an event that brought to an end 45 years of wait.
The event was part of the president's Nairobi Titling Programme, launched in 2018 to fast track the issuance of title deeds to bonafide land owners in the country's capital.
All this is under the umbrella of the National Titling Programme, which has seen over five million title deeds issued in different parts of the country in just eight years.