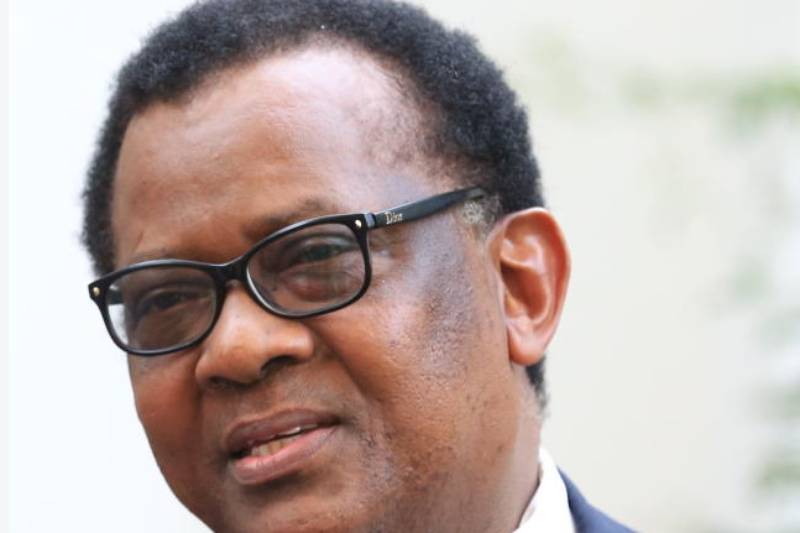 Lawyer Nzamba Kitonga (pictured), who chaired the defunct Committee of Experts that authored the Constitution in 2010 is dead.
Kitonga died of Cardiac arrest on Saturday evening, aged 64.
Sources privy to the death revealed that the outspoken lawyer suffered a cardiac arrest, after leaving a burial he had attended on Saturday.
The lawyer has been vocal on BBI matters. He had proposed a hybrid system of governance as proposed by the Building Bridges Initiative (BBI).
He also said that if there is an assurance of attaining the two-thirds gender rule, that has become a contentious matter, scrapping the seats should not be opposed.
"If doing away with the Woman Rep positions will create gender parity, then it is a good move. But then again, it is good to note that Parliament is getting more bloated. We need to look for a new formula," he said.
Kitonga also criticized the government's move to co-opt Nairobi Metropolitan Services (NMS) Director-General Mohammed Badi into the Cabinet.
"A general is not a CS and cannot sit in Cabinet. It also affects the structure of command, as his boss is the Chief of Defence forces and not subject to civilian authority," he said.
Condolences
Various leaders joined the family and friends in mourning the lawyer.
Nairobi Governor Mike Sonko tweeted: "It is with profound shock and sadness that I have learned of the passing on of one of Kenya's finest constitutional lawyers this evening, Philip Nzamba Kitonga."
Law Society of Kenya President Nelson Havi said the sudden death was a blow to the legal fraternity.
"The burden and pain of untimely death has weighed down upon the Law Society of Kenya heavily today. We have just lost Nzamba Kitonga SC this evening," he posted on his Twitter handle.
Kitui Governor Charity Ngilu, in a statement, said she had received the sad news of the passing on of Mr Kitonga with a heavy heart.
"My condolences to his wife, children and the entire family. Kitui has lost an illustrious son of great repute. Kenya has lost an accomplished constitutional scholar and leader," she said.
She added; "Nzamba's immense contribution to the crafting and promulgation of the 2010 Constitution of Kenya and his role in expanding the democratic space that we all enjoy will be remembered for generations to come."
The Raila Odinga-led party eulogized the lawyer for his contribution in drafting Kenya's Constitution.
"We join the rest of the country in mourning the passing on of one of Kenya's greatest lawyers Mr. Nzamba Kitonga. The late Kitonga's immense contribution to the drafting of the 2010 constitution will be remembered by many who followed the process."
The lawyer has been praised for his patience and understanding in handling constitutional matters.