Ex-IEBC officials Connie Maina, Paul Kurgat and Margaret Mwanchanya among nominees for envoy posts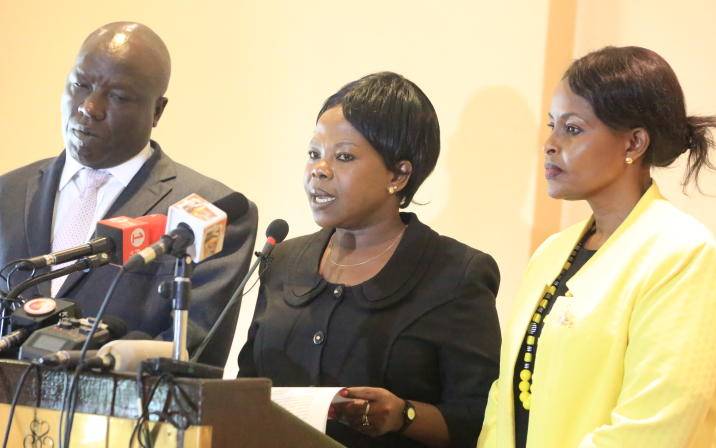 President Uhuru Kenyatta has nominated three former IEBC commissioners for the envoy positions in the latest appointments.
Connie Maina, Paul Kurgat and Margaret Mwanchanya have been picked as deputy heads of mission in the latest changes made by the Head of State.
The list of nominees features 25 people who are expected to fill up the positions of high commissioner, permanent representative, ambassadors and deputy heads of missions.
According to an Executive Order signed by Head of Public Service Joseph Kinyua, and released on Thursday evening; the group will join the country's foreign service in various capacities.
The order states partly, "His Excellency the President has on this fifteenth day of October 2020, caused nominations and appointments to the senior ranks of the public service for persons to serve the nation as Ambassadors, High Commissioners and Permanent Representatives in Kenya's Embassies/High Commissions/Missions abroad. The persons who by dint of the Presidential action will join our nation's esteemed foreign service..."
Former IEBC vice chair Consolata Nkatha has been picked as the deputy head of mission in Rome, Italy. Her colleagues, Paul Kurgat and Margaret Mwanchanya will occupy similar positions in Moscow (Russia) and Islamabad (Pakistan) respectively.
Below is the list of individuals nominated for the positions of deputy heads of missions: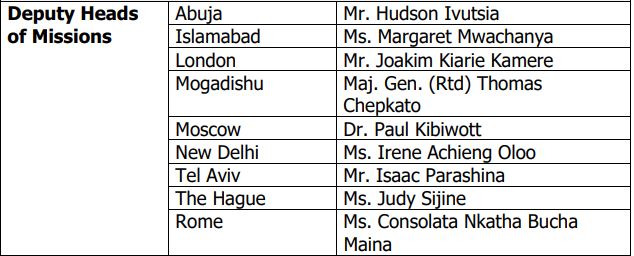 In the order, Amb John Tipis who headed the Directorate of the African Union heads to Canberra as Kenya's High Commissioner to Australia. Immaculate Wambua has been picked as Kenya's High Commissioner to Canada, and she will be based in Ottawa. Closing the list is Amb Catherine Mwangi who will be Kenya's High Commissioner to South Africa. She will be based in Pretoria.
President Uhuru Amb has also settled on Martin Kimani as Kenya's Permanent Representative to the United Nations and he will be based in New York.
In the list of appointments are 12 people who have been picked for ambassadorial positions. They include Amb Jean Kamau (Addis Ababa, Ethiopia), Linday Kiptiness (Bangkok, Thailand), Amb Tom Amolo (Berlin, Germany), Amb Lemarron Kaanto (Brasilia, Brazil), Amb Daniel Wambura (Bujumbura, Burundi), Stella Munyi (Harare, Zimbabwe), Maj. Gen. (Rtd.) Samuel Nandwa (Juba, South Sudan), Maj. Gen. (Rtd.) Ngewa Mukala ) Khartoum, Sudan), Amb Benson Ogutu (Moscow, Russia), Joshua Gatimu (Tehran, Iran), Amb Tabu Irina (Tokyo, Japan) and Amb Jean Kimani (UNHABITAT).
Resignation from IEBC
The three former IEBC officials announced resigned from the commission on April 16, 2018, claiming that their boss Wafula Chebukati was incapable of running the IEBC affairs.
"For far too long and way too many times, the commission chair has failed to be the steady and stable hand that steers the ship in difficult times and gives direction when needed," the trio said in a statement.
They added: "Instead under Chebukati's leadership, the commission boardroom has become a venue for peddling misinformation, grounds for brewing mistrust and a space for scrambling and chasing individual glory and credit".
But on August 12, 2018, Justice Wilfrida Okwany ruled that the commissioners did not legally tender their resignation and were still adjudged to be in office. The court ruled that the trio ought to have resigned in writing rather than in the press conference.
"As I have already found in this judgement, the issue of the alleged resignation of the four commissioners was a matter that was neither here nor there and was not proved by any tangible evidence," said Okwany.