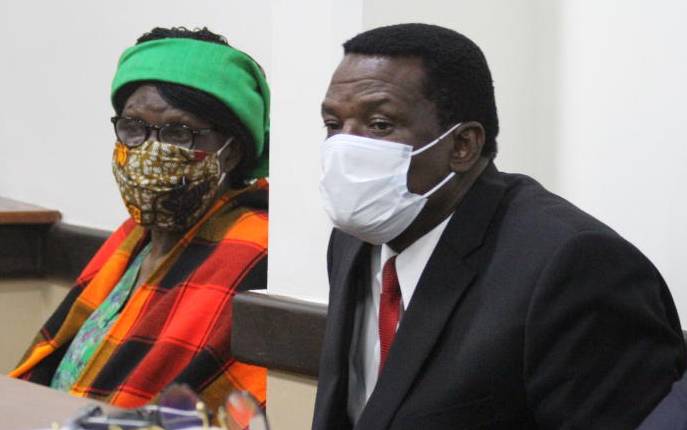 Sirisia Member of Parliament John Waluke has been released on a cash bail of Sh10 million pending appeal of his jail sentence in a multimillion-shilling corruption case.
On the other hand, his co-accused, Grace Wakhungu has been released on a cash bail of Sh20 million pending determination of her appeal. The court has also ordered the two to surrender their passports and avoid traveling outside the country. They are also to present themselves in court once every month.
Justice John Onyiego pushed the bail hearing to Monday to pave way for the fumigation exercise at the Milimani law courts.
The Director of Public Prosecution Noordin Haji has opposed the release of Waluke and Wakhungu on bail saying the two have not proven too ill to be taken care of in prison.
Haji, in his reply filed before judge Onyiego, argued that there are convicts with more serious illnesses who are treated in prison health facilities and public referral hospitals.
Correspondences between the DPP and Commissioner General of Prisons Wycliffe Ogallo revealed that Waluke has hypertension, arthritis and diabetes while Wakhungu has arthritis and hypertension.
"These conditions are usually managed as outpatient unless any complications arise. However, as it is now, their health condition can adequately be managed in our medical facilities," Ogallo replied to Haji's letter dated July 27.
Waluke had told the court that he risks losing his seat if he stays in prison but Haji, through senior assistant DPP Alexander Muteti, argued that the MP cannot monopolise the seat.
He risked losing his seat after the court found him guilty of fraud involving Sh297 million in shady maize dealings with National Cereals and Produce Board (NCPB).
The charge
In the case, the State's case is that as a director of Erad Supplies and General Contractors, Waluke made a false invoice worth Sh114,600,000 as evidence to support a maize storage claim by Chelsea Freights.
He was also charged with fraudulently acquiring Sh297 million from the public as the cost of storing the maize, which was to be supplied to NCPB.
"On or about March 19, 2013, in Nairobi City County, being the director of Erad Supplies and General Contractors, he jointly and fraudulently acquired Sh297,386,505 purporting to be the costs of storage of 40,000 tonnes of white maize, guilty or not guilty?" the charges read.
Erad had been in a long-running battle with NCPB over a botched maize supply saga.
In 2003, NCPB floated 180,000 tonnes of maize supply tender. Five companies were picked.
Hala General Trading LLC, Euroworld Commodities Limited, and Erad were contracted to supply 40,000 tonnes each, while Purma Holdings and Freba Investments got 30,000 each.
After a fallout on the payments, NCPB and Erad opted to arbitrate the issue, which then escalated to the Court of Appeal. Arbitrator Evans Thiga ruled in favour of the firm and awarded it Sh564 million as compensation for losses and storage fees.
Aggrieved, the board moved to the High Court and again its case was dismissed by Justice Leonard Njagi. NCPB went to the Court of Appeal but equally lost.
According to NCPB, the firm which Erad had contracted to supply it with maize, Ropack CC International, did not deal with maize business.
In the deal, Erad was supposed to supply 40,000 tonnes of maize, but NCPB allegedly failed to issue letters of credit to enable it to import the maize.
After the ruling, Erad attached NCPB's account held at Kenya Commercial Bank and some of its assets worth Sh297 million.
But Parliament's Investment Committee declared that Erad should not be paid as the documents it had used were falsified and invalid. The report tabled before Parliament in 2013 read that Erad was not qualified to supply the maize.
The MP's fate was sealed after High Court judge Mumbi Ngugi dismissed their case challenging prosecution.
Last month, politicians were on their knees, heads bowed in prayer on a chilly Sunday afternoon at the home of convicted Sirisia MP John Waluke. Their mission was simple; they wanted the heavens to grant them just one miracle. One billion shillings.
They had arrived in style, riding in luxurious cars, parked strategically at Waluke's spacious rural home.
Former Kakamega Senator Boni Khalwale led the delegation of the self-proclaimed preachers of the gospel of political transformation, mainly Jubilee politicians from the Western region allied to Deputy President William Ruto.
The leaders sought President Uhuru Kenyatta's intervention in Waluke's predicament to help secure his freedom.