US military seeks to expand anti-terror drone war to Kenya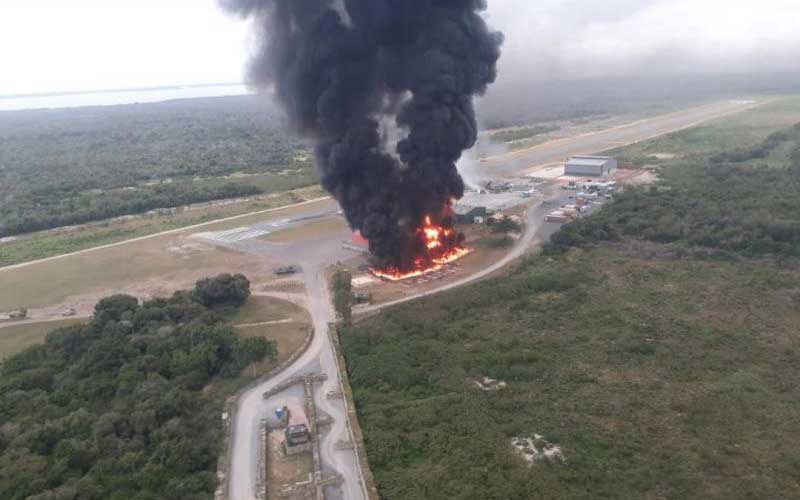 The US military's Africa Command is pressing for new authority to carry out armed drone strikes targeting Al Shabaab fighters in portions of Kenya, potentially expanding the war zone across the border from their sanctuaries in Somalia.
The new authorities, which must still be approved by Defense Secretary Mark Esper and President Donald Trump, do not necessarily mean the US will start carrying out drone attacks in Kenya.
The new plans prompted mixed reactions online. The push for the expanded authorities traces back an attack by the militants in January on a military base in Lamu that housed US troops, the newspaper said quoting officials.
Hit team
The attack on the airfield at Manda Bay killed three Americans and caused millions of dollars in damage.
US commanders immediately tracked and killed the Al Shabaab hit team that had infiltrated the base from Somalia, securing permission to carry out a drone strike on them in Kenyan territory, according to the officials.
But they never attacked because the militants — retreating to Somali territory — eluded them.
Officials recognised that they lacked guidelines to conduct drone strikes in Kenya should Al Shabaab attack there again. The Pentagon led an inter-agency push to write rules for any future strikes in Kenya under more relaxed limits on drone strikes that Trump's national security team created in 2017, replacing more stringent procedures from the Obama era.
Col Christopher P Karns, the command's chief spokesman, declined to comment on the new authorities. "Africom certainly recognises the need to apply consistent international pressure on Al Shabaab and to monitor their activity, presence, and actively confront them in order to prevent their spread," he said in an email. "This can take several forms."
Lt Col Anton T Semelroth, a Pentagon spokesman, added in an email: "The US military will defend US personnel, citizens and homeland as necessary anywhere in the world."
He also did not address the new guidelines.
But according to the officials, who spoke on the condition of anonymity, the draft guidelines would theoretically authorise not only drone strikes in self-defense of American troops or collective self-defense of partnered Kenyan forces, but also offensive strikes intended to pre-empt a suspected threat — like if officials uncovered intelligence about preparations at a compound to assemble a car bomb.
Several officials noted, however, that Kenya has a stable government and capable security forces. As a result, the officials did not expect the authorities to prompt the US to carry out frequent drone strikes there, if any. Still, they said they could envision a situation in which a drone would be the only realistic option to try to pre-empt a terrorist operation.
The draft plan was said to contain limitations. Among them, the military would be permitted to conduct strikes only in a portion of Kenya, two officials said. One specifically identified the potential strike zone as Garissa and Lamu counties, which encompass the air strip camp at Manda Bay and the nearby border region with Somalia.
Moreover, the Kenyan government would have to consent to any strike — a major difference from Somalia, whose provisional government has essentially given the US blanket permission to carry out strikes when it sees fit. The American military would also have to consult with the US ambassador in Kenya.
In addition to the military's desire for expanded authorities, President Uhuru Kenyatta asked Trump during a White House visit in February for additional counter-terrorism assistance, including "armed aerial support" to help combat the Al Shabaab, a senior American official said.
New threats
Esper, who has been weighing cuts to American troops on the continent as part of a global reshuffling of forces to address new threats from China and Russia, initially expressed reluctance to approve the new authorities, officials said.
But he relented to the narrowly focused guidelines rather than be seen as rejecting an important force-protection measure favored by his field commanders, officials said.
Several ominous signs indicate that the militant group is seeking to expand its lethal mayhem well beyond its home base and attack Americans wherever it can — threats that prompted a flurry of American drone strikes in Somalia this year to try to snuff out the plotters.
In recent years, Al Shabaab, which American intelligence analysts estimate has 5,000 to 10,000 fighters, has lost many of the cities and villages they once controlled.
Despite facing a record number of American drone strikes, the group has morphed into a more nimble and lethal outfit, carrying out large-scale attacks against civilian and military targets across Somalia and neighbouring countries.
Somali forces work alongside troops from the African Union peacekeeping operations, which include forces from Kenya, Djibouti, Burundi, Uganda and Ethiopia. Kenya, in particular, has been a frequent target of Al Shabaab retaliatory attacks.
The attack in January on the base near the Somali border, took American and Kenyan troops by surprise. Armed with rifles and explosives, about a dozen Shabaab fighters destroyed an American surveillance plane as it was taking off and ignited an hours-long gunfight. [Additional reporting by Cyrus Ombati]