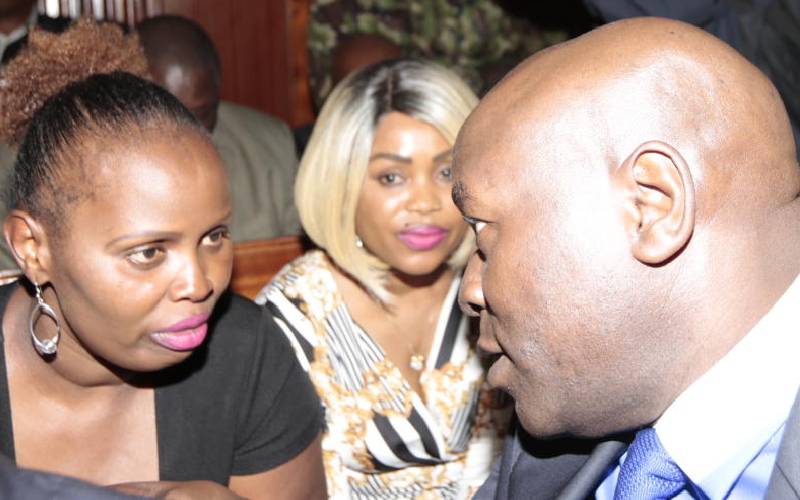 The graft case against Migori Governor Okoth Obado and his four children has highlighted the growing trend of families battling claims of corruption.
Nothing can be as distressing a father and his children, a man and his wife, a mother and his children or brothers and sisters standing in the dock to face corruption charges, which State prosecutors have repeatedly likened to "crimes against humanity".
In a decision delivered on Wednesday, Justice Mumbi Ngugi ordered three members of one family to forfeit properties worth Sh100 million to the State and expressed shock at the extent to which corruption has become entrenched in families.
Blatant theft
"Perhaps there are gifted families who are entrepreneurs extraordinaire who can in their individual capacities and through their businesses transact and get millions of shillings in a short period. It is not possible unless they are engaged in corrupt and criminal activities," she said.
From Obado and former Kiambu Governor Ferdinand Waititu to the National Youth Service (NYS) and Anglo Leasing Scandals, families have found themselves muddled in the deep waters of corruption as conspirators to embezzle public money.
Obado's scandal at Migori County involves two families which investigators claim colluded to steal close to Sh2 billion in a span of three years.
The governor was charged with his four children Dan Achola, Scarlet Susan, Jerry Zachary and Evelyn Odhiambo with conspiracy to defraud millions of shillings from the county government of Migori through deceit, conflict of interest and blatant theft.
Their co-accused are also from one family - businessman Jared Oluoch Kwaga, his wife Christine Akinyi Ochola, mother Penina Auma, brothers Joram Opala Otieno and Patroba Ochanda Otieno and sister-in-law Carolyne Anyango Ochola.
"Between October 2014 and October 2016 within Migori County, the accused jointly conspired to commit an economic crime through unlawful acquisition of public funds in the sum of Sh73,474,376 from the Migori County Government," read part of the charge sheet.
Waititu was charged with his wife Susan Wangari Ndun'gu for pocketing millions of shillings as kickbacks from an irregular award of contracts for roads repair worth Sh588 million.
Waititu and his wife are undergoing trial for allegedly receiving Sh51 million through their companies Saika Two Estate Developers Ltd and Benvenue Delta Hotel as kickbacks. Their case also involves another couple, businessman Charles Mbuthia Chege and his wife Beth Wangeci Mburu, who the prosecution claimed hatched the plot to rip-off Kiambu County Government through the roads repair.
The charges stated that the couple received the money from the county government through their company, Testimony Limited, before wiring a portion to Waititu and his wife.
Four families have so far been embroiled in the multi-billion shillings scandal at the NYS, which led to the property forfeiture orders by Justice Ngugi.
Justice Ngugi found that Lucy Ngirita, her son Jeremiah Ngirita and daughter Phylis Ngirita received millions of shillings fraudulently transferred from NYS to their accounts within a period of two years. Another of their sibling, Anne Ngirita, is also facing charges in relation to the theft.
"Between them, they received approximately Sh400 million from NYS and used some of the money to acquire the properties which constitute proceeds of crime. Evidence show that on the periods they received the money, they went on a spending spree to hide their illegal theft," ruled Justice Ngugi.
A similar fate befell former Youth and Gender PS Lillian Omollo and her three daughters Stephanie Mbogo, Sheela Mbogo and Shalom Mbogo who were ordered to forfeit Sh34m believed to have been proceeds of crimes acquired from NYS.
Businessman Ben Gethi and his mother Charity Wangui Gethi were also charged in the first NYS scandal in which the prosecution claims Sh791m was stolen.
Evans Wafula Kundu, a junior officer at NYS, got his wife Sylvia Ajiambo Onguru and daughter Millicent Matingi Kundu in trouble when the Asset Recovery Agency took them to court on allegations that they acquired properties worth Sh500m from money stolen at NYS.
Kundu's family assets have been frozen pending determination of the suit in which the agency wants the properties to be forfeited to the State.
Joseph Gikonyo, a manager at Kenya Revenue Authority (KRA), and his wife Lucy Kangai are facing charges relating to Sh38.6 million fraud.
Before the couple were charged, the Ethics and Anti-Corruption Commission (EACC) sued Gikonyo over claims that he illegally amassed wealth of more than Sh600m believed to be proceeds of corruption because it did not commensurate with his modest salary of Sh119,000 per month.
In the multi-billion shillings Anglo-leasing scandal, brothers Deepak and Rashmi Kamani are facing several charges of conspiracy to defraud the government Sh10b. At the National Lands Commission (NLC), three different families were dragged to court over illegal payment of Sh109m as land compensation.
Frozen accounts
NLC Director for Valuation Salome Munubi and her husband Sostener Ogero Taracha; Secretary Lillian Keverenge and her husband Michael Onyango Oloo; and Deputy Director of Valuation Joash Oindo, his wife Jane Wanjiku Gachigi and son Kevin Oindo Mogambi were all accused in the scandal.
A Mandera County official Abdi Mohamed Ali and his wife Saadia Sheikh Osman are also being pursued by the Asset Recovery Agency over claims that he illegally diverted Sh500m from the county coffers to his personal account and that of his wife.
A former Nairobi County head of accounting Stephen Ogaga Osiro and his wife Caroline Odhiambo had their accounts and assets worth Sh340m frozen over claims that they benefitted from proceeds of crime.
Another former chief finance officer of Nyandarua County Michael Kamau Kuria got his wife Catherine Wanjiku Njeri and mother Agnes Wanjiku Kuria in trouble over claims they ripped the county cash and properties valued at Sh296m.