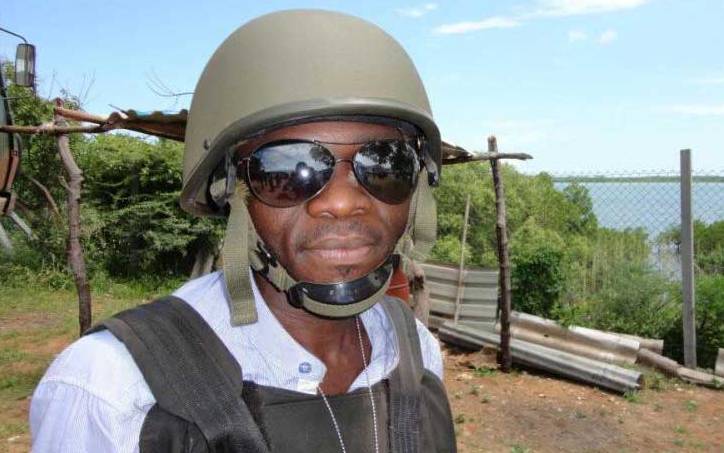 Kenyan journalist Collins Juma alias Yassin Juma (pictured above) is now a free man after he was arrested by Ethiopian police, released, and then taken to Covid-19 isolation after he tested positive for the virus.
The Ministry of Foreign Affairs says the seasoned TV reporter was released from Woreda isolation centre after completing the 14 days as per the country's health guidelines.
"Juma was discharged on Wednesday, August 26, 2020, following appeals from Kenyans and the intervention of the Government which was spearheaded by the Embassy in Addis Ababa," read the statement from Kenya's embassy in Addis Ababa.
"Officials of the Embassy in Addis Ababa, while visiting him to check on his welfare, at Woreda 7 Health Centre, were informed by the health worker that in keeping with the Federal Democratic Republic of Ethiopia (FDRE) guidelines all asymptomatic patients are "deemed cured" after the mandatory 14 days of isolation," it added.
Read More
According to the embassy, Juma, however, did not take a flight to Nairobi but opted to visit his friends in the city.
Juma's tribulations at the hands of Ethiopian authorities have raised backlash against Addis Ababa for human rights abuse. The former NTV reporter had been released by the Ethiopian courts after he was found innocent but the police re-arrested and detained him.
On August 18, 2020, the reporter penned an emotional piece published by the Nation as he narrated the grim encounters in the hands of Ethiopian police days after he tested positive.
He began the piece with an address to his family members asking for their prayers as he proceeded to give his story.
He noted: "Kindly pass my greetings and love to my children, my grandson and all those supporting me through the #freeYassinJuma online campaign. I can't thank them enough. Remember me in your prayers as I fight coronavirus and injustice."
"It is my 47th day in detention at Aradar detention cell. It is also my 7th day since I was diagnosed with Covid-19. I am currently being held at block (W) with 68 other Covid-19 positive inmates with no access to medication in overcrowded cells, no running water and no diet to assist us with our condition."
Juma expressed fears for his health owing to the lack of a proper diet that could help him survive the coronavirus.
"My health is failing with each passing day, and I am not sure if I will make it. It is 50-50 with coronavirus but the conditions in detention make my survival chances less," he said.
At the time, Juma lamented his re-arrest and detention despite being released from Arada Police Station by Ethiopian Lower and High courts.
"…But holding me for 47 days without charging me is against my human rights. Denying me a chance to communicate with my family in the last 47 days is also against my human rights…All I am asking the Ethiopian government is to either charge me or set me free. They have failed to bring evidence in court to charge me," he stated.
According to Juma, he was arrested after he jetted in Ethiopia on June 6, 2020, for a series of shoots for cultural stories for UK-based media SkyNews. He said that his other assignment was with his company Horn24 Media which had been contracted to shoot a documentary by Oromo Development Association and Oromos in North America Association.