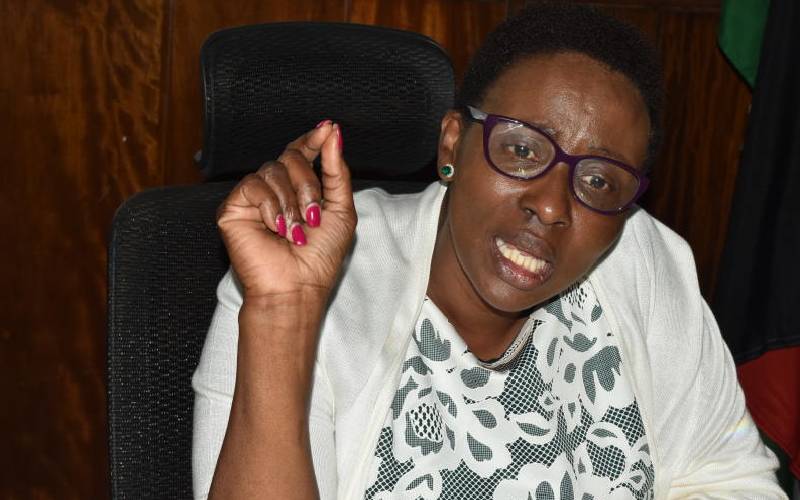 Last week's resignation of Nairobi County Assembly Speaker Beatrice Elachi (pictured) was a culmination of months of confrontation between her and ward representatives.
Elachi, in her resignation, cited poor working environment and external interference as among her reasons for quitting.
The former nominated senator's woes began in September 2018, after ward reps passed an impeachment Motion against her and later attempted to eject her from office.
The ward reps then vowed not to allow Elachi back in office despite a court order reinstating her.
Read More
The Speaker then took a 13-month break before making a dramatic return late last year, amid chaotic scenes at the Assembly.
Elachi's predicament and her abrupt departure from office mirrors that of several other county assembly Speakers embroiled in wrangles with ward reps.
Reinstated by courts
In Kakamega, County Assembly Speaker Morris Buluma was in 2018 impeached over allegations of misuse of funds. He was later reinstated by courts.
Late last year, Nyandarua County Assembly Speaker Wahome Ndegwa escaped impeachment by a whisker after a court stopped his ouster.
Ward reps had accused him of bias and witch hunt.
Late last year, ward reps impeached Kisumu County Assembly Speaker Onyango Oloo, accusing him of mismanaging Assembly affairs. The impeachment debate saw chaotic scenes at the Assembly, as two factions clashed on the floor of the House.
Homa Bay County Assembly Speaker Elizabeth Ayoo also faced the wrath of ward reps, who accused her of discrimination and mistreatment.
After Ms Ayoo's impeachment, two camps emerged, which saw two acting Speakers - Godfrey Anyango and Evans Marieba, hold office at different times.
A court in Kisumu later overturned Ayoo's impeachment.
In Migori, Boaz Okoth also faced turbulent times following emergence of two camps in the House early this year. The divisions were triggered by a disagreement over placement in Assembly committees and constitution of the County Assembly Service Board.
In Kiambu County, Speaker Stephen Ndichu's fate hangs in the balance after ward reps threatened to send him packing, accusing him of violating the Constitution, denying the public information, and failure to uphold public service values.
The list of Speakers no longer at ease with ward reps is as long as the history of devolution that created 47 Assemblies in the country.
The jury is still out on what is causing the bad blood.
County Assembly Forum (CAF) chairperson Mr Wahome Ndegwa blames external forces for the fall-out between the ward reps and County Assembly Speakers.
"There really are no wrangles between the two sides. When any arises, it is mainly triggered by forces that do not want to be accountable for public money," said Mr Ndegwa, who is also the Nyandarua County Assembly Speaker.
"People are coming from the outside and want to be cleansed in the Assembly, and because they do not want to be accountable for their illegal activities, they start bringing sideshows," said Ndegwa.
Nyeri County Assembly Speaker Mr John Kagucia argues that since Speakers are the controllers of resources in the County Assembly, distribution of these generates a lot of heat. It gets more complicated when governors start using ward reps in proxy wars with Speakers.
"Speakers are now bold. They are pushing for accountability. So when they push too hard for an oversight of funds, sometimes governors grow uncomfortable and turn to ward reps for help to slow them (Speakers) down," says Kagucia.
Knowledge of laws
Nairobi County Assembly Majority deputy Whip Ms Waithera Chege argues that lack of understanding of the law by many Speakers is the source of confusion and chaos in many County Assemblies.
"The conflict comes when the Speaker and some ward reps fail to understand the law, as a result, each side tries to have it their way leading to wrangles and chaos," says Ms Waithera.
The South B ward rep proposes a constitutional review to ensure that anyone vying for the Speaker's seat has a background in law.
She also proposes a thorough scrutiny of ward rep's backgrounds before they are elected to ensure they have excellent academic credentials.
"As a law-making body, it is only right that the Speaker is well versed in matters law. Otherwise, the fights will persist," says Waithera.
Her sentiments are echoed by governance specialist and human rights defender Mr Jevans Bigambo.
"Counties should set the level of education required for ward reps," he says.
Mr Bigambo argues that the conflict is all about politics and ego.
"Ward reps want to hold Speakers and the county executive at ransom. They have this attitude that they are powerful. They try to bully Speakers by threatening them with impeachment," he says.
Nairobi County Assembly Minority Leader Mr David Mberia argues that competing interests in the assemblies are to blame for the differences between ward reps and Speakers.
Citing Nairobi's case, Mr Mberia says the recent introduction of the Nairobi Metropolitan Services (NMS) threw a spanner in the works in the row between ward reps backing Governor Mike Sonko and those backing Ms Elachi.
"There are people with vested interests at City Hall who feel that some forces are trying to take over," says Mberia.
Deputy Minority Whip Moses Ogeto on the other hand argues that the wrangles between ward reps and Speakers are fueled by governors.
"Governors are always trying to control Speakers so that their agendas at the Assembly can go through," says Ogeto.
Herman Manyora, a political analyst, blames the conflict on resources and greed.
More money
Mr Manyora points out that the common factor in the rift between the two sides is the push by ward reps for more money.
"Ward reps want money. They are learning bad manners from our MPs. They want overseas trips, they want to be recognised," says Mr Manyora.
According to Manyora, Speakers are perceived enemies by ward reps whenever they refuse to toe the line.
Chege Mwaura, the Ngara Ward Rep in Nairobi's County Assembly, denies that the conflict is about travelling allowances. Speakers, he argues, are the main cause of the conflict.
"We are not traveling now, but the wrangles are still there. The wrangles arise once the Speakers drifts away from their roles," says Mwaura.