The elderly struggle with new changes the pandemic has brought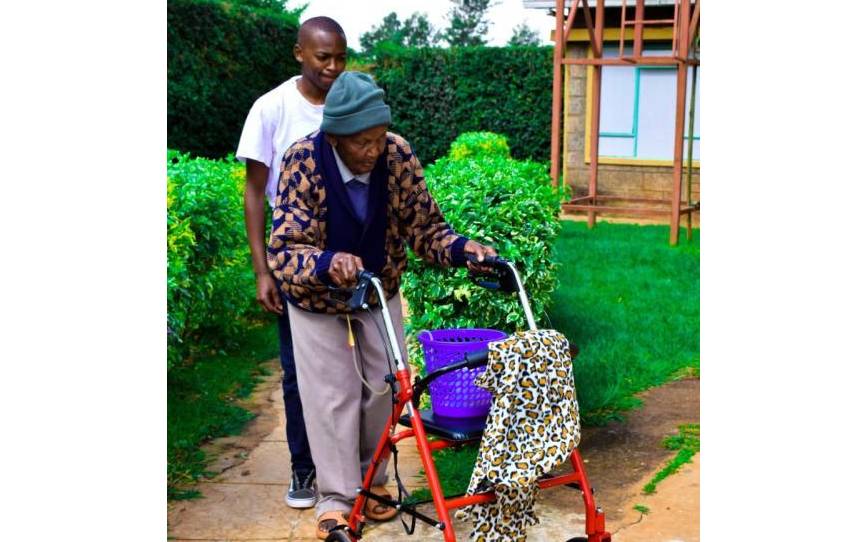 They huddle close to their gadgets and fumble through the tiny writings on phones to figure out how to navigate and make video calls.
When their children and grandchildren pop up on the screens, their faces light up – it gives them a glimpse, even if virtually, of what is happening in the outside world.
Since March when coronavirus was declared a pandemic, homes that care for the elderly have had to shut their gates and shelter the vulnerable group from getting infected.
They are now learning to use technology to catch up with life outside the confines of the homes. It has been a season of confusion, anxiety and stress, as the elderly in those facilities have to adjust to the changes that mean not receiving any guest and keeping a safe distance from one another.
Before then, they were used to receiving visitors who brought colour to their otherwise slow days. When night fell, they would assemble in small groups and keep each other company, talking about the days of yore, and the lessons they learned in their long lives.
Now, all that came to a stop and they have to embrace a new life as administrators of the homes enforce stringent rules to control the spread of the virus.
"Any wrong move, and you might end up killing this entire population. Not only are they aged, but most of them have conditions associated with old age, including diabetes," says James Kinuthia, CEO of Fourshifts Home Care Centre that hosts and cares for elderly people.
Most of the elderly who get into care facilities are from families who can no longer manage them due to their serious conditions, or those who have been abandoned and can barely live on their own.
Most of the care homes are also not admitting more patients, bringing to fore the need for better governance structures to care for the elderly.
"My neighbour who is old has been depending on donations and people going to his home to clean. Now he is alone because of coronavirus. People cannot visit him because they might make him sick," says Robert Jagero in Kano, Kisumu County.
Sister Agnes Wachieni of Little Sisters of the Poor (Nyumba ya Wazee) says enforcing the rules among the elderly is not easy.
Some of them are battling end-stage Alzheimer's disease and can barely remember their names, leave alone why they need to sanitise and wear masks. Some of them are so set in their ways, that teaching them new tricks is almost impossible.
"With the elderly, it is us to protect them. Visitors are no longer allowed to interact with them. Donations are still welcome because we depend on charity, but the donations are left at the reception," she says, adding that they had to organise for accommodation for the caregivers to avoid daily commute that would put the elderly at risk of contracting the virus.
Hellen Migwi, a retired nurse and founder of the Tender Home Care Services that provides care for the ailing, among them the elderly, says they can sense the anxiety among the elderly and their relatives. Part of their programme is to encourage socialisation and keeping the elderly company as a way of making them feel they matter.
"People are scared. Especially those who have elderly relatives who are sick. They tick almost all boxes for who is likely to die of the virus," says Migwi.
Phylis Nyairo, whose mother was diagnosed with diabetes and high blood pressure at 78 years says it has been three months since she last saw her.
"I got a call from her nurse saying she is not doing very well. I was torn on what to do. Do I go home and see her while knowing that I could be exposing her to the disease, or should I stay away to keep her safe?" she says, describing the dilemma as very difficult to process.
World leaders
Across the world, images of frail elderly patients being bundled into waiting stretchers as they struggle to breathe paint a picture of how fast things can escalate if the virus is not controlled in the age group.
Several world leaders have added their voices to the often ignored population.
On Tuesday, Pope Francis emphasised on the need to care for the old.
"Use the inventiveness of love, make phone calls, video calls, send messages, listen to them and, where possible, in compliance with healthcare regulations, visit them, too. Send them a hug," he said during a sermon.
Homes that care for the elderly in Kenya have always raised concern over the tendency for people to neglect and abandon elderly people who are often regarded as a burden the more they advance in age.