CS Fred Matiang'i declares Friday a public holiday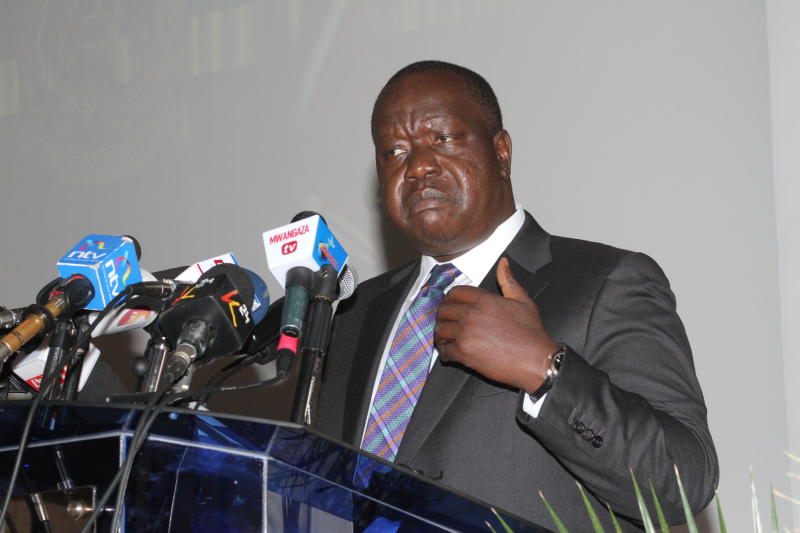 Interior CS Fred Matiang'i (pictured) has declared Friday, July 31, a public holiday to mark Idd-ul Adha celebrations.
In a Gazette Notice No. 5277, dated July 29, the CS said the holiday will be observed throughout the territory of the Republic of Kenya.
"In recognition of the vital role of faith as a unifying force within our Nation, and cognisant that religious and cultural diversity are at the core of our national identity; Friday, 31st July 2020 has been designated as a Public Holiday of General Observance throughout the territory of the Republic of Kenya in celebration of Idd-ul Adha," he stated.
Matiang'i urged Muslims to conduct the celebration of the day while adhering to Covid-19 regulations as stipulated by the Ministry of Health.
"In light of the ongoing COVID-19 situation, and in fidelity with the Resolutions of the Fifth Session of the National and County Governments Coordinating Summit, all ceremonies in celebration of Idd-ul Adha will be marked with minimal person-to-person contact, and in strict and full compliance with the guidelines issued," he said.
"We wish to take this opportunity to wish our Muslim brothers and sisters around the World, and all those of other beliefs who will join them in celebrating Idd-ul Adha, a blessed Holy Day," he added.
Idd-ul Adha is a festival that is celebrated with traditional enthusiasm and gaiety around the world.
It is the second most important festival in the Islamic calendar. The festival remembers the prophet Ibrahim's willingness to sacrifice his son when ordered by Allah.
Many Muslims wear new clothes and attend an open-air prayer meeting to mark the day.
They may sacrifice a sheep or goat and share the meat with family members, neighbors and the poor.