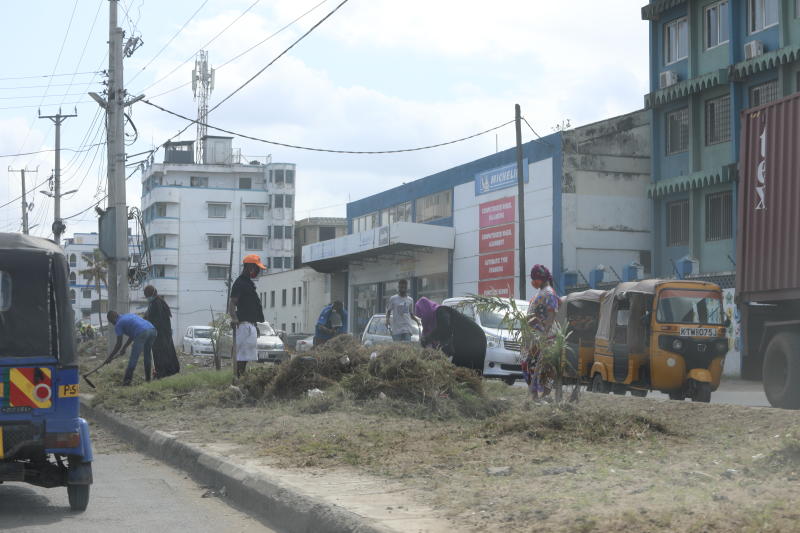 Kenneth Mwangi and his wife live in Nairobi's Huruma, and run a small kiosk near Kiamaiko where they sell confectionery.
After the coronavirus pandemic was confirmed in the country, almost overnight Mwangi could not find the casual jobs he used to do to supplement income from the kiosk.
He found himself exclusively having to rely on the few shillings he earned from marking-up the sweets and pastries he sold at the kiosk to feed his family and pay rent.
And then salvation, or so he thought, came calling. It was in the form of a government announcement in April of a Sh10 billion initiative that would provide youth with jobs.
Dark fog
Read More
In the National Hygiene Initiative, dubbed Kazi Mtaani, Mwangi saw hope of a lifeline through the dark fog of the pandemic.
He did the math. He stood to earn Sh3,250 a week if he worked for five days at what he heard would be a daily rate of Sh650 in the pilot phase. Mwangi was told all he needed to sign up was his ID as the programme looks to hire vulnerable youth, classified as those between age 15 and 34, living in informal settlements.
However, things did not play out like he envisioned.
"They were demanding Sh1,000 to get the jobs, and I didn't have that. Even if I had that money, I have more urgent needs," Mwangi said.
The initiative, which is in its second phase and is being rolled out countrywide, targets more than 270,000 Kenyans – which is roughly the number of primary school teachers employed by the government.
In a release yesterday, the daily rate for those selected to provide labour in community and infrastructure projects is Sh455.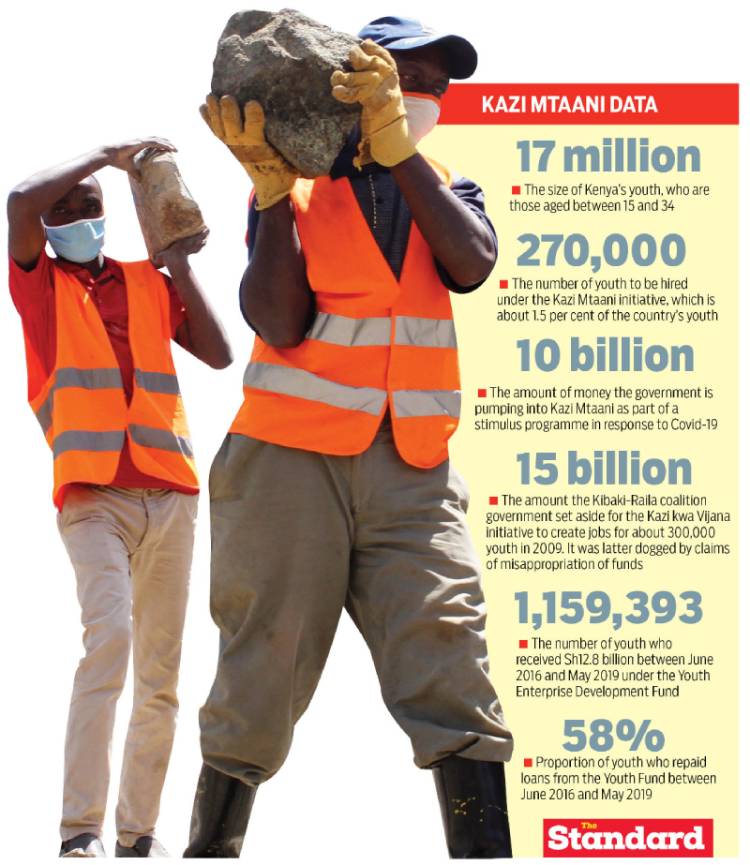 However, allegations of favouritism, graft and cronyism have surfaced since the programme rolled out in the initial eight counties.
But there is high demand as the health crisis wipes out incomes. Further, Kenya's population is majorly youthful, with 75 per cent of citizens aged below 34.
The youth eligible for the initiative are at least 17 million, going by the latest census figures. Kazi Mtaani can just about accommodate 1.5 per cent.
There is also a growing concern that the programme could go the way of other government initiatives, such as Kazi kwa Vijana where thousands of youth were employed but never paid.
President Uhuru Kenyatta, however, has talked tough on this latest initiative, with the hashtag #UhuruMtaani used to popularise it.
At the Kenyatta International Convention Centre last month while closing a training workshop on Kazi Mtaani for regional and county commissioners, Uhuru said the programme would be free of any political influence.
"It'll not be a process that politicians will use to get votes," he said,
But in Huruma, sources say political leaders are using their influence to determine the list of those who benefit from the progrmame.
Catherine Mugo says she has been waiting for the call to inform her that she had been listed since May, but was starting to accept that it probably will never come.
"We went and registered for the programme but we have never been called back. We went back to inquire and were told to wait until the next week, but that week came and passed and now I've given up," she said.
Another resident of Huruma Central said despite having compiled a list of all the youth eligible for the programme in the area, out of 560 people, only 30 were employed.
"It has been problematic. There were people who had signed up and even included their children," Samuel Kungu, a cluster chairman for a group of youth, who had signed up in Huruma Central, said.
Haki Yetu, an NGO based in Mombasa, says it conducted an evaluation of the first phase of the project in Mombasa, Kilifi and Kwale, and found that nepotism and bribery were endemic.
In a report, the organisation found that politicians in the area were exercising their influence over the recruitment and denying the youth a fair chance at earning from the government programme. In other instances, the youth were not given advance notice on recruitment and many of them missed out.
"Thus, it's not clear how the selection was undertaken," the report reads.
According to advertisements for the programme, recruitment is done by a grassroots selection committee. The only requirements are an ID card and a mobile number registered on M-Pesa.
Former National Youth Service (NYS) officers are being encouraged to apply as supervisors.
But given the sheer numbers of unemployed youth in Kenya's informal settlements and rural areas, it is inevitable that a number will miss out on the opportunity.
For instance, in Nairobi only about 400 youth were recruited in every ward. In Huruma Central alone, however, there are about 12 villages.
Kungu said each village was allocated about 30 slots, a paltry number compared to the thousands of youth who signed up.
But the government is alive to that fact that many have profited off the youth and the previous mismanagement of similar programmes.
To rid the system of corruption in Kazi Mtaani, the government has switched from making cash payments to payment via mobile money transfers.
In his address to regional and county commissioners, President Uhuru asked them to take responsibility for the success of the initiative.
Similar programme
"Many of you will recall that a similar programme was unfortunately abused. I have to be very clear with you, we will not entertain abuse this time around," he said.
Housing and Urban Development Principal Secretary Charles Hinga said the ministry was vigilant and has put in place adequate measures to ensure there is no bribery, nepotism, favouritism or political influence.
"That's why the responsibility of recruiting and selecting is with the Nyumba Kumi structure who are able to identify the most vulnerable in the communities," he said.
Hinga said the National Government Administrative Office (NGAO) teams headed by regional and county commissioners would be held personally responsible if any abuse is reported.