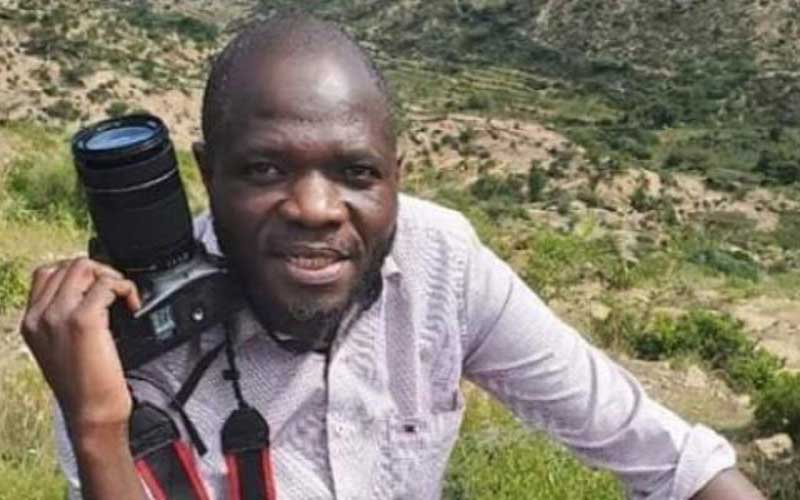 The family of journalist Yassin Juma has not heard from him eight days after he vanished in Addis Ababa, Ethiopia, following a military crackdown occasioned by the murder of top musician Hachalu Hundessa.
Hundessa was from Ethiopia's largest ethnic group.
Read More
There has been no independent confirmation of Yassin's whereabouts or his legal status.
Yassin has lived in Ethiopia for about one and half years, according to his wife Asha, who said he last called him on Thursday last week as the military reportedly closed in on him.
"He called last on Thursday saying he was surrounded by soldiers. He was worried about his safety," Asha said from her Nairobi home yesterday.
She claimed her husband signed off by warning her not to contact him to ward off Ethiopian military intelligence.
Asha said Kenyan authorities have neither contacted her nor shown interest in her husband's plight. She does not know how to lodge a complaint about her missing husband, she said.
"I am pleading with President Uhuru Kenyatta to help my husband to return home," she said.
Yassin has lived a controversial life in Kenya and was arrested several times for posting controversial pictures deplored by the state as alarmist.
Visiting camps
A few years ago, while at NTV, he alarmed the Ethiopian government by visiting camps of the militant Oromo Liberation Front (OLF) in Ethiopia to interview its leaders.
Ethiopia lodged a protest with Kenya accusing the journalist of fanning separatism and terrorism but Nairobi said it had no control of him since he worked for a private company.
About a decade later, then PM Meles Zenawi died and was replaced by Haile Mariam Desalgen, who gave way to the current PM Abiy Ahmed.
Like Meles, Abiy has a military background. After taking over power, Abiy launched a dizzying wave of reforms. He allowed those in exile to return, Jawar Mohammed. Both Abiy and Jawar, a wealthy businessman, are from the Oromo ethnic group. Upon his return, Jawar launched the multi-language Oromia Media Network (OMN). Abiy was hailed as a reformist. He even received the Nobel Peace Prize also for establishing diplomatic ties with Eritrea and freeing political prisoners.
Ethiopia has lately been torn by ethnic strife, violent protests, that have claimed close to 240 lives, and renewed Oromo separatism campaign.
This has forced a re-imposition of draconian rule in many aspects of the lives of Ethiopians. Several murders of military officers have been reported amid claims the new regime has recruited thousands of ethnic Oromo into the military and other security apparatus to counter-balance the ethnic Ahmara and Tigray groups that ruled the country for millennia and in the aftermath of the ousting of former strongman Mengistu Haile Mariam.
Hachalu's murder ignited the tinderbox at a time Ethiopia is also consumed in tense negotiations with Egypt over the Grand Ethiopian Renaissance Dam. Abiy has laso postponed elections set for later this year heightening tension further.
Asha said her husband "went to Ethiopia to seek a livelihood" and has been there since vising last in November last year.
Ethiopian journalist Teklu Wondwossen said Yassin, who also runs a website www.horn24news.com, has been working on a project to launch the English language wing of OMN.
"He had planned to return this year but was stranded by the outbreak of coronavirus," said Asha. She said her husband told her he was engaged in television journalism in Ethiopia.
Before relocating to Ethiopia, Asha said, Yassin had worked in Somalia. Hachalu's murder, on July 1, sparked protests, mainly from his Oromo supporters.
The peak of the protests was when his body was ferried to his native home in Ambo, over 100 kilometres from Addis Ababa, for burial. His supporters wanted him buried in the capital.
Government critics, including, Jawar, a former ally of Abiy, were arrested. Jawar is being held in military prison awaiting grave charges, including murder, insurrection and plotting a coup. Yassin appears to have been caught up in the crossfire due to his ties with Jawar, whom he interviewed in Nairobi many years ago.
Teklu, quoting Ethiopian media, said the Kenyan was arrested on Friday last week. Reports say he was arrested in Jawar's house in Addis Ababa.
Another journalist, who asked not to be named, said Yassin caught up in a complex conspiracy between the government and Jawar and he could face the same charges as Jawar.
"On July 2, Jawar was arrested from his house. Three days later, the military went to his house where they reportedly found Yassin. The soldiers are to have also found a gun from the house," said the reporter.
Can't be reached
Teklu said Yassin is held at a facility called Wonjele Miremera. He has not been charged. The journalist said Yassin can't be reached on his phone.
Like many exiled Ethiopian journalists, Teklu believes Yassin was arrested for his links with Jawar. Another journalist said the Ethiopian military has not forgiven Yassin for interviewing OLF leaders.
Addis Ababa is said to be blaming Jawar and his media outlets for the chaos that erupted in Ambo as protesters tried to block the musician's burial.
Some policemen were killed in the riots and the state blames Jawar's bodyguards for it. It also accuses him of plotting the musician's murder.