DPP appeals Joshua Waigonjo's acquittal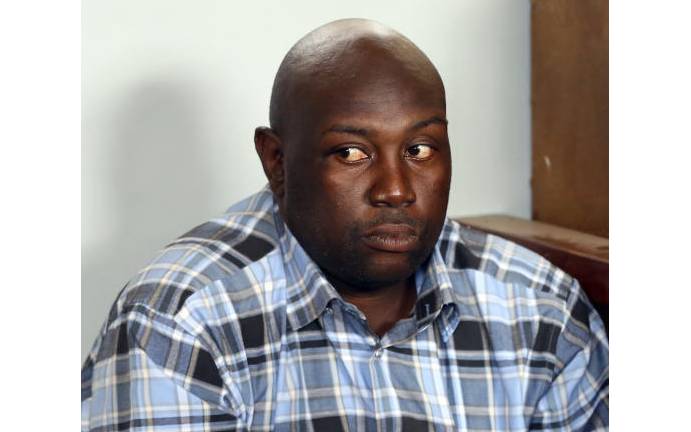 The Office of Directorate of Public Prosecutions has appealed the acquittal of Joshua Waiganjo (pictured above) who was accused of impersonating a senior police officer and illegally discharging duties.
In the appeal launched in a Nakuru court, the ODPP is also appealing acquittal of Waigonjo's two co-accused-former Rift Valley provincial police boss John M'mbijiwe and former ex-Anti-Stock Theft Unit Commandant the late Michael Remi Ngugi.
"The ODPP has filed an appeal in the High Court in Nakuru against the acquittal of Joshua Waiganjo, accused of impersonating as a police officer and 2 police officers who abated the crime. The Appeal is pending hearing," the OCPP noted on its Twitter page.
Waiganjo was cleared of wrongdoing by Principal Magistrate Joe Omido who ruled that the prosecution could not prove that Waiganjo indeed impersonated the police illegally assumed the duties of a senior police officer.
By consequence, the judgment also exonerated Mr M'mbijiwe and the late Mr Ngugi who had been accused of abetting and enabling Waiganjo to carry out unlawful activities.
In the ruling which was made on May 9, 2020, via zoom, the Principal Magistrate noted that upon cross-examination of the prosecution witnesses; it was established that they were inconsistent and failed to prove that the accused were guilty.
"The court cannot determine with certainty whether Waiganjo was a police officer or not, because no evidence was tendered to prove or disapprove of the same," ruled Omido.
"No one proved that Waiganjo impersonated a top officer and presided over a Kenya Forest Service function in Londiani and inspected a guard of honour. In fact, prosecution witnesses said the person who officiated the event was not Waiganjo," he said.
He further faulted the prosecution for availing the charge sheet and failing to produce the officers who arrested the suspects-an incident which may have jeopardised the case
"The court was supplied with a charge sheet but no arresting officer came to testify and explain why he arrested the accused persons. They should have been freed as soon as the investigating officer refused to testify," said Omido.
Waiganjo, was arrested in 2013, for allegedly masquerading as a senior police officer, in the rank of an Assistant Commissioner of Police.
Over the seven-year period before his acquittal, his case was heard by three judges in Nakuru and Naivasha. Three magistrates and more than 40 witnesses testified. Omido was handling the case in Nakuru before he was transferred to Kwale Law courts.