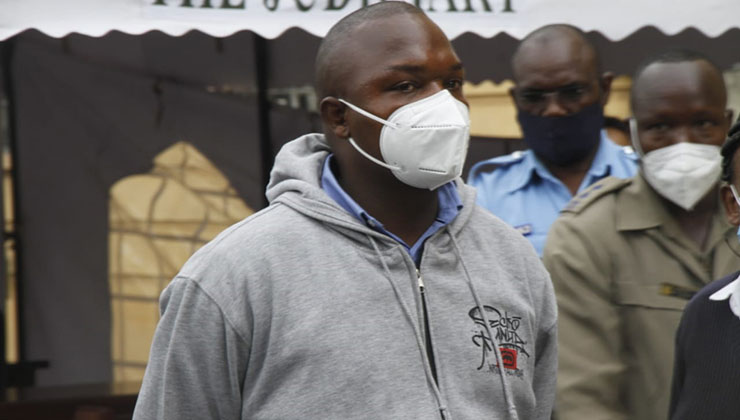 The prosecution wants the courts to oppose the release of one Duncan Ndiema, a police officer charged with the killing of a 13-year-old Yassin Juma in Nairobi's Huruma Estate.
The team discovered that the officer lied about being admitted at Mbagathi Hospital pending the results of a coronavirus test on the day he was to be charged with murder.
On June 19, Duncan's lawyer Danstan Omari told the court that his client was admitted at Mbagathi hospital undergoing Covid-19 test.
The court then ordered IPOA to authenticate the document submitted by the defense counsels and the accused presence in Mbagathi for coronavirus-related treatment.
According to Benedict Otieno, an investigator with the Independent Policing Oversight Authority (IPOA), Otieno lied before High Court Judge Luka Kimaru that he went to Mbagathi Hospital after showing symptoms of Covid-19.
Read More
He pleaded not guilty and was remanded at Capitol Hill Police Station pending the hearing of his bail application.
Earlier today, the investigating officer told the court that the accused never visited the hospital but was in Uthiru and Ndumbuini areas, 15 kilometers from Mbagathi hospital.
"I as the investigating officer having received the orders from the court proceeded to Mbagathi and received information from the management of the hospital that they had not treated the accused that day as alleged," reads the application.
IPOA further argues that Yassin's family have been receiving threats and intimidation from persons suspected to be the agents and proxies of the accused hence there is a likelihood of him intimidating the witnesses and case interference.
"If accused person is released on bail his release will disturb public order or undermine public peace or security and thus pre-trial detention will be necessary to preserve public order," says IPOA.
However through his lawyer Ndiema argues that he has always cooperated with the investigating agencies during the course of the investigations which commenced in April 2020 and has at all times willingly presented himself to the DCI headquarters and attended to IPOA for purposes of recording statements.
"Detention of an accused person while there is no compelling reason is a violation of the aforesaid right. The detention of the Accused person/applicant while there is no compelling reason shall be an infringement of his constitutional rights," reads his application.