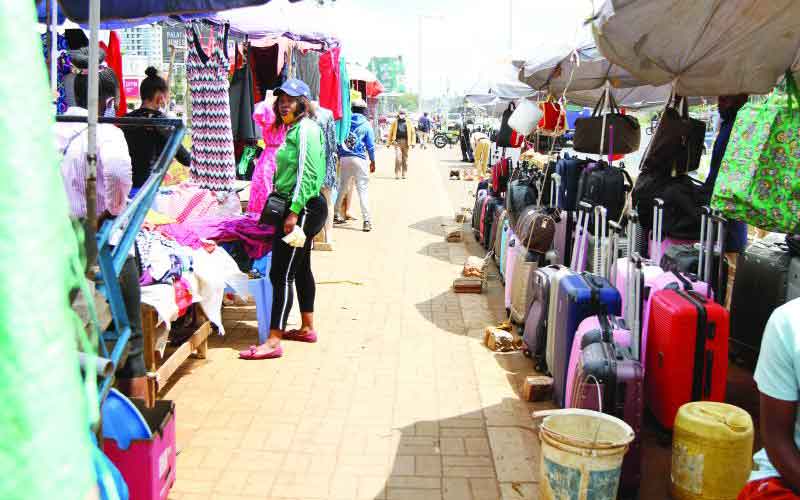 General indiscipline and inadequate enforcement of law is clawing back on the gains made to secure the utility of new walkways and cycling paths of an emerging new Nairobi.
Unhindered, small businesses have taken over walkways and cycling lanes along Ngong Road, Outer Ring Road and Jogoo Road, a trend replicated along feeder roads of major city estates.
And the culprits themselves have no shame admitting that they are breaking the law as authorities look the other way or are overwhelmed.
"My profits have doubled since I set up my shop on the pavement. I am able to attract customers who make impulse purchases as they come to work and go home from work," says Paul Irungu, who sells fruits and vegetables on the walkway of a major city road.
Read More
The businesses are made up of semi-permanent structures with shops for clothes, shoes and other utilities as well farm produce which are sold from personal vehicles. Others constitute busy car-wash enterprises.
Parked wrecks
Owners of vehicle repair garages in sections of Buru Buru have also parked their wrecks on the walkways as they create space within their sheds.
Outer Ring Road, notorious for businesses encroaching on and blocking walkways, is one of the most dangerous in the city, recording 31 deaths last year.
According to the National Transport and Safety Authority, a large number of victims were pedestrians crossing from undesignated areas. Many of them jump over the guardrails and bolt across the road, a move that sometimes ends in death.
The Traffic Act states that any person who, without the written permission of the highway authority, encroaches on a road and sets up any structure on it, faces up to 12 months in prison. Violators may also be required to pay a fine of Sh100,000.
Vehicle users driving on the pathways and walkways risk imprisonment of up to three months or a fine of Sh30,000.
These encroachments are on the rise, especially amid the economic turmoil brought about by the Covid-19 pandemic.
"I am just trying to feed my family. People are not leaving their houses and I want to ensure that I sell to the few who do so that I can earn my daily upkeep," says Kasyoki Mutua, who sells second-hand bags on a cycling lane along a busy highway.
As the pathways and walkways get crowded, posing a threat to social distancing guidelines issued by the Ministry of Health, the government started constructing new walkways and cycling lanes within the central business district.
This project, reportedly a Kazi Mtaani initiative, is intended to ease congestion in the city centre.
As Kenyans seek more places from where to sell their wares, the future looks bleak for the pathways under construction: Sellers will still block them.
Small businesses are not the only ones at fault in this situation. Major walkways are blocked by government institutions which at times cordons off sections as is done at Times Tower by the Kenya Revenue Authority The National Treasury and the Central Bank of Kenya.
"Cordoning off government institutions is a national security affair. However, that should not endanger pedestrians' lives because this leaves them to walk on roads," Nairobi City County engineer Moses Kuiyaki told The Standard last year when we raised the issue of Times Tower encroachment.