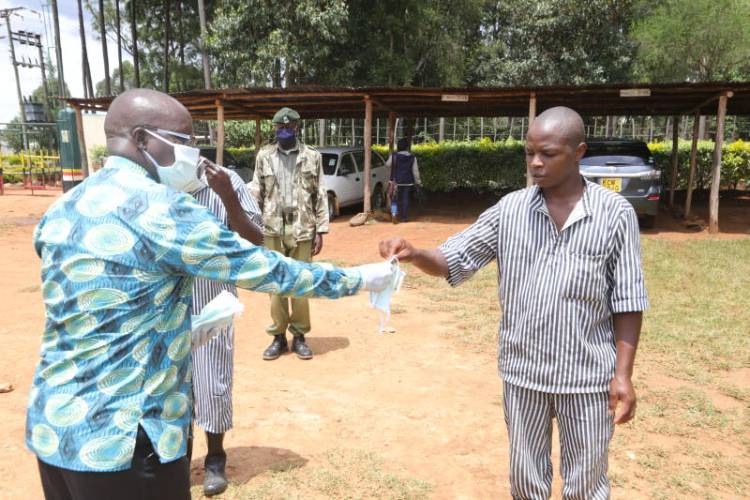 Prisoners have protested crowding and poor sanitary conditions saying these put them at risk of contracting coronavirus.
A remandee at the Industrial Area Remand Prison in Nairobi claimed some warders did not wear masks even when interacting with inmates.
The remandee, who sought anonymity, claimed the soaps and sanitisers at the facility were inadequate.
"We don't have masks yet we are crowded in this facility. The only thing we are asked to do is to wash our hands," he said.
Read More
He added that the prison cells were still congested. "In the cell where I'm currently held, we are around 89 people and the cell is not big enough. We cannot keep the one-meter social distancing rule. Some of the inmates cough and we do not know whether it is coronavirus or flu," he said, adding: "There are other cells with over 100 people".
On March 19, prisons were put under lockdown, a directive that suspended all visitors from accessing the facility.
New prisoners
The directive also suspended admission of any new prisoners or remandees to the correctional facilities. This was to help curb the spread of the virus.
The remandee, however, claimed the facility had been receiving new offenders.
"I was brought to the remand prison before the first case of Covid-19 was confirmed in the country. We have been receiving other offenders and they mingle with everyone freely. There is no social distancing at the remand. We are worried," he claimed.
The remandee accused authorities at the facility of taking the coronavirus outbreak lightly. "We have wardens who interact with us daily but they don't wear masks. Only the high ranking officers wear masks," he claimed
Efforts to get a comment from Commissioner General of Kenya Prisons Wycliffe Ogalo were futile, as he failed to respond as earlier promised.
Chief Justice David Maraga has so far ruled out open court sessions until after the pandemic ends.
The Judiciary further introduced serving court orders using electronic mail and mobile messaging applications to protect staff from catching the virus.