Uhuru declares national prayer day over crisis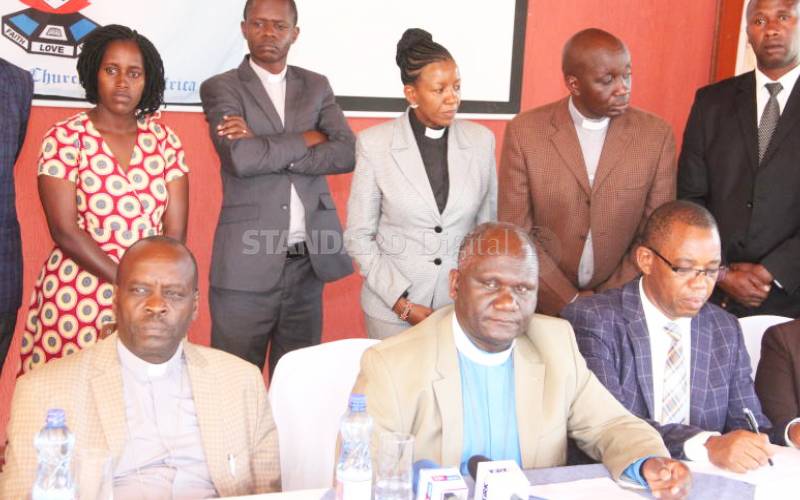 President Uhuru Kenyatta has declared Saturday, March 21, a national day for prayer.
The prayer day events will be led by a team of religious leaders at State House, Nairobi, starting noon.
The president's announcement comes in the wake of reported three Covid-19 cases on Sunday and Health Cabinet Secretary Mutahi Kagwe revealing another case yesterday.
Uhuru also asked Kenyans to observe the Saturday prayers in their homes, places of work, or wherever they shall be.
He said the government had done and continued to do everything possible to keep citizens safe and prevent further spread of the virus while ensuring continuity of business operations.
"Fellow Kenyans, even with these efforts, we cannot ignore the need to turn to God. In these circumstances, as we have done in the past as a nation, we have always turned to God, first to give thanks for the many blessings He has bestowed on our nation, but also turn to God to share our fears, apprehensions, and also to seek his guidance and ever-present protection," Uhuru said.
On that day, the president said, the nation will, through religious leaders, be asking God for His forgiveness for anything that it may have done wrong.
"On that day, we shall together ask for His protection and blessing for our nation, for our people, for the world and all global citizens. We shall ask God to abide with us, and to guide us, both in this period and in times to come," he said and appealed to media houses to broadcast the event live.
Daily prayers
At the same time the Anglican Church of Kenya's Archbishop Jackson ole Sapit has also called upon Christians, starting today, to set aside 10 minutes starting 8pm every day, to pray for the nation.
"In addition, all Christians should make this Sunday, March 22, 2020, a national prayer day," said Sapit.
While commending the government for its efforts to fight spread of the virus, Sapit said the preparation on the ground might not be sufficient.
"We ask that more effort be put in place to ensure that those who are directly involved in essential services such as those in medical, hospitality and security sectors are cushioned from the adverse effects of the pandemic," said Sapit.
Meanwhile, the Presbyterian Church of East Africa (PCEA), one of Kenya's biggest churches, with a following of more than 4.5 million faithful, yesterday announced that it had suspended all church services and church-related meetings and events, marking the most drastic measure yet taken by a church in the wake of Covid-19.
The Reverend Dr Julius Mwamba, PCEA's moderator, during a press briefing yesterday, said the move was meant to protect the congregants and that it was in line with the directive issued by the government to suspend public and large gatherings in a bid to mitigate spread of the virus.
The measures will last 30 days.
"All meetings are suspended until further notice. All Sunday worship services and other church gatherings are also suspended. However, all churches will remain open for private individual prayers," said the Rev Mwamba.
Rev Peter Kaniah, PCEA's Secretary-General, also told media yesterday that the church was further going to limit its involvement in functions such as funerals and weddings, in line with the government directive.
Safety measures
Other major churches such as the Seventh Day Adventist and Catholic Church have previously advised members showing symptoms and those at a high risk of contracting the virus, such as the elderly, to avoid services.
Last Sunday, several churches countrywide took precautionary measures to protect worshipers from the virus, including requiring them to sanitise their hands, encouraging paying of tithes via M-Pesa rather than cash, banning handshake and administering holy communion using the left hand.