Final Salute: Grief and light moments as Kenyans say goodbye to Moi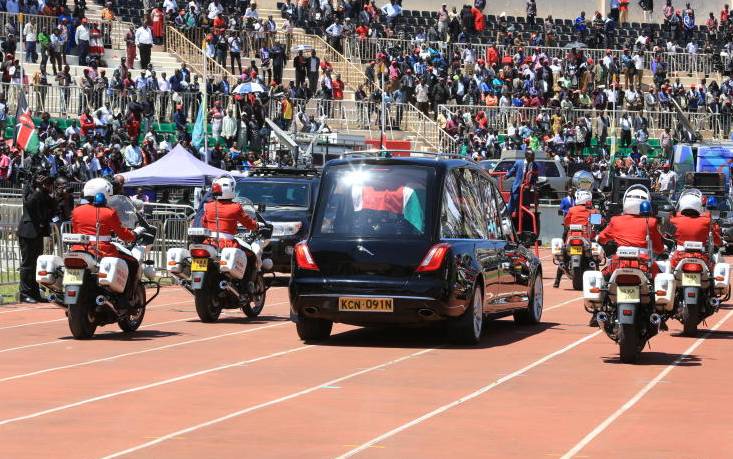 The Jaguar hearse drove off from Lee Funeral Home in Nairobi at 8 am on Tuesday to State House flanked by state vehicles and outriders to boot.
In the hearse was the body of the second president of the Republic of Kenya Daniel Toroitich arap Moi, who died last week at Nairobi Hospital while undergoing treatment.
Mzee Moi's body had been lying in state for three days at Parliament building and viewed by 213,000 people, according to government officials.
At 8 am, Nyayo Stadium was packed with mourners as security officers manned the entrances and exits leaving nothing to chance. On the periphery of the stadium, a huge screen showed the events at the podium.
Under ordinary circumstances, Nyayo Stadium is used for sporting events that are characterised by excitements and screams and the occasional sports-inspired fracas. But this was not the usual case. It was a day set aside to mourn the president played a role in coming up with the facility, which is why it is named "Nyayo" --- Kiswahili for "footprints."
Choirs sang their hearts out at the 30,000-seater facility. Kenyans were glued on their television sets as they followed the ceremony marking the final journey for their longest-serving president.
Back at Nyayo, heads of state and governments had taken the seats ahead of the historic event.
They were Presidents Yoweri Museveni (Uganda), Paul Kagame (Rwanda), Salva Kiir (South Sudan), Sahle-Work Zewde (Ethiopia), Ismail Omar Gelle (Djibouti), Brahim Ghali (Sahrawi Arab Democratic Republic), Yemi Osinbajo (Nigerian Vice President) and former Tanzanian presidents Jakaya Kikwete and Benjamin Mkapa.
At the entrance of the Nyayo Stadium ODM leader Raila Odinga shook hands with his rival Deputy President William Ruto in a rare meeting occasioned by grief.
Beside Raila was his elder brother, Nominated EALA member, Oburu Odinga, in a skull cap giving him striking resemblance with his father Jaramogi Oginga Odinga.
Cameras captured governors Hassan Joho (Mombasa), Alfred Mutua (Machakos) and Amason Kingi (Kilifi) dressed in suits and flashing smiles.
At 9.15 am, the presidential motorcade left State House for the stadium but on a different route as the shortest one was being used by the slow-moving cortege that featured marching soldiers through Processional Way, Valley Road, Kenyatta Avenue, and Uhuru Highway before and finally Bunyala Road.
The casket was ceremonially moved on a gun carriage and draped with the national flag as protocol and military traditions demand considering that Mzee Moi was a Commander-in-Chief of the armed forces until he left office.
On arrival at Nyayo Stadium, a Mercedes Benz GKB 965K headed the retinue.
Following it were Moi family members led by Baringo Senator Gideon Moi and his elder brother Raymond Moi (Rongai MP) in a military Land Rover.
Pallbearers, ten of them and all full colonels, carried the casket shoulder-high on the red carpet and lowered it onto a stand at the podium.
Chief of Defence Forces General Samson Mwathethe and Inspector-General of Police Hilary Mutyambai and other security chiefs directed the pallbearers.
Prayers
In his flowing Kiswahili veteran broadcaster and Master of Ceremonies Sammy Lui made a brief introduction before handing over the program to the clergy.
Mourners took their seats after the singing of the national anthem, giving way to the prayer session headed by ministers from Mzee Moi's Africa Inland Church (AIC).
Bishop Nickson Wambua (Nairobi), Bishop Silas Yego (Emeritus), and Rev Paul Kirui opened the ceremony with prayers followed by the singing of Fanny Crosby's 1875 hymn To God be the Glory.
Then Raymond Moi took to the stage to read a succinct but captivating eulogy. He tickled the crowd when he said: "Mzee had five sons…and I am one of those sons."
The song was preceded with a couple of verses read by family members after which retired Bishop Silas Yego took over the podium to eulogise Mzee Moi.
Bishop Yego said that the former Head of State had taught him four core values: forgiveness, salvation, philanthropy and baptism.
"He was sure that he would go to heaven because he had accepted Jesus as his saviour," said Raymond as he referred to numerous verses he said Mzee Moi had memorised.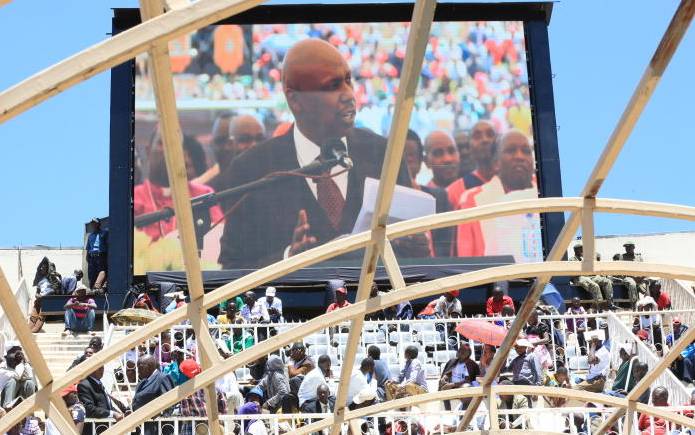 Gideon's moving tribute
After the sermonette, Senator Gideon was invited to eulogise Mzee Moi on behalf of the family.
The crowd was tickled when the Senator narrated his relationship with his father as a young man and during his last moments.
He recalled how he accidentally crashed his father's new car and was surprisingly forgiven after panicking, Bible in hand most likely to soften Mzee's heart and therefore the severity of the expected punishment.
"I remember sometimes he had bought a new car. And as a young man, I wanted to try it but my driving skills couldn't match my enthusiasm. The new car was no more. I carried my Bible and entered his room. My father took a look at me, shook his head and burst into laughter," he narrated as mourners laughed.
Gideon eulogized Mzee Moi as a humorous person.
The crowd got to know Mzee Moi had an undying appetite for meat to the extent of defying doctor's advice.
"There was one trait he had and that was his love for nyama (meat). Nakumbuka nikimwambia: Mzee daktari amekataa (I remember telling him that the doctor advised against it). Akaniuliza unaona daktari hapa? (Then he asked me, "Have you seen a doctor here?" Hakuna kitu ingekuja kati yake na nyama. (Nothing came between him and meat)."
The Senator said that other than watching evangelist Billy Graham on TV, Mzee Moi watched wrestling and wrestling legend "Big Daddy" was his favourite.
Former Prime Minister Raila Odinga said Mzee Moi stood for unity which is the inspiration for the Building Bridges Initiative that was born out of his (Raila's) rapprochement with President Uhuru Kenyatta after the disputed 2017 election.
Deputy President William Ruto on his part said that late former president was a 'professor' of politics. "Moi went ahead without a PhD. to become a professor of politics and we all became students of his leadership… I am his student," said Ruto.
The Nigerian Vice President Yemi Osinbajo while reading his speech would refer to Kenya as the "Federal Republic of Kenya"- a slight slip of tongue given that Kenya is a unitary state.
Ululations mostly from women rented the air as Ethiopian President Sahle-Work Zewde took to the podium. However, the speeches remained short and formal till Ugandan President Museveni spoke.
While referring to Kenya's Post-Election Violence he said: "Mlikuwa kwa msukosuko lakini ulikuwa mchezo (You had some tension but that was a joke). Waganga wenu waligundua ugonjwa na wakawapa dawa inayofaa…Nimeshuhudia mchango wa viongozi wa Kenya. Mzee Moi na Kenyatta walikuwa na dawa za kutibu ugonjwa wa Kenya na EAC. (Your doctors/leaders diagnosed the problem and gave you the required remedy. Mzee Moi and Mzee Kenyatta had the remedies for Kenya and EAC."
President Uhuru closed the function with a moving tribute detailing late former head of state's history from birth to death.
Said Uhuru: "We come not so much to mourn the passing of a man but to celebrate the life of a giant of history. We hold in our thoughts prayers for family friends and family."?