Charles Rubia: Man who dared where few would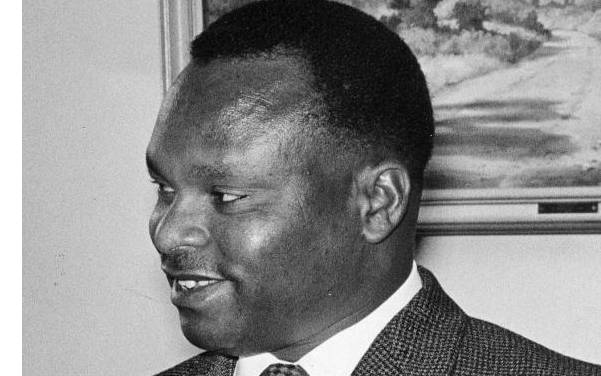 He will mostly be remembered as one of the pioneers of Kenya's Second Liberation when, together with Kenneth Matiba, they dared where nobody did.
It was eight years since Kenya had become a one-party state by law in June 1982. The Nyayo regime was in its element, keeping dissent to the essential minimum, ensuring that every head remained under the water. Anyone with misgivings about the government could only say so in whispers, in the relative safety of their homes. You raised your head above the waters at your own greatest risk.
It was the winter of Kenya's national hopes. Dissent had been criminalised. Detention without trial was the order of the day. The free press had been banned. Kenyans had been directed to destroy back numbers of all newspapers and magazines that the State considered seditious. Beyond had been banned, as had been Society and Viva. The only journalism allowed was the journalism of praise. The Voice of Kenya Radio and TV played songs of praise of the government of the day, for almost half of the day.
Flawed elections
And then came the 1988 flawed elections. Rubia and Matiba could take it no more. They declared at the end of 1989 that 1990 was going to be the year of restoration of multiparty democracy. Few took them seriously.
The usual Kanu chorus led by the party's political gadflies like Sharif Nassir, Elijah Mwangale and Ezekiel Barng'etuny were quick on the hustings. They declared everywhere they went that the duo was not just daydreaming, they were in fact mad.
Regardless, Rubia and Matiba went on with their crusade for restoration of multiparty democracy, announcing that on July 7 that year, they would address the first multiparty rally in Kamkunji grounds in Shauri Moyo, Nairobi.
The country waited with bated breath, even as others joined in the call for restoration of democracy. Masinde Muliro, Martin Shikuku and Jaramogi Oginga Odinga joined in. So, too, did a galaxy of youthful leaders like Paul Muite, James Orengo and Kiraitu Murungi.
As July 7 closed in, Rubia was arrested alongside his newfound political ally Matiba, and detained on July 4, 1990. Shikuku, Muliro, Orengo and Njeru Gathangu went on to address the rally. They were, however, violently scuttled with live police bullets.
Rubia's dissention and detention had in a sense been long in coming. For a while since the Charles Njonjo so-called Msaliti purge in 1982-85, he had been known to boldly speak his mind.
When the Msaliti narrative against Njonjo began in earnest in 1983, he had been almost the only voice in Parliament to stand with Njonjo. Dismissing the Msaliti story as a conspiracy, Rubia accused a section of the political fraternity as "scheming to subvert the Kikuyu". They would fail, he said.
Hence it was that by the time the Cold War between Nato and Warsaw Pact countries was ending in 1989 and opening up space for democracy around the globe, Rubia was a marked man. He had been grouped together with other personalities, like Raila Odinga, Ida Odinga, Maina wa Kinyati, Mumbi wa Maina, Mukaru Ng'ang'a, Denis Akumu and Onyango Paddy, and branded as Mwakenya.
In 1987, he was briefly detained on allegations of "sponsoring Mwakenya" and "bringing guns into the country". Nobody would seem to have known what Mwakenya was, however. But it was a bad and dangerous thing to be associated with.
So, in the end, Rubia was detained as could only have been expected. He came back after nine months, a sickly and disheveled individual. He would never regain his robustness again, or be active in politics anymore.
Family sources
He has died a quiet private citizen, whose limited focus has been on his family business. Family sources have it that he has been driving himself every day, almost without exception, from his Karen residence to Makutano in Murang'a, which is the base of his business concerns.
There is a legendary narrative about his father, Rubia Wanyoike, who, in his times, was not shy of bragging about his only son. After a tipple in Karigoini in Murang'a, where the family traces its origins, he would tell his peers that although he had only one son, "the boy is worth more than a dozen or so of your sons put together". For Charles Wanyoike Rubia was a living legend at the prime of his youth and career. He was a man of many firsts.
Born in Murang'a in 1923, Rubia was among a pioneer generation of Kenya's African leaders who attended Alliance High School, established just three years after his birth. He belongs together with other Alliance luminaries who fought for freedom or took Kenya to independence.
Outstanding among these are names like Oginga Odinga, Mbiyu Koinange, Eliud Mathu, James Gichuru, Charles Njonjo, Ronald Ngala, Jackson Angaine, Ngala Mwendwa, Dawson Mwanyumaba, Julius Kiano, Munyua Waiyaki and Jeremiah Nyagah.
Rubia joined politics in 1955, according to historical accounts. Daniel Branch in the volume Kenya: Between Hope and Despair 1963-2011 recalls that Rubia was elected the first African mayor of Nairobi in 1962. His fellow councillors re-elected him twice as mayor.
In those early heady days, he was famous for his competition against Tom Mboya for influence over Nairobi. The competition was often characterised by mutually hostile verbal exchanges to the extent that when Mboya was assassinated in 1969, Rubia became an easy fall guy.
It is recalled how the mayor of Nairobi had a mayoral motorcade. He rolled in a Rolls Royce, to the chagrin of many. In the end, Mboya and others scuttled his motorcade.
Following Mboya's assassination, Rubia was arrested and locked up for a few days. He was released without any charges. Earlier, Rubia had resigned his position in the Nairobi City government in 1967 to begin preparing for national politics with Nairobi as his base.
It was thought that he would compete against Mboya, who was the MP for Kamukunji.
When the time came, however, a few months after Mboya's death, he ran instead in Starehe. For a while, his name was synonymous with Starehe. The politics in the constituency were often violent, complete with gunshots and other guises of violence. They pitted Rubia against Peter Kinyanjui, who was from Kiambu. There would be open hostilities between Kiambu and Murang'a people during the election campaigns. Arrests were common.
Rubia will also be remembered as one of the assertive members of the Third Parliament (1974-1979), who took on the Kenyatta government over the murder of JM Kariuki, the Nyandarua North MP whose mutilated body was dumped in Ngong Forest in March 1975.
Charles Rubia will be remembered as a decorous and dignified individual who spoke without apologies for Kenya, for his people the Kikuyu, and for the people of Murang'a.
[Barrack Muluka. The writer is a strategic public communications adviser]