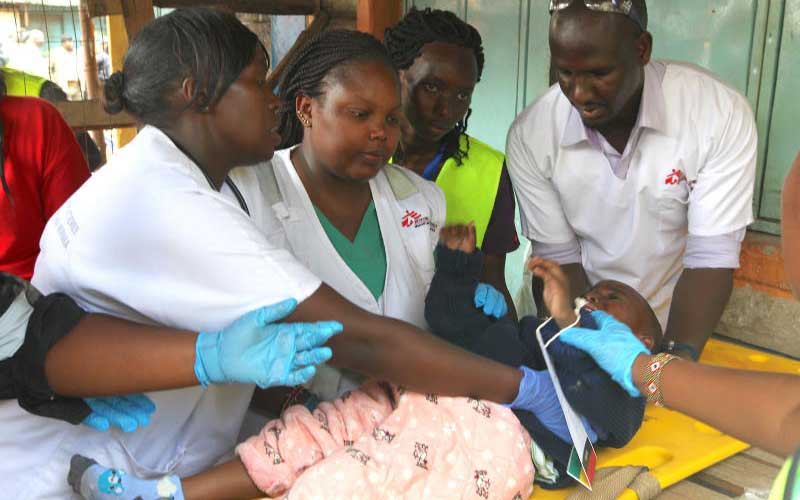 It was a race against time. All hopes were on the drilling sounds by the Kenya Defence Forces under their Disaster Response Unit and a team of engineers. They had been working for more than 36 hours and were yet to reach the bottom of the building where majority of victims are believed to be trapped.
By yesterday evening, five people had been confirmed dead and 26 were still believed to be trapped inside the building that collapsed in Tassia on Friday morning. Among the missing are a group of children who had gone to play video games at a cyber café within the building.
Venny Gechemba's two children Frank Kerosi and Ezra, both under 10 years, are among those suspected to be in the cyber café. She described the wait as hell on earth. She clutched her hair and openly wailed as counselors who had come to debrief the victims struggled to hold her.
"I cannot eat. I cannot sleep. I just want my babies," she said amid sobs.
Irene Keino paced up and about, her eyes swollen with tears. She said she is still haunted by the loud bang and rising dust she saw when the building sank. Her daughter was inside the building, visiting her friend.
Read More
For Felistas Sawanga in Kakamega, the call came slightly before 9am. One of her sons was calling to inquire if she had heard about her other son Mark Akalla, who was staying in the doomed building.
Loud bang
She called Mark immediately but the call went unanswered. She took a bus and describes the journey to Nairobi as the longest she has ever had to take.
"My heart was beating fast… I was praying, telling God not toallow my heart to stop… nothing prepares you for that kind of news. Even now, my body is still shaking, and my heart is beating as if it is breaking…" she said.
Mark was staying with his cousins Lenson and Sharon Mukama, and all of them are believed to be inside the building.
There was so much tears. From husbands who could not trace their wives and children, from preachers like Erastus Muli who had to hug and hold members of his flock who were losing faith in God, from relatives who had kept vigil the whole night and hopelessly watched as voices that had previously cried for help, went silent.
"Yesterday, we could hear people crying inside the building. Today, there is nothing. We are wondering if good news will come out of the rescue mission," said Ian Nyaosi, whose nephew was in the building.
KDF officers revealed that it had been a difficult operation. When the building sank, all the floors caved and the ground floor is partly submerged.
"We had to drill a hole from the top to create space that was big enough for an officer to be thrown in to assess the situation. From there, we had to wiggle through the metal and dust, drill more holes to peep through to see if there were people trapped in individual rooms," said one officer.
He said the team was divided into groups. There was a team with trained sniffer dogs looking for signs of life. There was another one using a portable trapped person locator machine while others were on standby to see if they could locate victims.
Outside, neighbours huddled talking in low tones. The reality that they were staying in buildings that could collapse anytime from now sank in. Two years before, another building had collapsed in an area called Quarry, a few metres away from the one that collapsed on Thursday. Surrounding the collapsed building was a tall building that goes to ten floors and has more than 100 households.
"A one bedroom house here is about 4,500 shillings. It is cheap and access to the road is easy, so people like this area," said Francis Omollo, who has stayed there for three years.
Plaster and paint
He admits that there are many days when a crack would appear on the wall, but the owner always sweeps into action, plasters it and paints it, temporarily erasing fears among tenants.
On Wednesday, the rain had poured in a fury, and some of the people who escaped from the building said they felt a slight tremor. They assumed it was because of strong winds. None of them imagined it could have been a sign that the ground beneath was shifting.
Yesterday, as the night drew closer and the heavy hanging clouds started to drizzle, the officers slowed down the rescue operation. Rain, they said, meant danger due to use of electric equipment. The waters would also cause the rubble to be loose, meaning they had to tread with extreme care. Lack of sufficient equipment was also a hindrance since they were only using one crane.
"If we had more machines, we would have definitely worked faster," said an officer.
John Wanjala watched helplessly, muttering a prayer. His mother and sister were trapped. Approach of night meant a possibility of yet another night of anxiety and tears.
Tom Mboya from the Kenya Counseling Association said most of the family members who could not trace their loved ones were going through a hard emotional time.
"More counselors need to come out in large numbers and offer counseling services to the affected families," he said.
Yesterday four people were rescued. According to James Wanyoike, Assistant County Commissioner Embakassi East Sub-county the overnight operation went through to the morning hours lead by the Kenya Defence Forces Disaster response unit in collaboration with engineers at sight.
''The team involving the St John ambulance, Kenya Red Cross, the County Fire Department among other stakeholders have played a crucial role in the rescue efforts,'' he said.
As of yesterday evening 33 people had been rescued from the debris that was still being drilled and pulled by cranes on sight.
Mr Wanyoike said yesterday 18 people were rushed to Mama Lucy Hospital, 16 were discharged while two - a mother and a child - are still at the hospital.
Fourteen others were rushed to Kenyatta National Hospital, seven were were treated and discharged while six are still admitted there.
The commissioner said they could not ascertain the number of people still trapped under the debris. ''The house that housed 57 units was not fully occupied,'' he said. The identity of the owner of the building is yet to be established.