Cars swept, homes submerged by floods in Kamulu, Kayole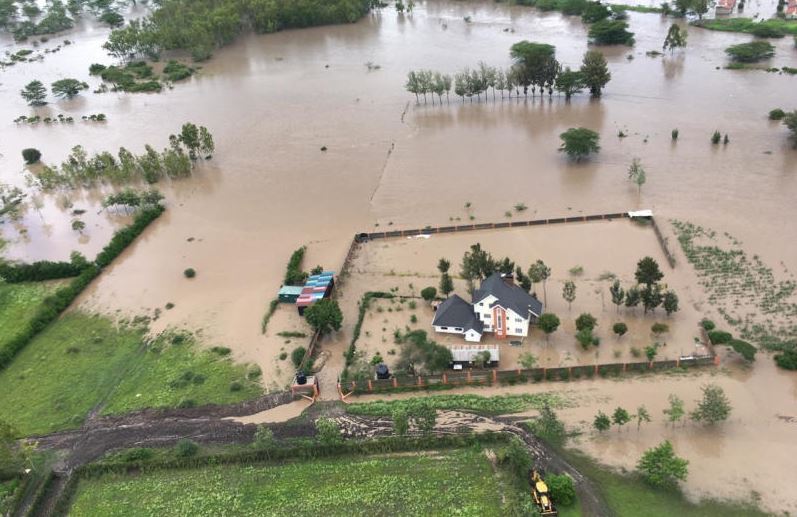 At least six vehicles and a motorcycle were on Wednesday evening swept by floodwaters on Kangundo Road, Nairobi.
Several homes were also submerged as River Athi broke its banks and flooded Kamulu and neighbouring areas, rendering almost the entire Kamulu area inhabitable. Residents were forced to move to safety.
A police chopper that responded to flooding in the area yesterday morning captured a moving scenario that showed posh homes submerged in floodwaters.
The chopper rescued at least four people, including a disabled woman.
Roads were rendered impassable and it was difficult for police to establish if there were people trapped therein.
This followed the heavy rains being experienced in the city and its outskirts. A section of Mombasa highway at Athi River was cut off for hours by the raging waters.
Kayole police boss Wilson Kosgei said the vehicles that were swept included two buses, a mini-bus, two saloon cars and a pick-up.
Many motorists spent the night on the road as the roads were impassable.
Meanwhile, nine people were yesterday rescued by a police helicopter from an island in the flooded River Athi near Ol Donyo Sabuk trading centre in Matungulu sub-county in Machakos.
The nine comprised two adults and seven children.
The island they had been living on was overran by floodwaters from the heavy downpour in the area.
At the same time, transport between Thika and Kangundo towns was paralysed after a bridge connecting the two centres was submerged.
Passengers from opposite directions got stranded for the better part of yesterday as they waited for the water to subside.
Flash floods continue to wreak havoc in parts of South Rift counties, with at least 11 deaths reported in Bomet.
In Baringo, 70 families have been displaced and several people in a Naivasha village ordered to move to safer grounds.
In Bomet, local disaster management officials reported that in the past three weeks, a total of 11 people have either been swept away by floods or drowned in dams.
Swept away
Stanley Mutai, the county director for disaster management, said seven people were swept away by floods when Kipsonoi, Amalo and Nyangores rivers broke their banks.
Mutai said most cases involved elderly people trying to cross the swollen rivers after a drinking binge in the villages.
Mutai said they were yet to retrieve two bodies of middle-aged men who fell into Nyangores and Amalo rivers four days ago.
In Baringo County, over 70 families in Ng'ambo and Sintaan villages of Baringo South have fled their homes following floods.
Two schools - Sintaan Primary School and Ng'ambo Secondary School - have been submerged in floods.
Baringo Department of Disaster and Risk Management has issued an alert to people living in areas prone to floods and landslides.
The areas include Ng'ambo, Murda, Leswa, Salabani, Sintaan in Baringo South and Yamugurin, Molosirwe, Kapchelunguny, Kisanana and Mogotio town in Mogotio sub-county.
Other areas include Tenges, Kabasis, Kituro, Kabartonjo and Katipsogon.
In Naivasha, some 5,000 families living at KCC village that neighbours River Malewa have been put on high alert due to the gushing waters that have already flooded some homes.
Chairman of Lake Naivasha Water Resources User Association Enock Kiminta said there were fears that the highway could be cut off by the floods.
"Currently, the flooding in Naivasha is due to the heavy rains that have been pounding Nyandarua flooding rivers and sweeping away crops," he said.
Flash floods
In Nyandarua, eight houses were on Wednesday morning swept away by flash floods at Gachuo village in Ol Kalou after River Turasha burst its banks following the heavy rains pounding the area.
Elsewhere, one person died after being swept away by floods in Tinderet, Nandi County, while over 20 residents were forced out of their homes following landslides in the area.
Areas along the escarpments in Kapsimatwo ward, including Kimwani, Kipteigat Chebarus and Kipkimba areas were adversely affected by the downpour.
The body of a 35-year-old man was found yesterday in Ainabng'etuny River that extends to River Nyando, in Kisumu.
"After the rains subsided in the evening, he never came back. His body was found by the riverside 10 kilometres from his home," said Reuben Mitei, a neighbour.
He said the body was recovered and taken to Nandi Hills morgue waiting to be buried over the weekend.
Simeon Kemboi, the Nyumba Kumi Initiative chairman in Chebarus village, told The Standard that landslides had occurred along Kimwani, Kiteigat, Chebarus and Kipkimba escarpments but that there were no casualties.
"Over 50 people living along the ridges have moved to the homes of their close relatives living in safer places in the area," said Kemboi.
County and national government officials asked those who live around areas that had developed fault lines to move to safer places. They promised to rebuild bridges.
One county official said they had identified areas in Kapimatwa ward and parts of the rivers like King'wal, which are prone to flooding.
[Report by Cyrus Ombati, Julius Chepkwony, Gilbert Kimutai, Edward Kosut, Antony Gitonga and Victor Nzuma.]
CS Macharia responds to SGR queries
Transport Cabinet Secretary James Macharia has maintained that the order on the closure of the Container Freight Station (CFS) still stands.