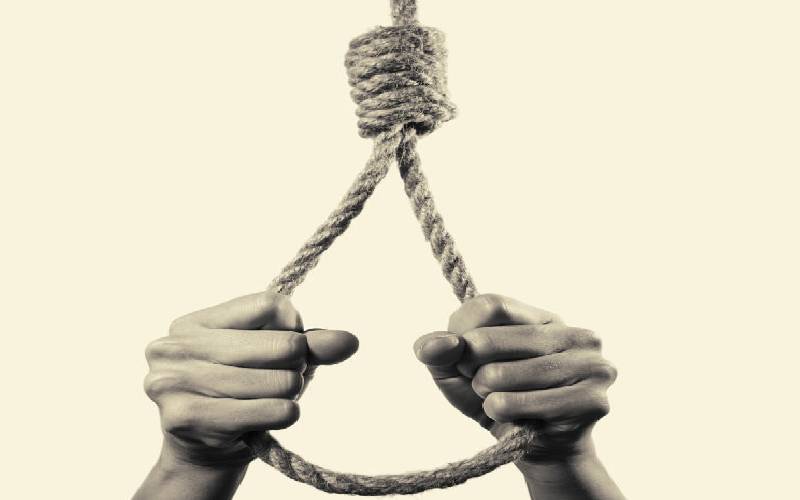 More men than women are dying from suicide because they use violent methods to carry out the act.
Lukoye Atwoli, an associate professor at Moi University's School of Medicine and a leading psychiatrist, says even though women are three to four times likely to attempt suicide compared to men, it is men who are more likely to go through with it.
Speaking at the just-concluded Kenya Mental Health conference in Nairobi, Prof Atwoli said that overall, men are three to four times likely to complete a suicide attempt, thus the high number of suicide victims among the menfolk.
According to the Kenya National Bureau of Statistics, of the 421 suicide cases reported in 2017, 330 were men.
Atwoli debunked the narrative that the numbers show more men are attempting suicide, saying it is the method used that contributes to the high numbers.
"Men use extremely violent ways to take their own lives. They might use a gun, hang themselves or jump from a storey building," he said.
Atwoli dismissed the notion that more men commit suicide due to "bottled-up issues". He said there was no scientific research to back up the claims.
The case is different for women, whom he said use methods that leave them with a chance to survive.
"They may likely overdose themselves, and in such a case they will have a chance to survive," he said.
"The most common suicide methods are pesticides, hanging and firearms. In our setting, it's pesticides and hanging because access to firearms may not be as common as in other places," he said.
During this year's World Suicide Day on September 10, the World Health Organisation (WHO) issued an advisory that countries should re-look regulations that govern use of pesticides, as they are the most sought-after methods of suicide attempts.
"We do not know if we are going to hide all ropes or prevent farmers from using chemicals...we will need to work with the Ministry of Agriculture," said Catherine Syengo, a consultant psychiatrist attached to the Ministry of Health.
Atwoli said for every complete suicide, there are 10 to 20 attempts. He said part of the problem is the stigma associated with suicide and how pathologists record causes of death after an autopsy.
"Nobody says it is death by suicide, so if you are looking for that, you have to think of creative ways of extracting that information," he said.
Atwoli said suicide was the leading cause of death among teens between the ages of 15 and 19, and perhaps the second-most outstanding cause of death among those between ages 15 and 29, only second to homicide.
"The youth are still growing and developing and are likely to make drastic decisions," he said.
Dr Syengo said one of the challenges the country faces on suicide is that the burden has been left to the Ministry of Health.
"We are creating awareness so that people can come out and be treated," she said.
She, however, said their efforts were being hampered by the shortage of psychiatrists, psychologists, and therapists. The Kenya Medical Practitioners and Dentists Board puts the number of psychiatrists in the country at 80.
Gathoni Mbugua, a clinical psychologist, called for decriminalisation of suicide.